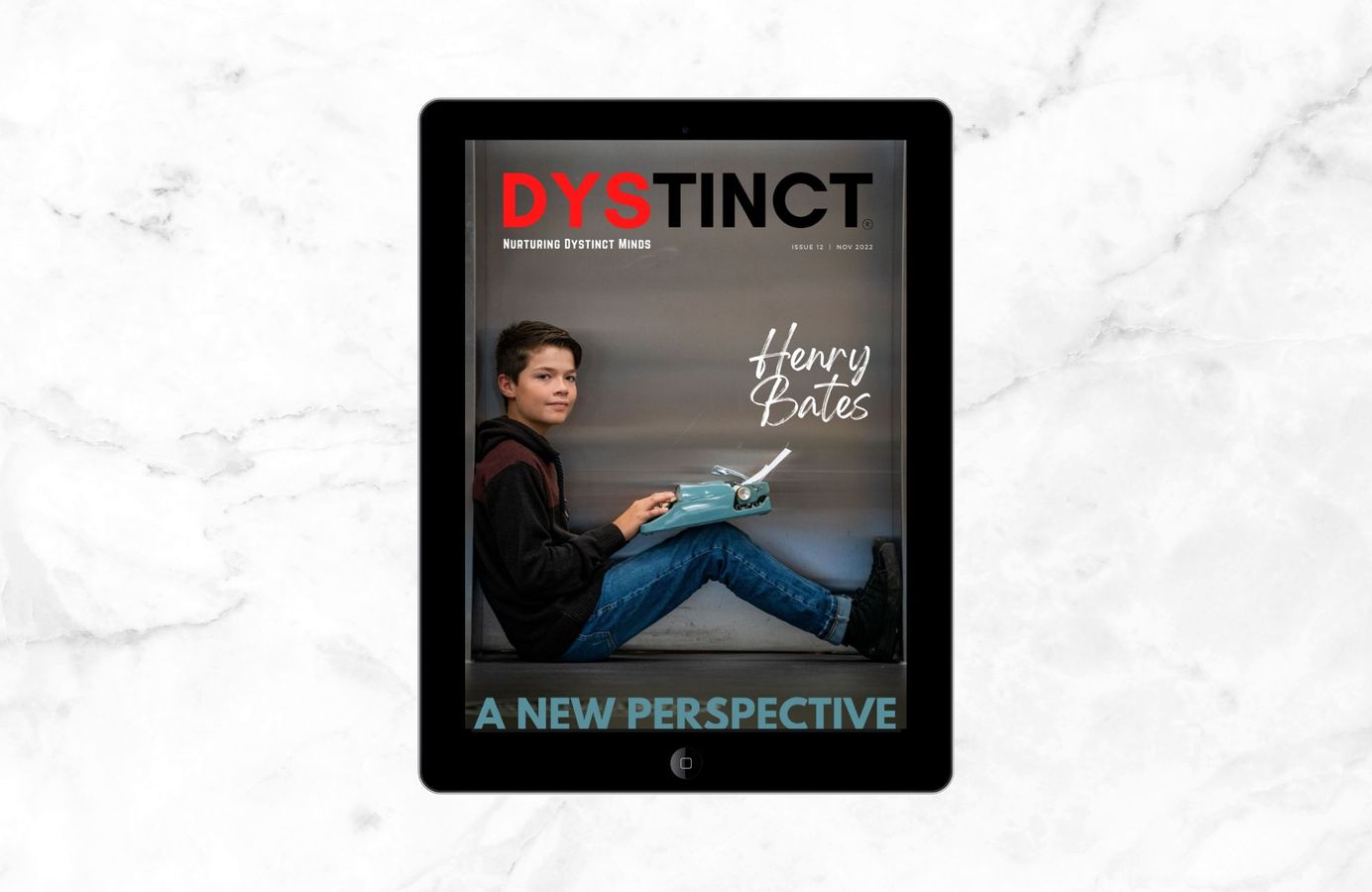 Issue 12: November 2022 Dystinct Magazine
Dystinct magazine's 12th issue: November 2022 is available to download on Apple and Android devices. The issue covers inspirational stories from children and adults with learning difficulties (dyslexia, dysgraphia, dysgraphia and dyspraxia).
Table of Contents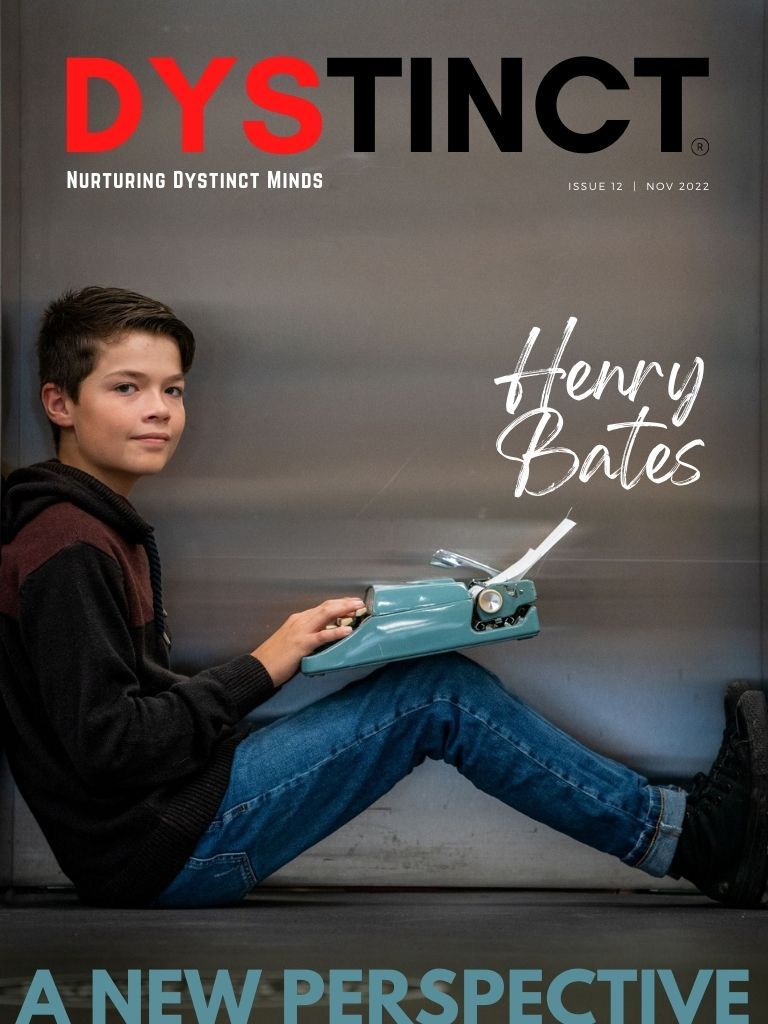 Henry Bates is a young ambassador for Dyslexia Canada who has a penchant for collecting antiques, creating sketches, and stop motion films.
The November 2022 issue of Dystinct Magazine brings to you:
Fiona Hamilton discusses how educators and parents can get children actively involved in word study through the use of children's literature and provides practical advice on building children's curiosity and knowledge of words to develop their reading and spelling skills.
Nine and ten-year-old journalists Ava and Flynn Eldridge have a chat with Dave Strudwick, the owner of The Roofing Hut who has a preference for dyslexic employees. They find out how being dyslexic has contributed to Dave's success in business.
An interview with Jacobo Díaz Polo, a 15-year-old tech entrepreneur from the UK who is developing a fun and engaging educational app to democratise the intervention process for all students with dyslexia.
Dr Helen Ross, Co-Vice Chair of the British Dyslexia Association & Chair of the Wiltshire Dyslexia Association, talks about the impact of dyslexia in her personal and professional life and how her experiences made her choose her career path and has led her to where she is now.
The story of how Justine Vilgrain, a successful creative strategist from Paris, France, who had a turbulent childhood due to the lack of support from the school system in France, is now working to make people with learning difficulties feel accepted.
Dr Brent Moore demonstrates how a dyslexia diagnosis not only impacts the person diagnosed but alters the dynamics of their family system and suggests strategies from the family systems theory to influence the stability or growth of the entire system positively.
Susan Beddingfield talks of her journey from fear to freedom as she learned to embrace her daughter's unique learning style and dyslexia diagnosis.
Educator Jeremiah Short shares his story of how one struggling student led him to the Science of Reading research and helped him change his approach to literacy instruction.
Emma Long, a volunteer coordinator working for the Dyspraxia Foundation, shares her experience of struggling to get help for her daughter and how she now volunteers at the Dyspraxia Foundation, which helps families in the region.
The story of how Dr Praba Soundararajan took his personal experience of being dyslexic, knowledge as a neuroscientist and love for Tintin to write engaging stories for children to introduce them to STEM and visual literacy, which was vital in making a neuroscientist out of a child labelled as stupid.
10-year-old journalist Flynn Eldridge and his little brother Blake Eldridge interview Sharon Scurr, the founder of DEB, to find out all about her website, the support group, and her.
Sharon Scurr explains what constitutes the Structured Literacy approach and how being trained in the approach guarantees better student outcomes rather than following a ready-made program. She also warns about being mindful of companies that use wordplay to pass off ineffective programs as genuine Structured Literacy Programs.
The story of 12-year-old Henry Bates, a young ambassador for Dyslexia Canada who has a penchant for collecting antiques, creating sketches, and stop motion films.
School is just a small part of your life.
Twelve-year-old Henry Bates had the above words of wisdom to share when I asked him for his message to children with learning difficulties. If only all our children realised this simple truth right now, then it would save so many families a lot of grief. As we go through day after day of school, therapy sessions and afterschool activities, even we as parents can get caught in the endless, exhausting loop of life and forget to look at the big picture that 12-year-old Henry has already figured out. Thanks to Henry, I will make a conscious effort to remember these words from now on.
I thoroughly enjoyed my interview with Dr Praba Soundararajan. Boon-dah sounds like a wonderful and well-researched learning initiative for our kids that I'm keen to explore. I also think that Justine Vilgrain's idea of the Certified Dyslexic stamp is brilliant and something that must become accepted widely. My favourite part was the talented Eldridge family children Ava, Flynn and little Blake and their incredible journalism skills.
I hope you enjoy reading this issue and all the specialist content covered.
Please get in touch with me if you have any feedback, ideas, or stories to share to change the narrative surrounding learning disabilities.
Thanks
Zahra Nawaz Shafeeq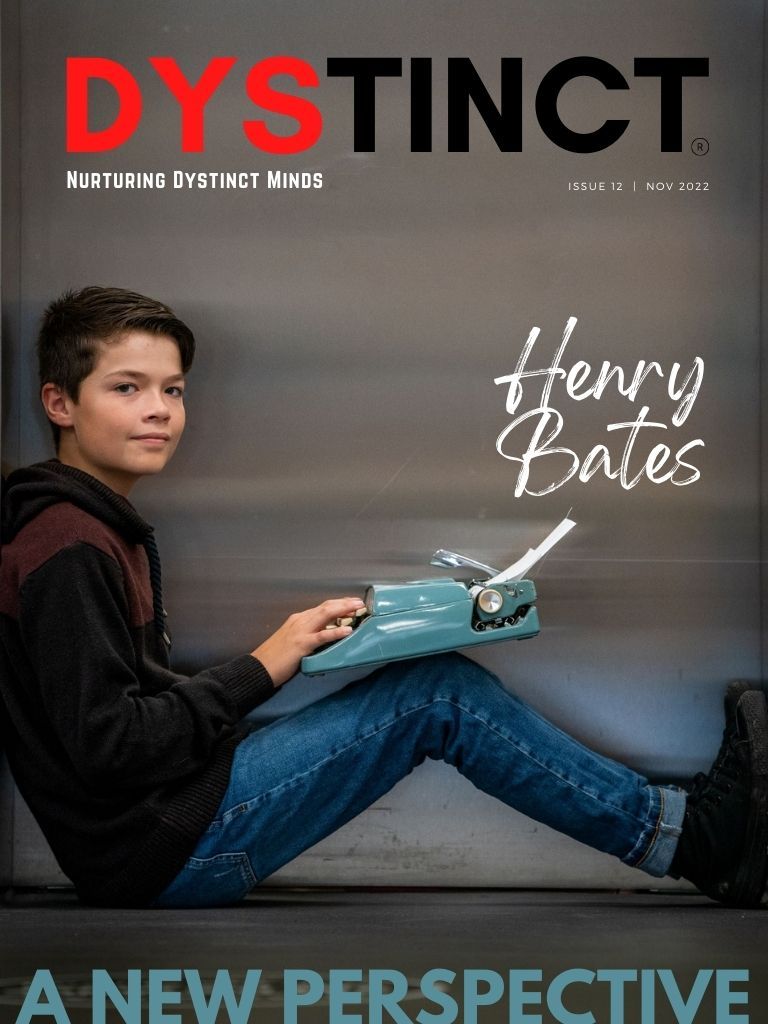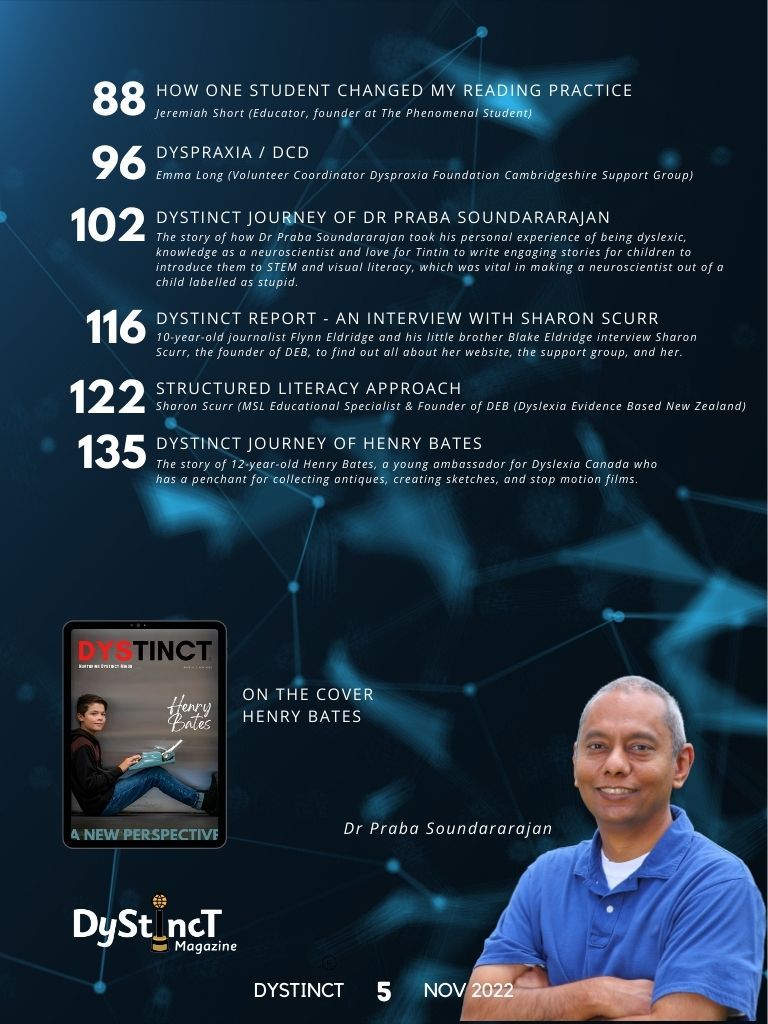 Comments
---