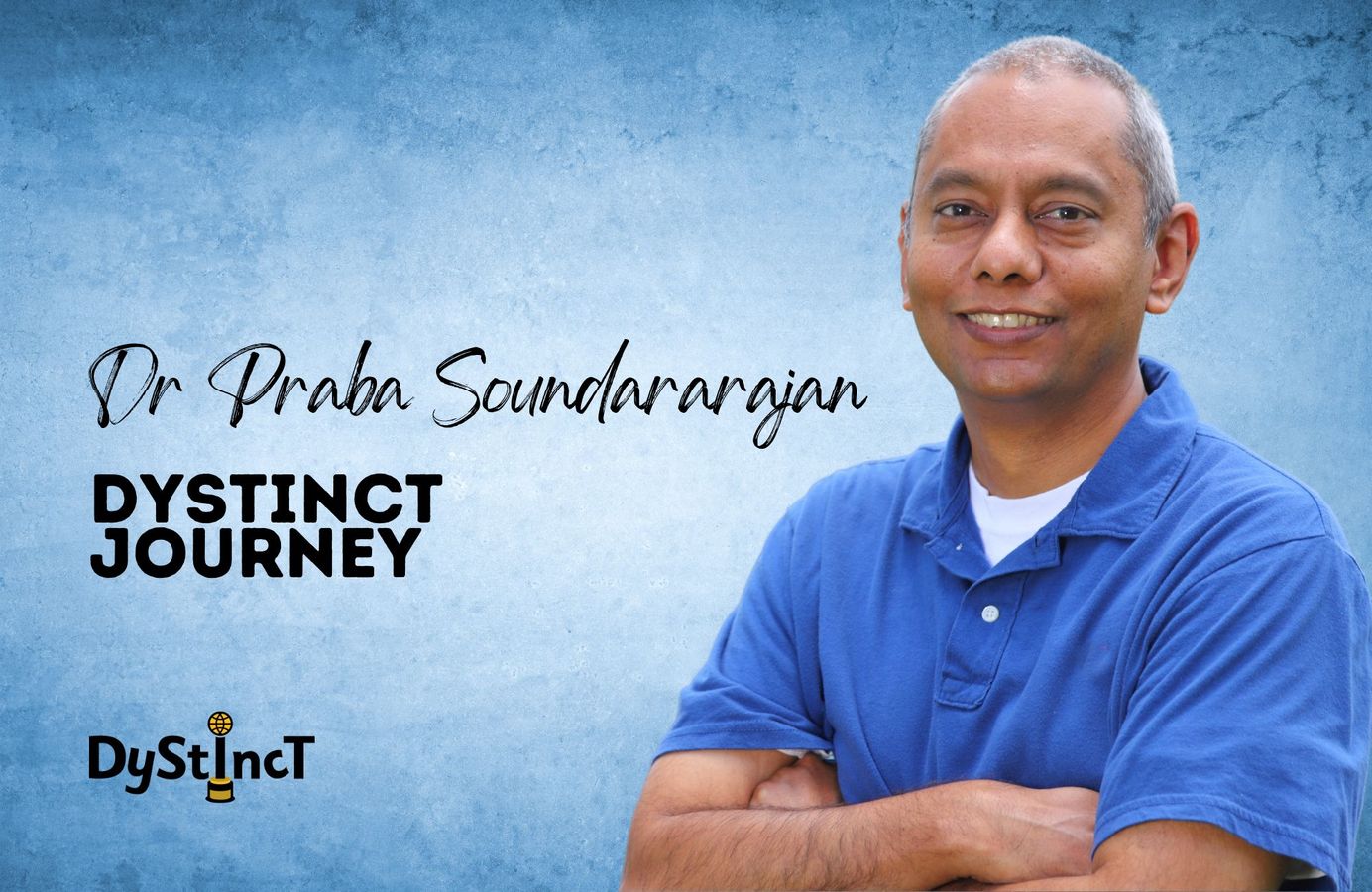 Issue 12: Dystinct Journey of Dr Praba Soundararajan
The story of how Dr Praba took his personal experience of being dyslexic, knowledge as a neuroscientist and love for Tintin to write engaging stories for children to introduce them to STEM and visual literacy, which was vital in making a neuroscientist out of a child labelled as stupid.
Table of Contents
Interviewed by Zahra Nawaz
It's a busy morning at the Moffitt Cancer Center in Florida. Dr Praba Soundararajan is at his desk, working meticulously through the paperwork for filing patents and licensing the latest inventions at his center. When it's time for Praba to finish up for the day and head back home, he is excited. His head is brimming with innovative ideas that Pumpus, the pumpkin, Filberta the robot and Filbin the rubbish bin, will take kids on in his next new STEM storybook and hands-on project kit.
"The brain is very plastic in the first 10 years of a child's life, and dyslexic brains are wired differently. You have to approach learning from a different perspective. We live in a text-centric society. Millions of years ago, text didn't exist. Text is a recent invention of human beings that we have somehow ended up calibrating as the centrepiece for human education and ignored other forms of learning. Imagery is also a form of learning. Just like textual literacy is one form of learning, visual literacy is another form. A picture can speak a thousand words. Dyslexic children are visual learners, and they learn in short snippets. You don't want to bombard them with text and black-and-white images that don't captivate one's eyes. I think you must teach a dyslexic child via stories. It's called narratives in the world of education. Learning has to be through a narrative style of teaching; it has to be simplistic, approachable and hands-on. We learn by seeing, by hearing and then by doing," explains Praba, who is a neuroscientist by training.
Praba grew up in Pondicherry, a French colony in Southern India, in the 70s with dyslexia, dysgraphia and dyscalculia. He admits that he didn't have a happy childhood. "Those days, nobody had a clue about learning difficulties. I just thought that there were two kinds of kids; one was smart and the other dumb. So, I assumed I belonged to the dumb category at the bottom 5% of my class," shares Praba.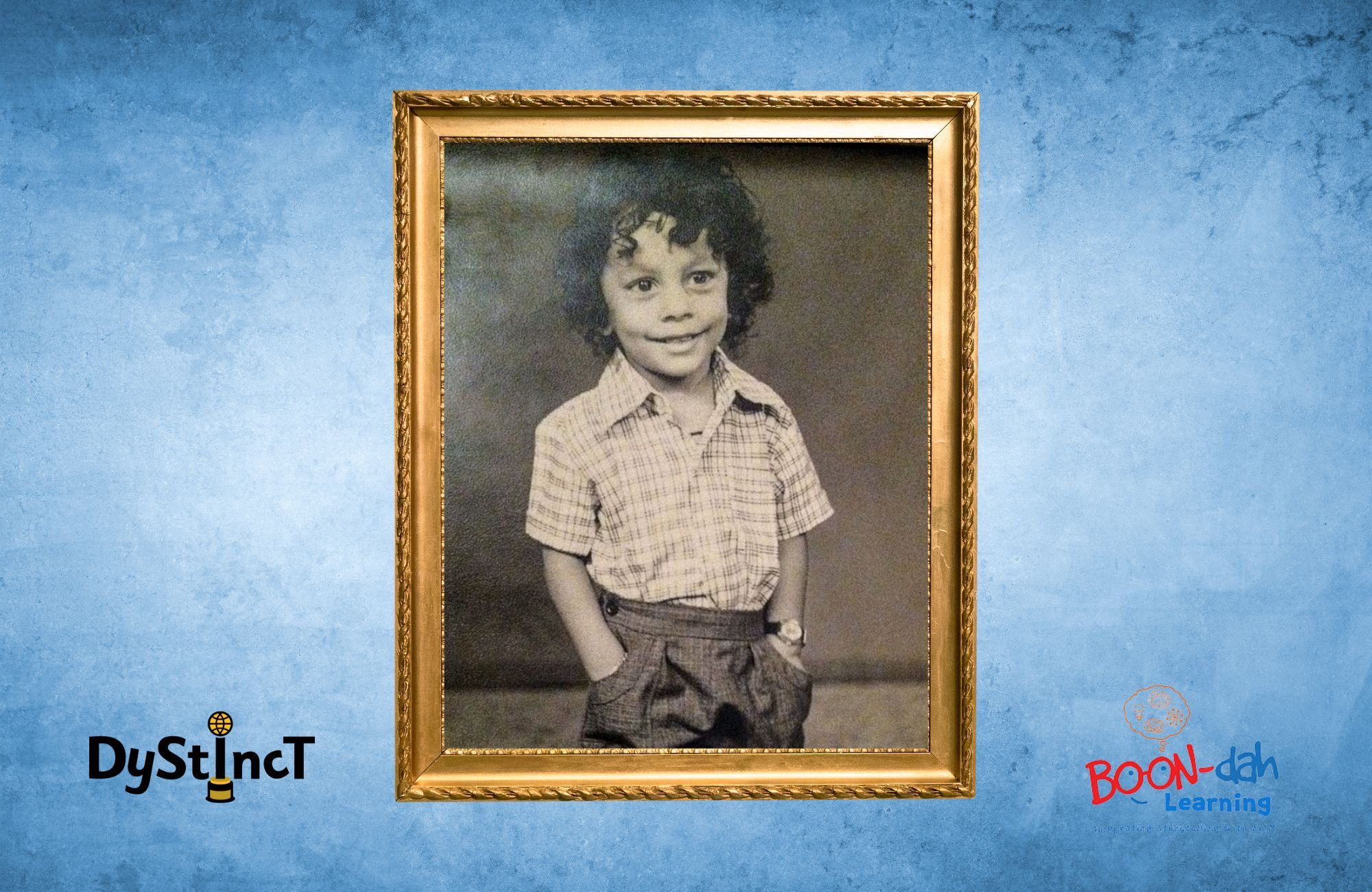 As a child, Praba couldn't read properly, and whatever he read, he couldn't remember. He barely managed to stumble through school and even had his father plead with the school staff to allow his son to pass to the next class every year. "The Indian education system is text-centric. You're expected to read text, memorise it, write answers in exams, score well, get a job, and move on in life, but that's not how dyslexic brains work."
Even in the midst of all the self-esteem wars, there was hope in me, but I was trying to figure out what that was.
Praba shares that he was spiritual even as a child. His inability to read puzzled him, but in his heart, he knew that there was a greater power, and he, too, despite being labelled as dumb, had a purpose in life. "Even in the midst of all the self-esteem wars, there was hope in me, but I was trying to figure out what that was."
Praba recollects that he spent hours leafing through the pages of Tintin, absorbing the vibrant drawings and adventurous stories that carried his little heart away from his anguish, much to the annoyance of his parents, who wanted him to pick up a school textbook instead. He also had a fondness for science textbooks with short snippets of information and illustrations that he could read and understand. "I collected a lot of snippets of information on science. I liked science. My dad gave me money to buy books. I acquired a huge collection of books, though I couldn't read them. Curiously enough, I had a strength; I didn't have to read a book completely to understand it. I just have to skim through it, and I can pick out the most important bits of information, and I could put that together and actually learn about it."
Speaking of his family and the environment he grew up in, Praba shares that he has a younger brother who was considered the smart child of the family. He lived in constant fear of his parent's reaction to his teacher's updates of his failures. Nobody had his back, and he had to fend for himself, but he is pragmatic about it now as he explains that back then, his parents and teachers had no awareness that learning difficulties were a thing. "It used to make me sad. I used to wonder what the issue with me was. Society, parents included, liked you if you did well at school, and if you didn't, you didn't matter."
After his 12th-grade public school board exams, his father sent him off to another Indian state, where he managed to find a college that accepted students with low grades to do a bachelor's degree in engineering. Praba had his decision made for him, but he didn't mind because he noticed that a course on Artificial Intelligence was being offered. "One of the engineering courses on offer was Artificial Intelligence. I really liked that there was a section on the human brain. I asked myself, 'What if I take this program and understand myself better?' I was excited."
Society, parents included, liked you if you did well at school, and if you didn't, you didn't matter.
Though he went into college with the best of intentions and managed to survive with no help in the form of accommodations until the third year of college, he was forced to drop out and go back home without completing his education at 21 years of age. "If you don't have an education, the hierarchical society ignores you and trashes you but there is beauty in it. You are free. You are a free soul, free to do what you like. So, I used the space and time to explore myself more. There was a spark in me. I believed there was something I could achieve, I didn't know what it was back then, but I wanted one thing- I wanted to read. I loved to read graphical books about the human brain."
If you don't have an education, the hierarchical society ignores you and trashes you but there is beauty in it. You are free. You are a free soul, free to do what you like.
While Praba was back home, considered as having "achieved nothing", his brother flew to the USA after receiving a scholarship to do his undergraduate degree. Praba simply stopped caring about the naysayers and spent his time at the library pouring over illustrated books on the human brain. He even snuck into the local medical college to observe brains preserved in jars and sat through neuroscience lectures, absorbing it all in. "There is not much to do in India without an education. So, I just went to the libraries to figure out what my path should be. Those years were spent in introspection and learning all about the human brain which I was fascinated about. The experiential component was the key. I love to tinker, and that keeps me going even now."
Seven years after dropping out of college and contemplating his future, Praba decided to follow his passion - neuroscience. At 28, he applied for an undergraduate degree in science as a mature student at the Dalhousie University in Halifax, Canada and was accepted. Praba loved every minute he spent in Canada. He was a poor migrant student living as a paid guest with Ruby Russell, a 79-year-old lady who cared for him as her own child and wanted to see him achieve his dream of becoming a neuroscientist. "I lived with Ruby for four and a half years. I worked at the library for 40 hours weekly and took a full course load because I had to survive. The vice president of Dalhousie University was kind enough to help me out financially. I was completely self-made; my parents couldn't afford the education. Every time I finished my work and went back to the apartment, I felt like I was going home and not to an apartment. Ruby was just like my mother. Look at her, where she was born and where I was born. Our two minds had to meet. We had to have a purpose in our lives. When we meet people, we won't realise it now, but a few years down the road, as we walk farther and look back, you'll be able to connect the dots just like what Steve Jobs said."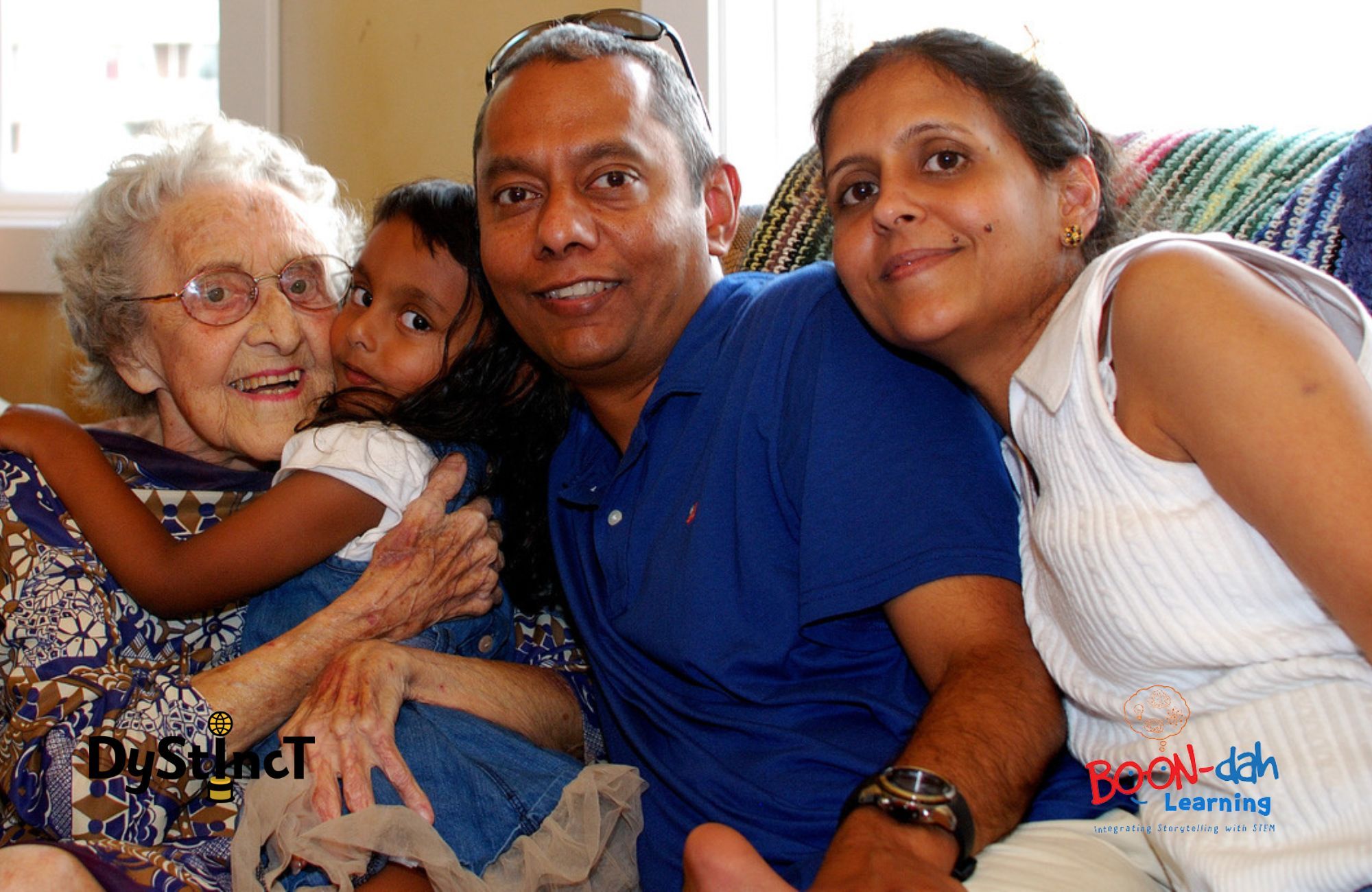 Praba shares that the epiphany struck when he opened up his first biology book in the course. "It was full of colour, just like Tintin. The font size was captivating. I used highlighters and pens to highlight what I could actually take in. I couldn't focus for more than 20 minutes, but I could read better now. That was also when YouTube, Google search and Wikipedia became popular, and many alternate resource possibilities started opening up. My course had very little theory, and the learning was mostly experiential so, I smashed the practicals and got straight A's."
I opened my first biology book in the course and it was full of colour, just like Tintin.
In the advanced psychology program in the third of his undergraduate degree, he came across a chapter on learning difficulties. It all made sense to him then, but he didn't choose to pursue a diagnosis as he felt like he was already an adult and finally doing well at school. He ended up completing his bachelor's degree with honours in neuroscience.
Having graduated from college and experienced success after years of failing, Praba's self-confidence grew. He met his now wife, a postdoctoral fellow with a PhD in cancer biology and they tied the knot before Praba's love for neuroscience saw him accepted into a PhD program in neuroscience on full scholarship. "I loved hands-on research. I could do experiments. I could think differently, come up with a hypothesis and test it. I took very challenging aspects of research, and I enjoyed it. I was a stem cell biologist and worked on spinal cord development, which is an extension of the human brain, and I created a completely new trend in the area."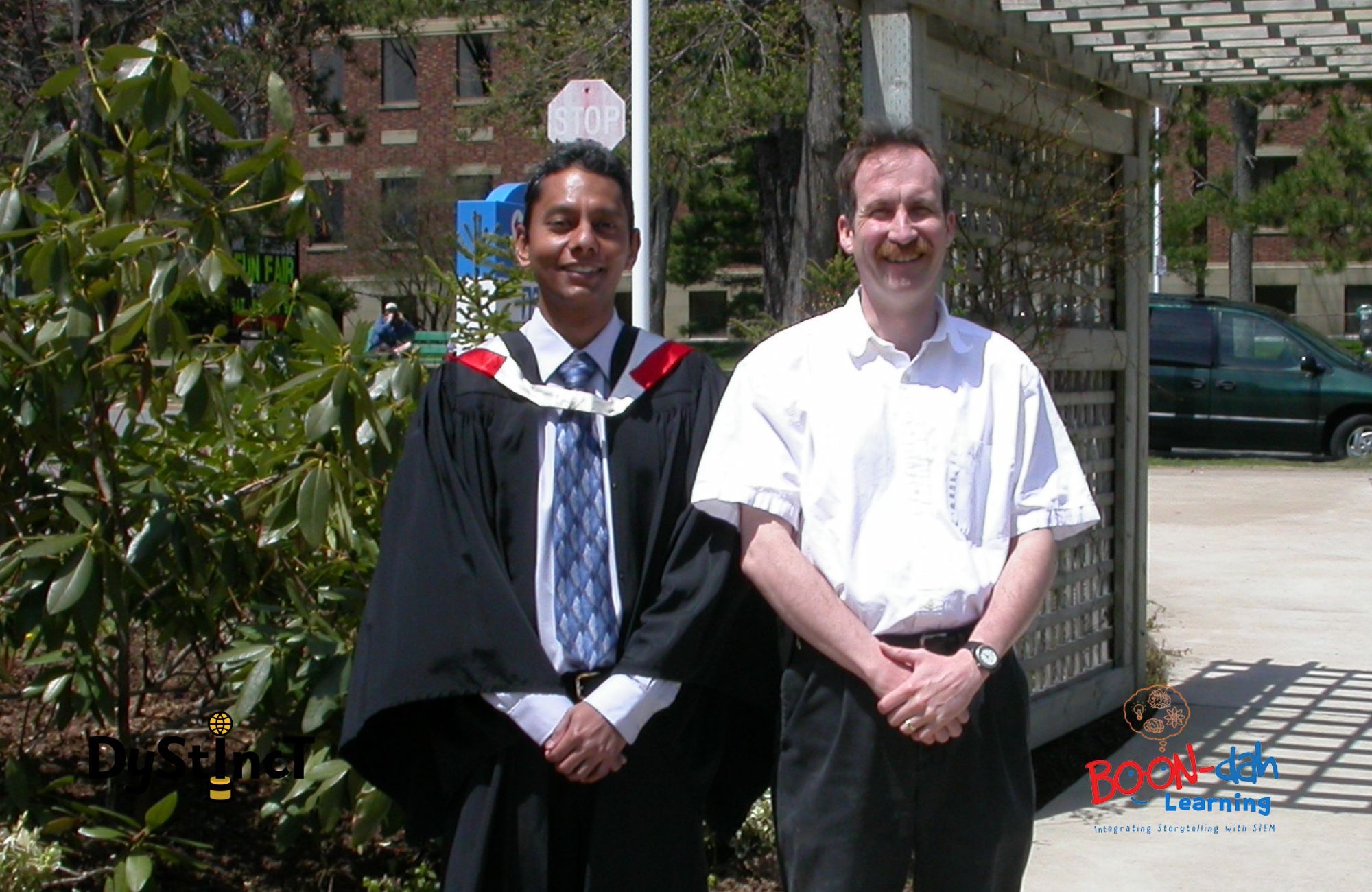 During his PhD, he grew close to his mentor Dr Victor Rafuse. Praba considers Dr Rafuse crucial in his journey to success. "Dr. Rafuse was a young professor about seven years older than me and we hit it. Our frequency was a match, and I would do my experiments and sit with him to learn how to interpret things - Is it working? Is it not working? Should I refine the hypothesis? He helped me with writing grants. If you ask me to write three pages, I can, but I prefer finishing the whole thing in one paragraph. In a PhD, you have to expand on what you know. I didn't like expanding. Victor supported me. He even gave me a computer and printer to take home in those days. He took me sailing and or to have a drink with him. He knew I was away from home and ensured that I felt at home. He was a great mentor. I still keep in touch with him."
During those years, Praba grew to admire Stephen Hawking and the challenges that Stephen overcame. After Praba completed his PhD on using mouse embryonic stem cells to learn how the spinal cord develops, he decided to move his family to the USA. Praba then carried out his post-doctoral fellowship under the mentorship of Dr. Greg Cox, a world-renowned ALS researcher at The Jackson Laboratory in the State of Maine. He spent the next few years researching neurodegenerative diseases, particularly ALS (Lou Gehrig's Disease), the same disease his hero Stephen Hawking was diagnosed with. "It landed up nicely in that space of Stephen's disease. Life is a full circle - You never know what's coming. You can only connect the dots as you look back retrospectively, not prospectively."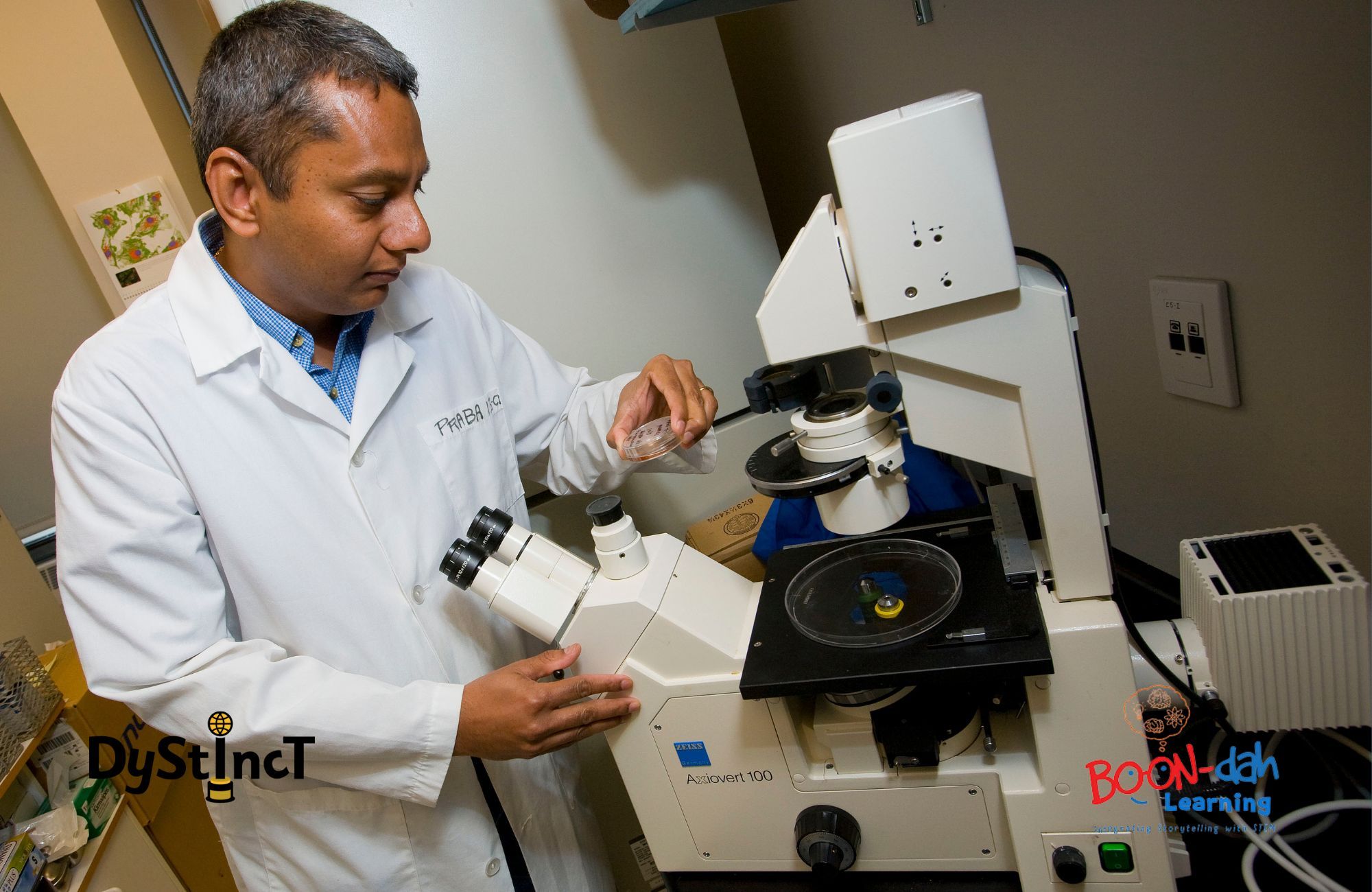 At 43 years of age, Praba was finished with his studies, and in 2014, Praba decided to move over from research to the business side of science and took up his current job of managing patent portfolios at Moffitt Cancer Centre in Tampa Florida. Praba was now successful. He had finally made his parents happy now that he had a degree, a job, a family, a home and a dog. However, he often looked back at his life and ached for all the children just like him, pushed aside after having been told that they didn't have a purpose in life. "Everybody has a purpose in life. We are given life only once. It's a sin to let children fall behind. I was one of the lucky children. My self-introspective journey took me to two different countries, and it's been a beautiful journey so far. I still enjoy it because I'm on a mission to help children. And I know exactly how to help them, and I will help them."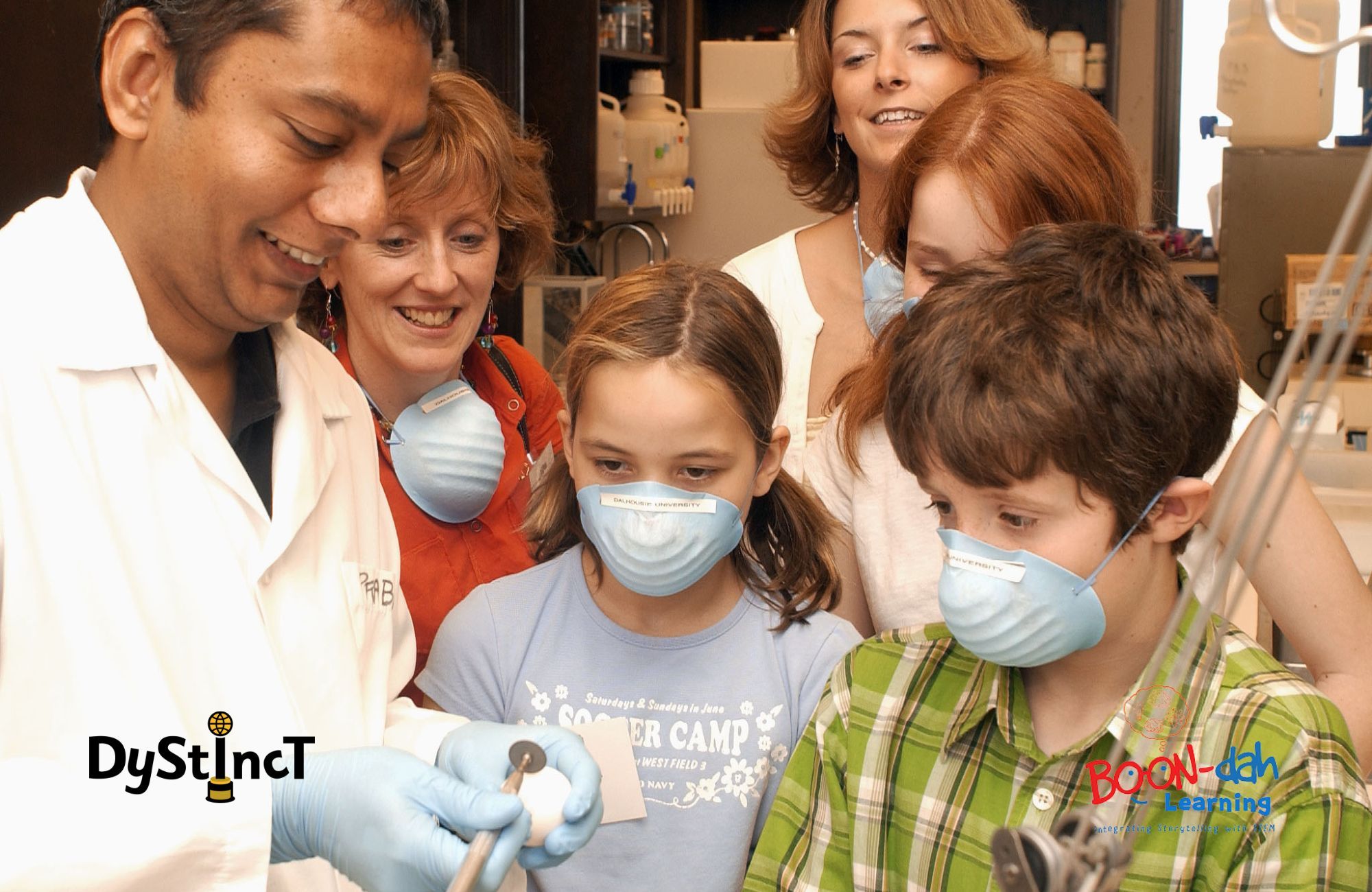 Praba strongly believes that learning difficulties are a blessing. The statistic that 40% of entrepreneurs are dyslexic is enough to convince him that having a learning difficulty is a gift if you can find your purpose in life. "Students with learning disabilities are not put in the STEM classes. That is nonsense. These kids are lateral thinkers. Once they know it's a strength, then the sky is the limit. That comes over time. It doesn't come easy. So that's why you need tools to expose them to this way of learning. I thought to myself, 'If I had a time machine and can travel back in time, what would I give myself to fix my own life?' and Boon-dah was born in 2015."
Boon-dah is Praba's attempt to give dyslexic children an opportunity to discover alternate ways of learning and kindle a love for STEM in them. Praba writes engaging stories where three endearing characters Pumpus, Filberta and Filbin take children on a journey of discovery where literacy, STEM, and hands-on learning are tied together. He took his experience in life as a dyslexic, knowledge as a neuroscientist and love for Tintin to write stories for children to introduce them to the same visual literacy that made a neuroscientist out of a child labelled as stupid. Each book is visually appealing and is at most five hundred to thousand words long. Every book addresses a complicated science or engineering concept in a fun and engaging way. The three characters embark on adventures and inevitably get into trouble. They brainstorm ideas together, and Pumpus exclaims BOON-DAH! when he's found a solution from his book of inventions. Readers can follow along and learn as they help the trio solve their real-life problems using the simple and cleverly designed plug-and-play hands-on kits.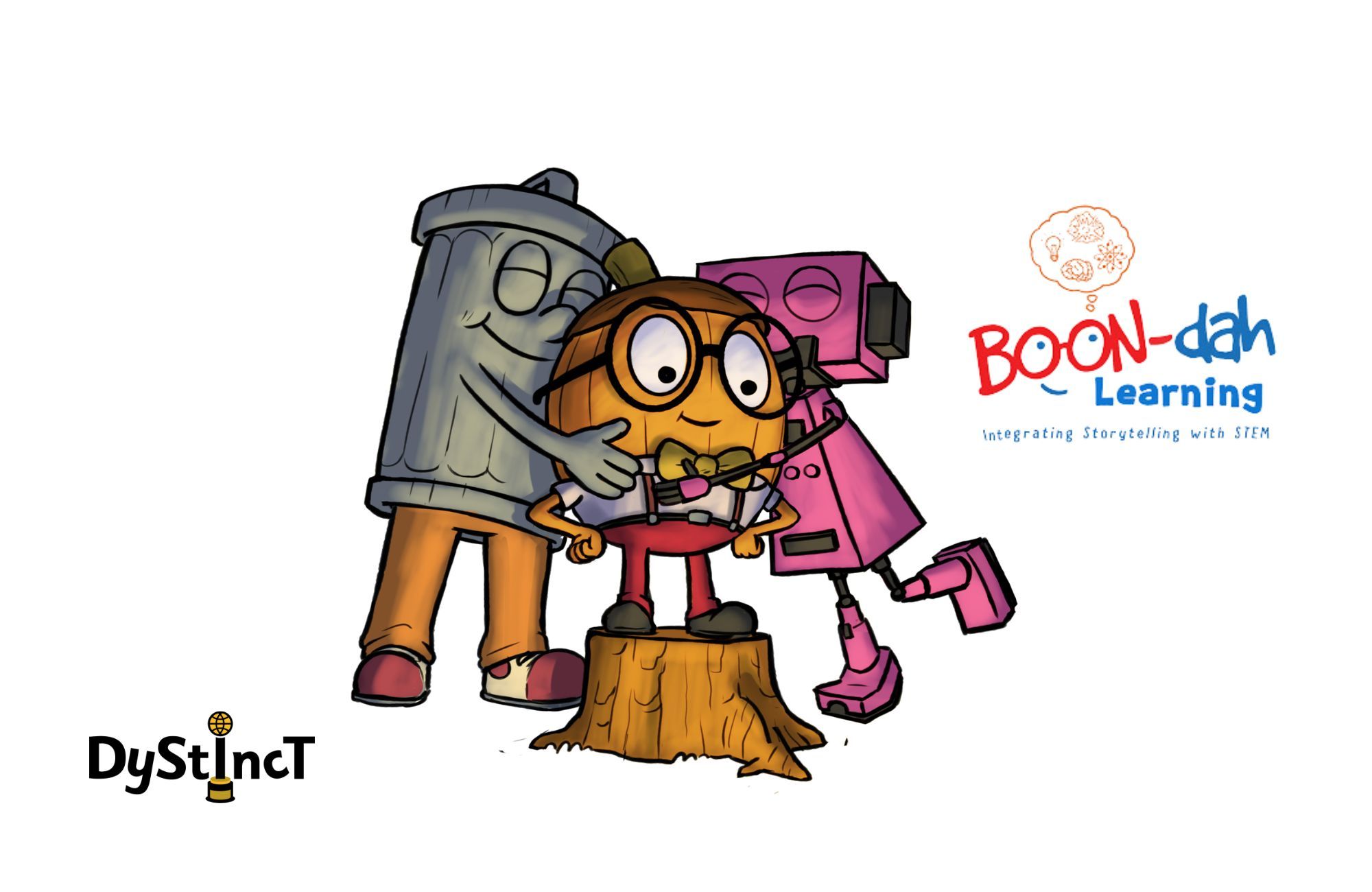 Praba shares that he has gone one step further and incorporated digital interactives into the kits, including the functionality of coding using BBC's micro:bit platform so children can learn by doing. "Dyslexic children benefit from a hands-on approach, and the beauty of this method is that if it helps a dyslexic child, it will help all children."
Praba has a team of five working with him at Boon-dah. He hopes to hire more dyslexic people with diverse thinking skills when he expands and sets up his tinker lab, where children can come and learn by doing. "I'm also working with Dr Milt Huling, a professor at Polk State College in Florida, to build the Neurodiversity Learning Platform (NLP), which is a curriculum focused on tying literacy to science. Boon-dah is my passion, and I will take it to success. It is completely bootstrapped at the moment. We have the prototypes ready and will be approaching venture capitalists for both Boon-dah and NLP. This is an unmet need. We need to help these children out. Not today, not tomorrow, but yesterday!"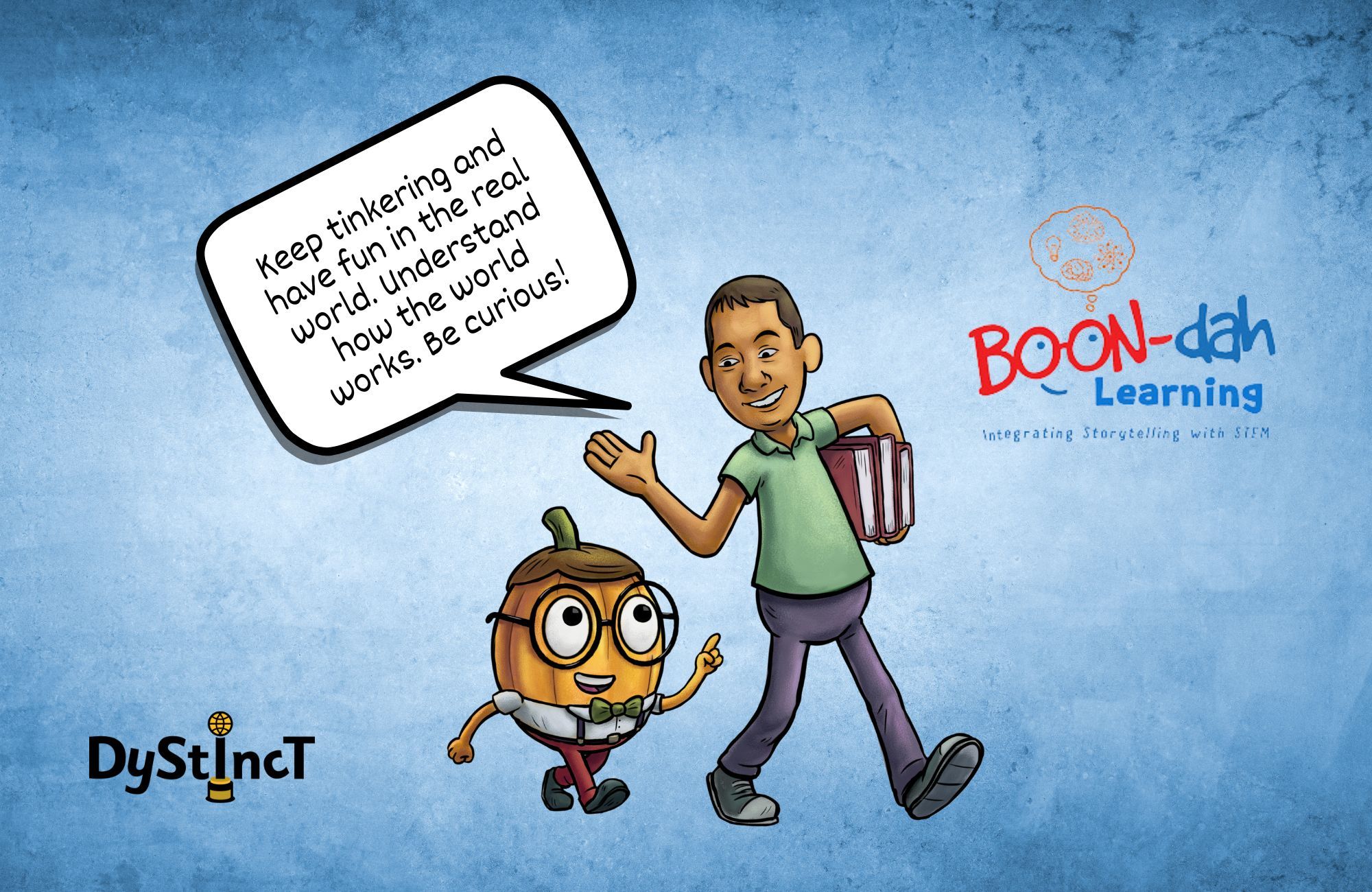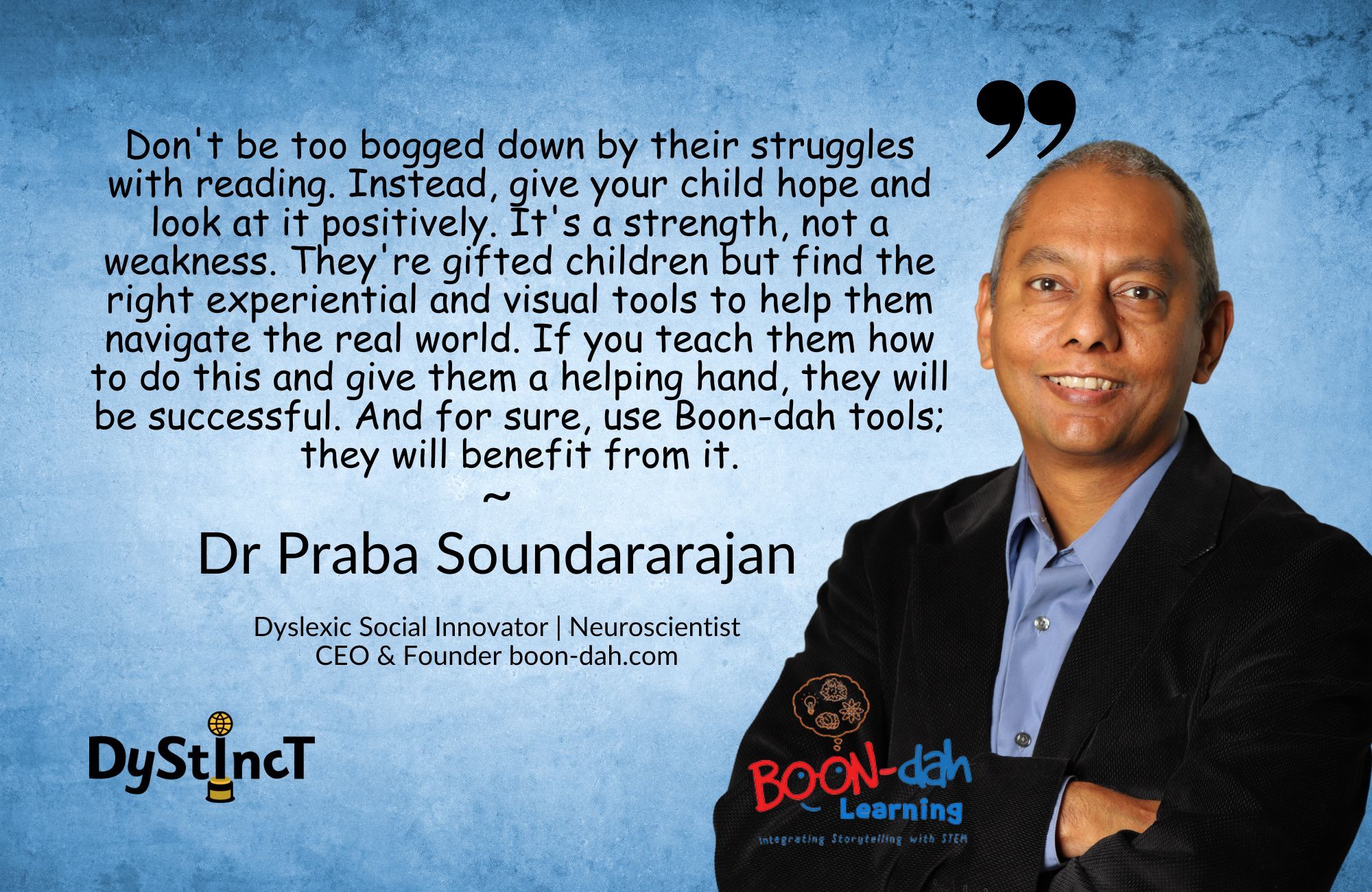 Extracts from Dystinct Magazine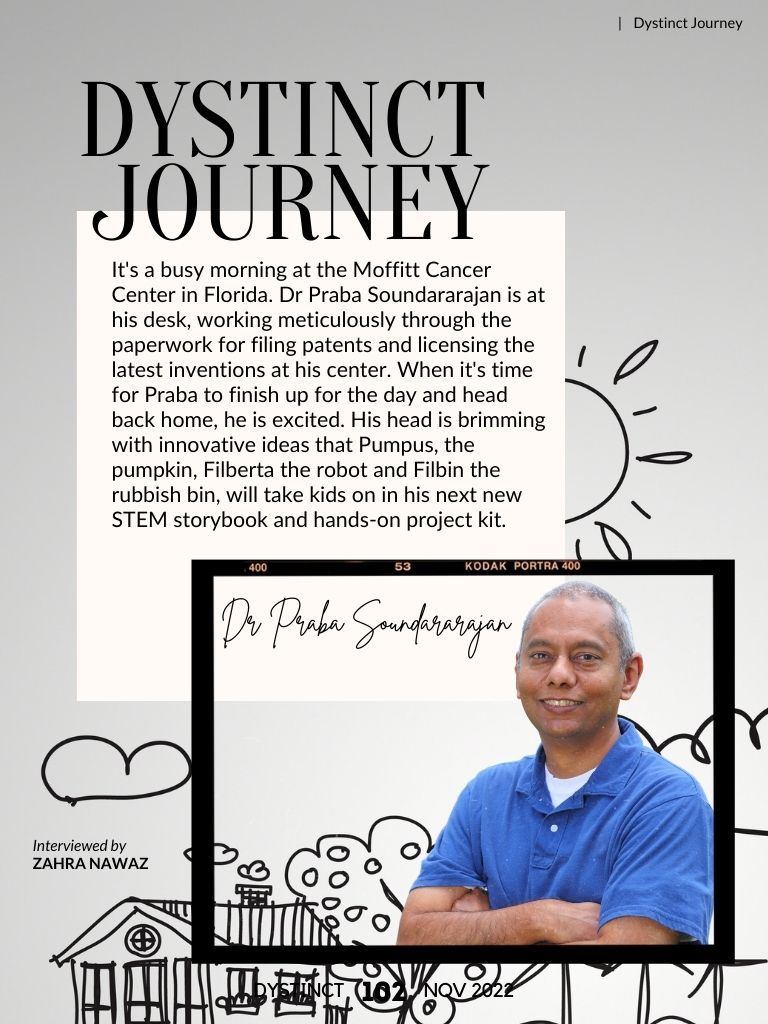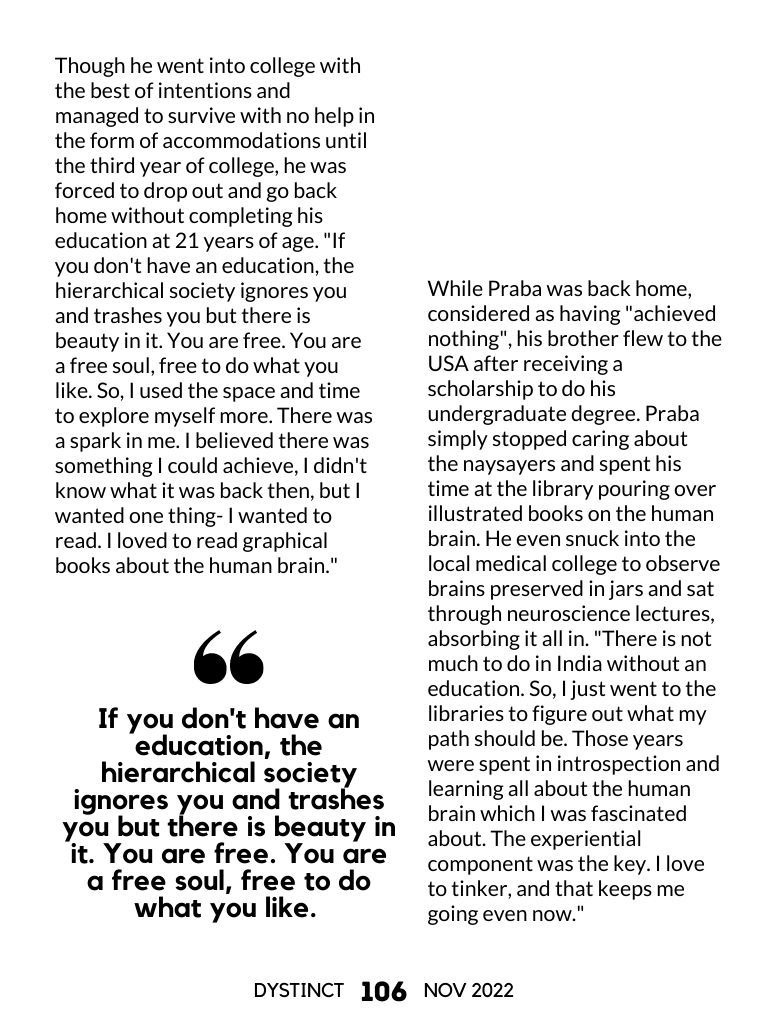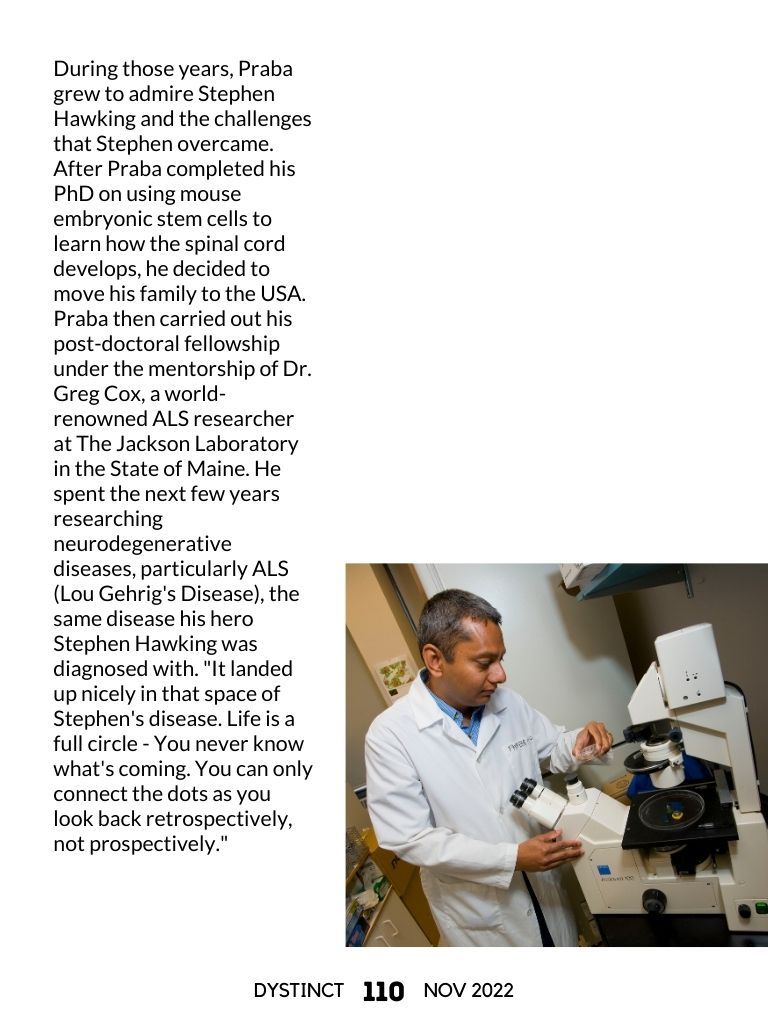 Comments
---