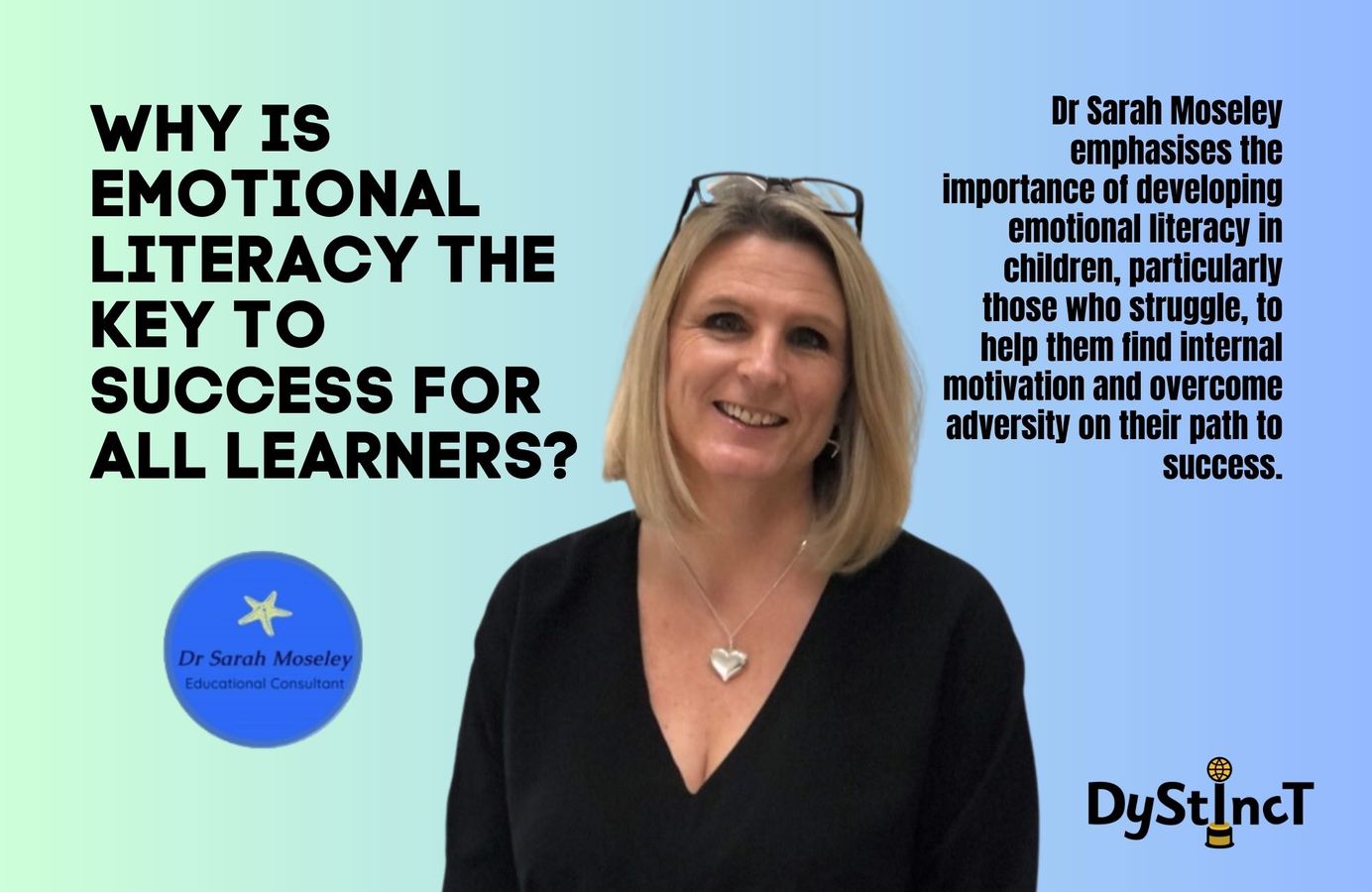 Issue 14: Why is Emotional Literacy the Key to Success for All Learners? Dr Sarah Moseley
Dr Sarah Moseley emphasises the importance of developing emotional literacy in children, particularly those who struggle, to help them find internal motivation and overcome adversity on their path to success.
From the start of my career, I was aware that my passion lay in supporting those pupils in my classroom who had the most difficulties with literacy. When I qualified as a mainstream primary teacher, my first class of thirty-two Year 3 pupils was in an area of London where there was high social and economic deprivation. During my time teaching this group of children, I realised just how difficult it was for some children to learn to read. I wanted to support them as much as I could, and this interest led me to further studies and eventually a career in special education. Alongside the practitioner roles, I spent over 20 years as a researcher. I know that this passion and interest were fuelled by my own difficulties with literacy. I still struggle to read and spell at certain times or within certain situations. I have learned coping mechanisms to support these issues, but I still feel the fear of getting it wrong and try to avoid situations where that might be the case.
I was able to understand my own feelings and emotions, continuing with something that challenged how I viewed myself as a learner. Rather than viewing my struggles as a difficulty that cannot be overcome, I had the ability to bounce back and carry on. I've had the experience of being challenged and supported to understand that feelings of failure can change and that skills can develop over time. This is referred to as being emotionally literate. Claude Steiner, in 1997, was one of the first to write extensively about this, referring to it as "intelligence with a heart" (Steiner, 2003).
At the heart of my journey was an internal motivation to succeed. I have developed the skills needed to continue in the face of adversity.
Learning to read is a complex process that can be slow and difficult, requiring a degree of resilience. This is where the barrier lies for many of the learners I have worked with (within mainstream and special education contexts). Unlike learning to speak, we need to be taught specific skills while learning to read. Additionally, the learning process is not linear, where one thing is learnt and then the next (DfE, 2021). This makes it challenging, particularly in the early stages, when learners will be faced with making many errors and needing to go back and attempt the same tasks many times. This may happen in a context where those around them appear to gain the skills needed relatively easily and progress to more exciting learning opportunities. To make matters worse, the skill of reading is required across every learning opportunity that students encounter. Research emphasises literacy development as the "foundation for lifelong learning" (Snowling, 1991, p.49) through the creation of self-generated learning opportunities (Wigfield & Guthrie, 1997).
---