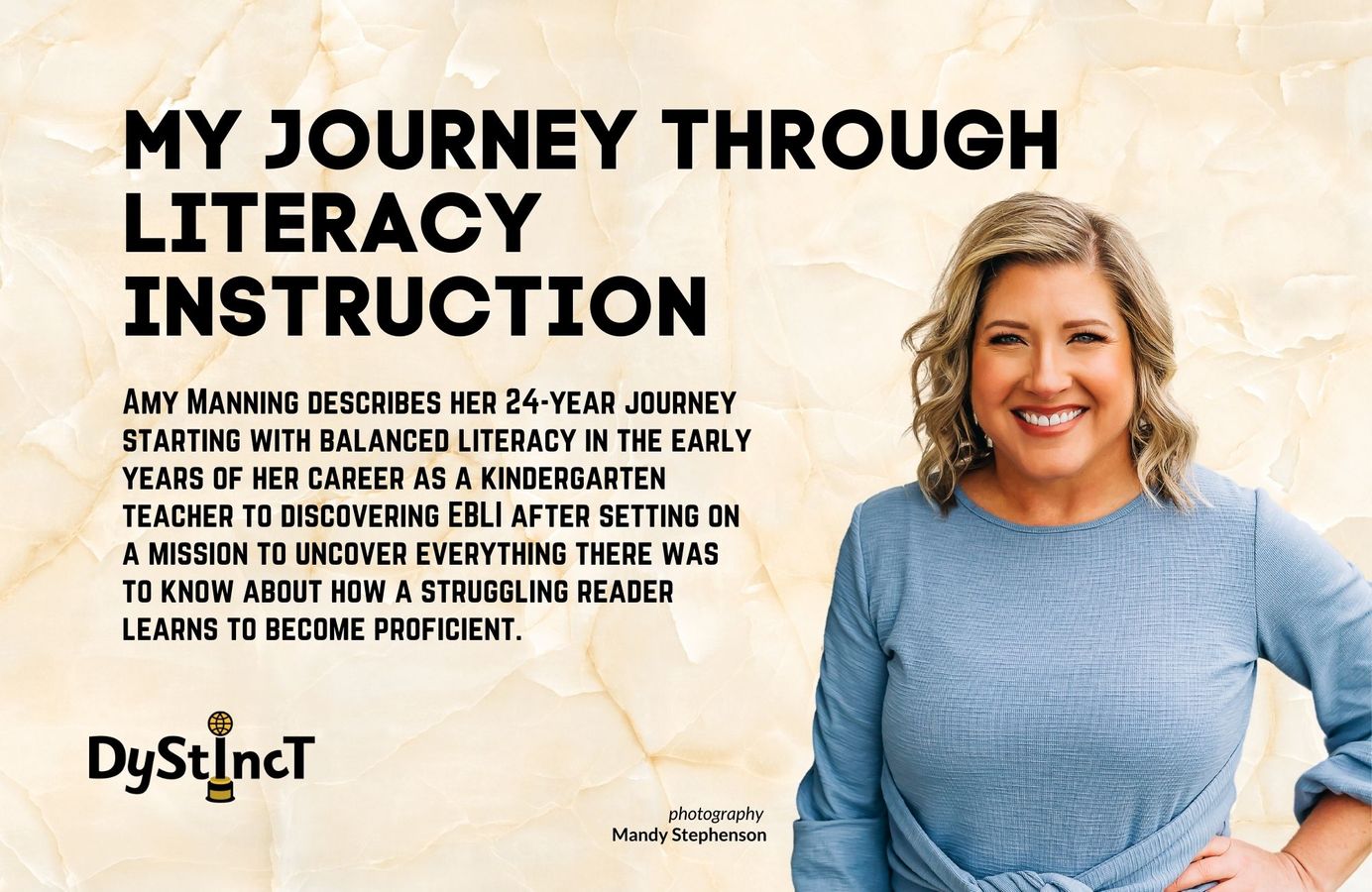 Issue 13: My Journey Through Literacy Instruction | Amy Manning
Amy Manning describes her 24-year journey starting with balanced literacy in the early years of her career as a kindergarten teacher to discovering EBLI after setting on a mission to uncover everything there was to know about how a struggling reader learns to become proficient.
Rumbling with Vulnerability
Brené Brown always says it best.
Most of us feel brave and afraid at the exact same time. We feel vulnerable. Sometimes all day long. During those moments when we're pulled between our fear and our call to courage, we need shared language, skills, tools, and daily practices that can support us through the rumble.
~
Brené Brown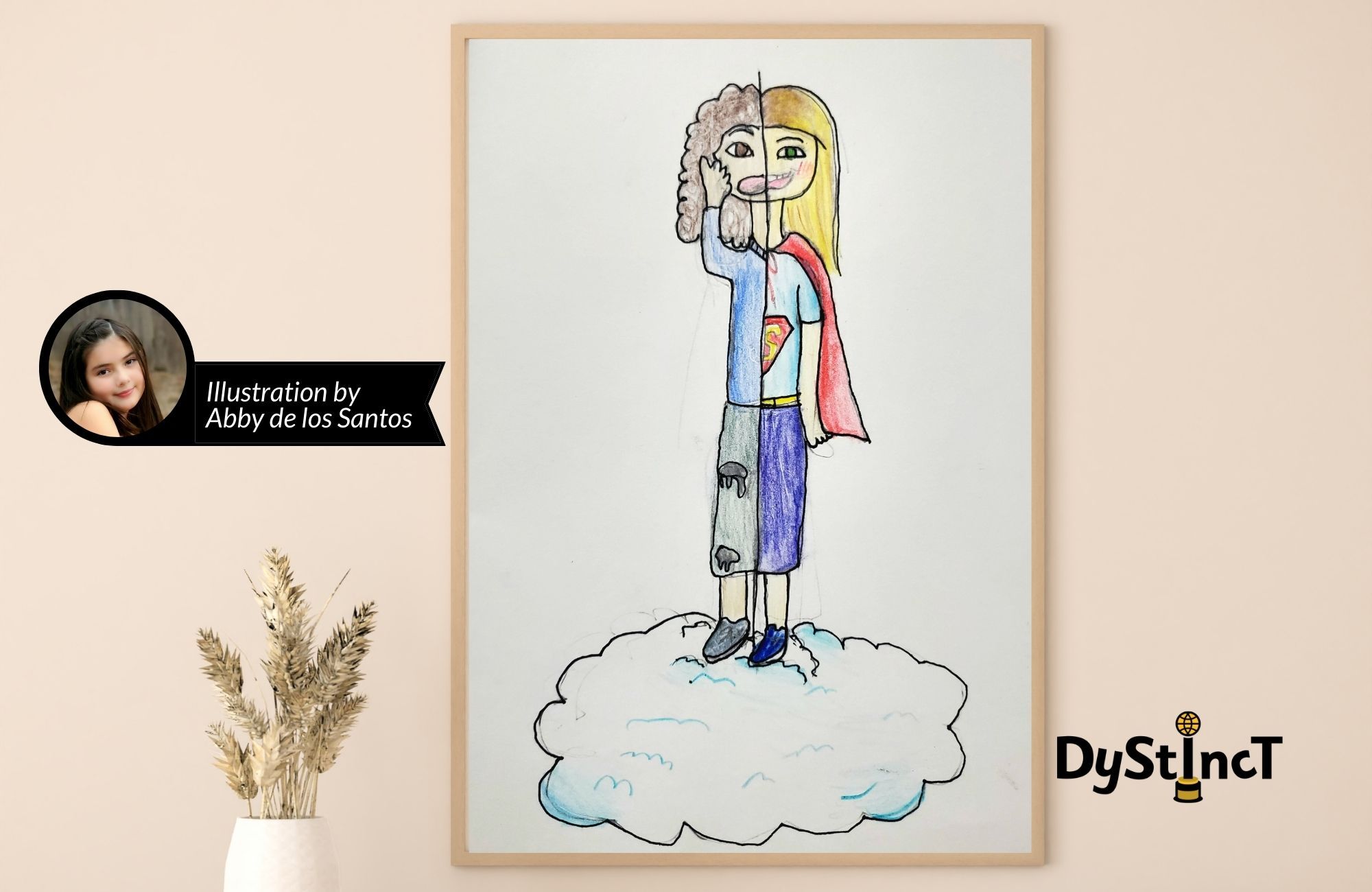 My journey through literacy instruction has been nothing less than a rumble with vulnerability.
I began teaching kindergarten, and it stretched over a wonderful 18 years. Overall, a lot of my students made reading look like it was easy. Kids were coming in with solid alphabet and sound knowledge, so it leaned into feeling like that was a prerequisite to kindergarten. Then there was a pocketful of kids who weren't responding to my instruction when it came to reading books. Something felt wrong in my head, heart, and stomach for a long time. I knew reading leveled text wasn't working and something needed to change, but I didn't know what or how. All my training was balanced literacy based. If someone tells teachers that this is the best way to teach kids how to read, we get good at that. Like, really good. Somehow, it became the student's fault that they weren't responding to leveled text and guided reading strategies.
I then became a reading interventionist, and my journey rebooted. My first question was, "Why does intervention look like another guided reading group?" I knew my goal was to fill gaps in foundational skills. How was I going to do that with leveled text, and what should I do instead? I started with that question and continued to pursue the answer. My new mission was to find out everything there was to know about how a struggling reader learns to become proficient.
It didn't take long in my research to come across the words dyslexia and structured literacy. I had so many questions: How is structured literacy different from balanced literacy? Is this good for all kids? Have I been keeping my poor readers, poor readers, by prompting with the three-cueing system? I was spinning with emotions and guilt but mostly inspired to never teach a student to guess at a word ever again.
I marinated myself in the Science of Reading research and evidence-based practice. I struggled internally, battling back and forth with so many years of balanced literacy ingrained in my mind. However, some of it was easy to let go. Studying how the brain learns how to read, structured literacy, and Orton-Gillingham practices started making so much more sense, and my readers were becoming stronger decoders. Every year I refined my instructional prompting, routines, and materials. But something was still missing. I couldn't seem to get the kids access to the code fast enough. Should I move through the scope and sequence faster? What if they don't master the previous skills first?
Over the past few years, I noticed a few programs that seemed different. At the time, I didn't know they were a structured literacy approach called linguistic phonics, but I started paying more attention. Marnie Ginsberg was freely sharing scientific knowledge and her Reading Simplified program. I thought, "I will try anything."
Integrated instruction?
Yes, please.
Accelerate readers?
Yes, please.
I'm thirsty for more.
I tried a few Reading Simplified strategies and was amazed at the acceleration my students were making. One of the biggest shifts I made from traditional OG phonics instruction was thinking that teaching more than two long vowel spelling patterns at a time was creating cognitive overload. Instead, the kids easily acclimated to learning five spellings for one sound. It amazed me. I was still explicitly teaching phonics patterns but moving more quickly, and kids were applying these skills with layers of scaffolding. What is happening here? Could I get through the code for kids to read complex text more quickly? Have I really understood the processes of how the brain learns how to read? Do I really understand what makes sense to kids?
I had also been immersing myself in every free EBLI webinar and resource available. I studied and watched for about a year. Everything Nora Chahbazi presents makes reading instruction seem feasible in hours instead of years. I read the books she recommended and the research behind Structured Linguistic Literacy instruction compared to other structured literacy programming. I then decided to take the EBLI plunge. I started the training last summer, have been using it with my students this fall, and am seeing immediate results.
One of my biggest takeaways from the knowledge Nora and Marnie share is that once kids learn the processes and how the English code works, they hit unbelievable breakthroughs. This year, I feel confident my students will receive the absolute best instruction they need to become proficient readers in an adequate amount of time.
Breathe...
I am forever learning and curious enough to never stop asking questions and refine my instruction. I went too many years of teaching without acting on the question, "Is there something better, and how can I find out?" It does take courage to put yourself out there to ask for help. It does take courage to say, "I'm not sure what to do." It does expose us to feeling uncomfortable, but that is how we improve.
When the experts say that 95% or more of kids can read, this is what they mean. The Science of Reading movement is gaining momentum. How many rumbles with vulnerability will it take? As many as we need to get there. Now is the time to trust the rumble. Lean on the right experts who know. They are kind, generous, and unwavering with their knowledge and support. Join the movement - Literacy for all.
Additional Resources
Amy Manning
Educator, Reading Interventionist, EBLI Tutor
Founder of Iowa Teacher Dyslexia Support Group
Facebook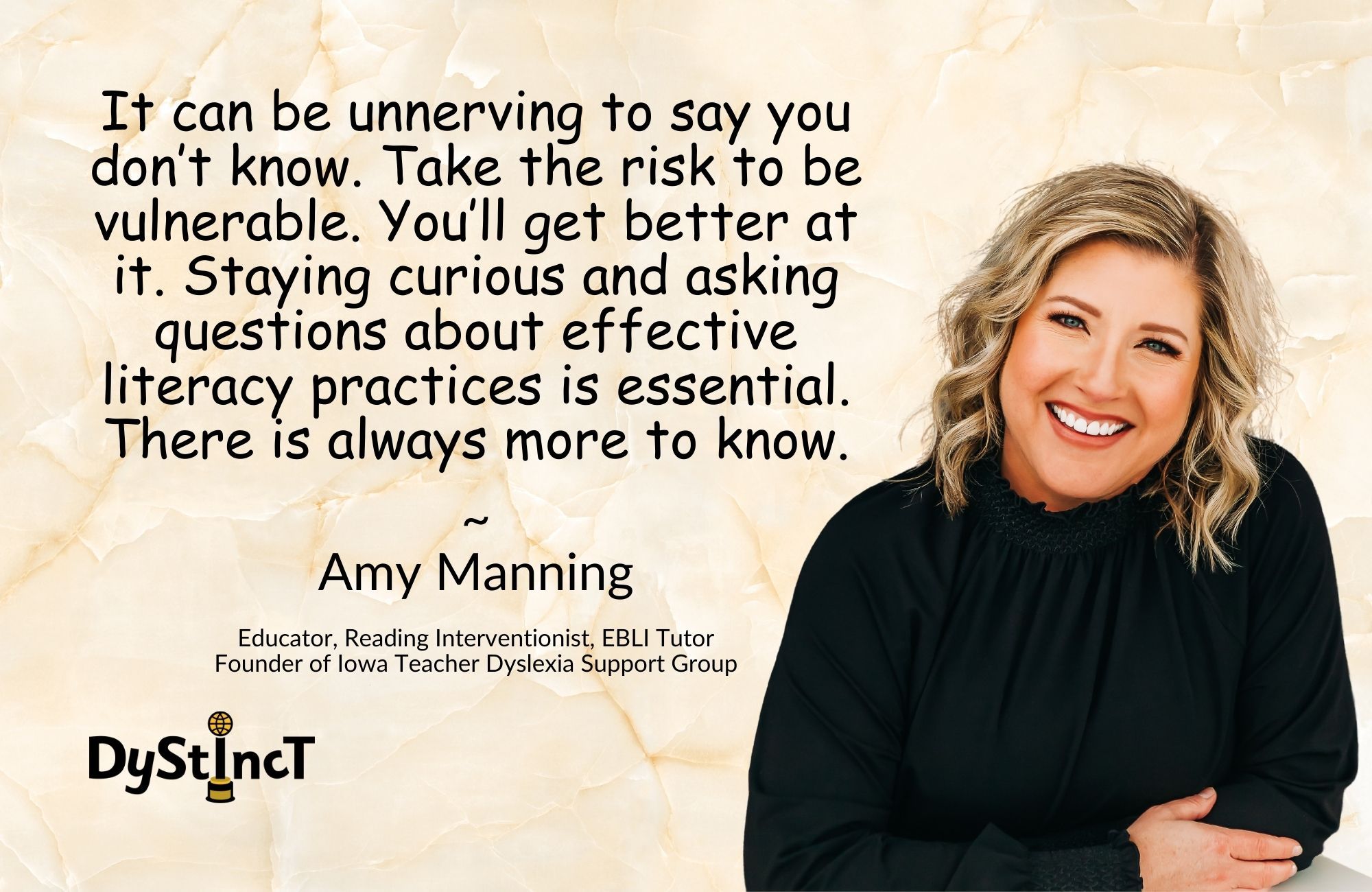 Amy Manning has 24 years of teaching experience and is currently a reading interventionist and EBLI tutor in Iowa. She is the founder of a dyslexia support group for teachers in her state. Her educational accomplishments include an undergraduate degree in Early Childhood Education, Reading Endorsement, Master's in Education, Reading Specialist, and Dyslexia Specialist Endorsement. She is also a certified Structured Literacy Classroom Teacher (SLCT) through CERI.
Extracts from Dystinct Magazine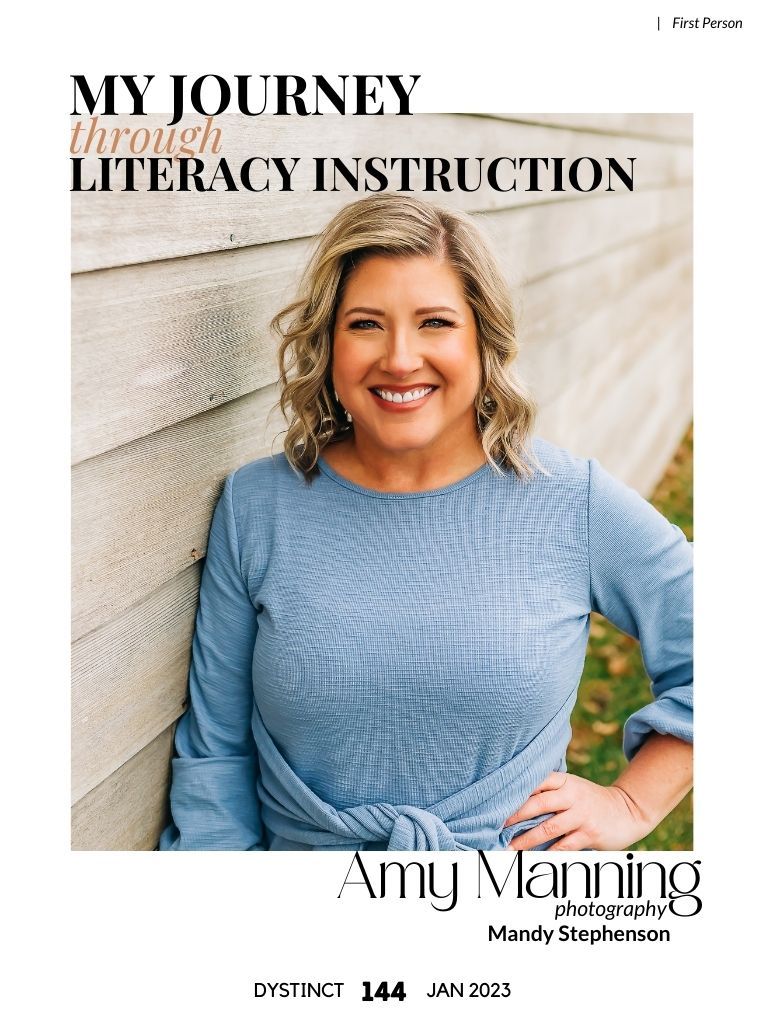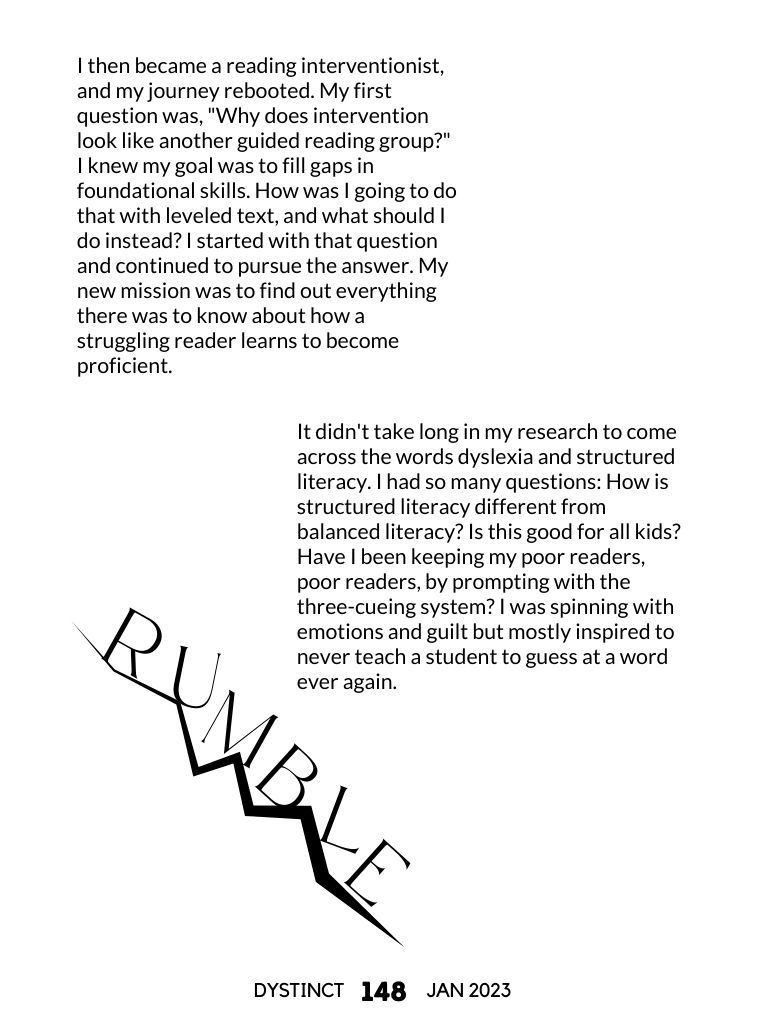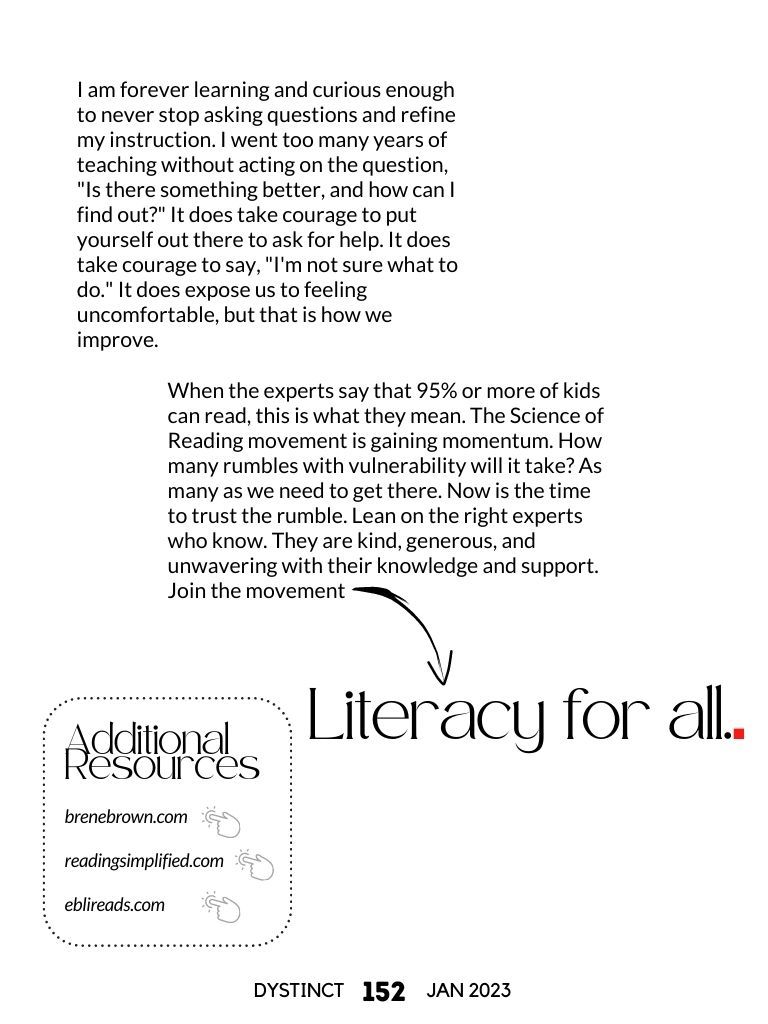 Comments
---