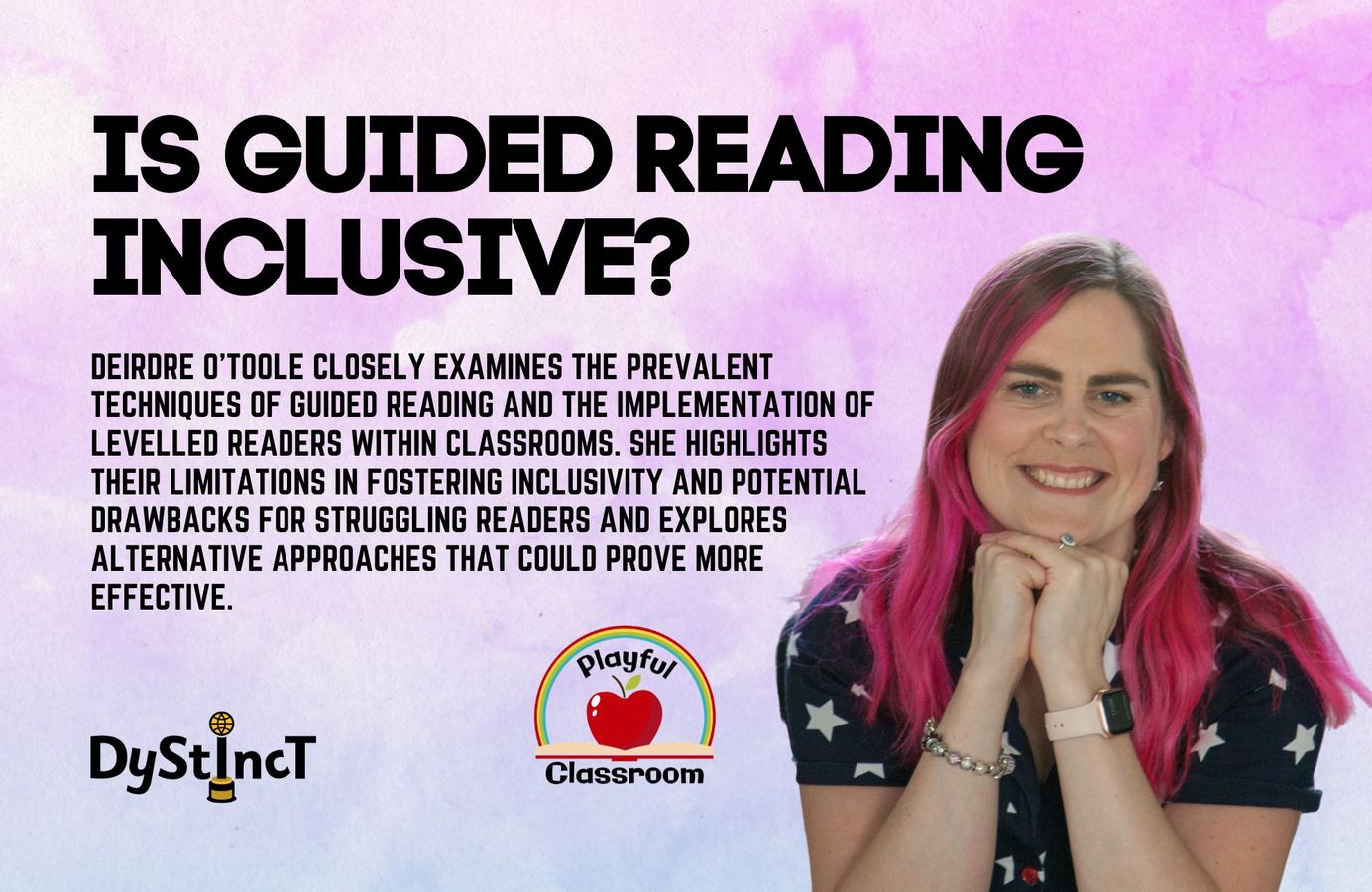 Issue 17: Is Guided Reading Inclusive? Deirdre O'Toole
Deirdre O'Toole closely examines the techniques of Guided Reading and the implementation of Levelled Readers within classrooms, highlighting their limitations in fostering inclusivity & potential drawbacks for struggling readers & explores alternative approaches that could prove more effective.
Deirdre O'Toole is a Teacher, PhD Candidate and Founder of Playful Classroom [playfulclassroom.ie]
"Inclusion in education is about ensuring that every learner feels valued and respected and can enjoy a clear sense of belonging." - UNESCO, 2020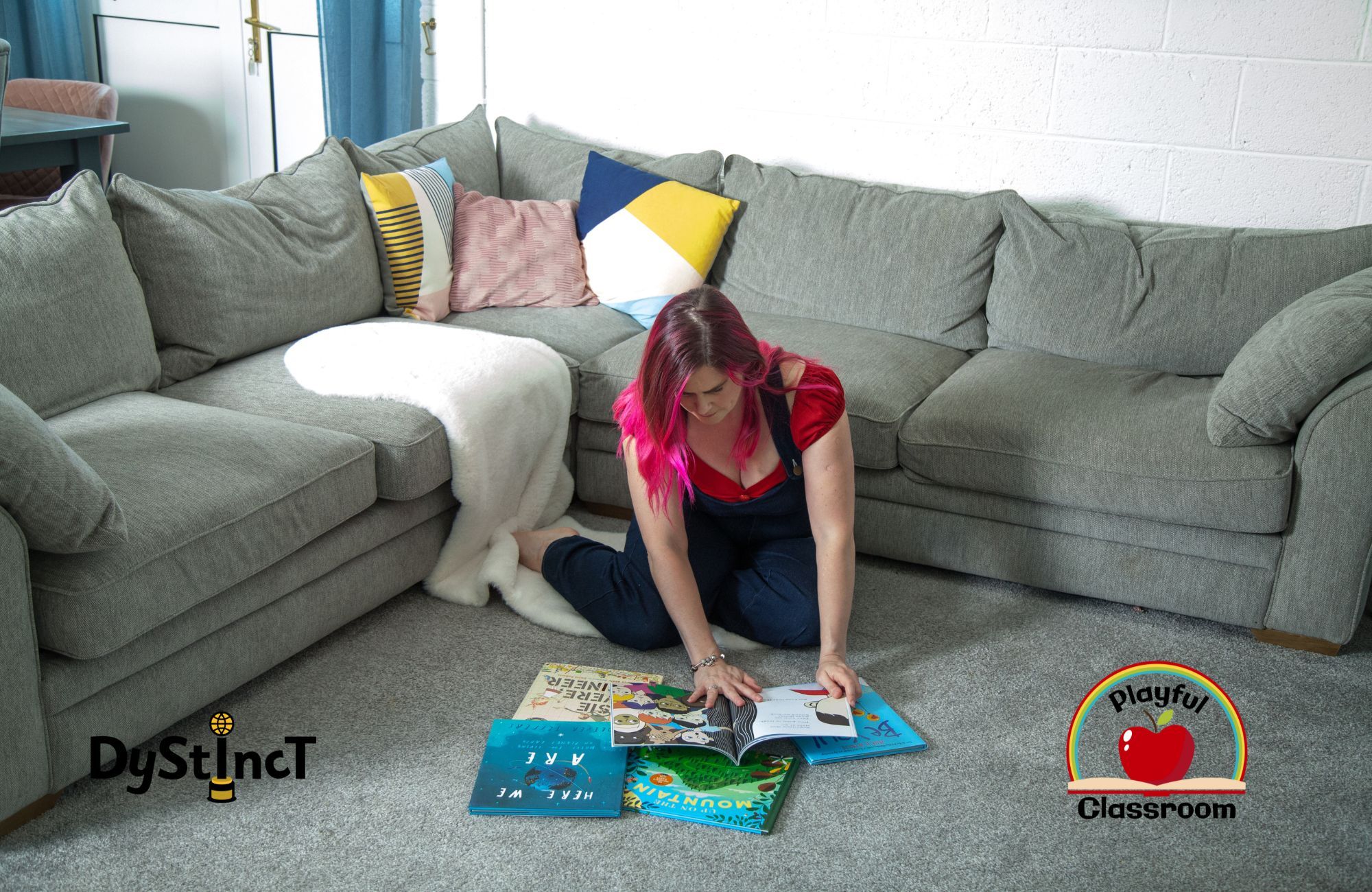 Inclusion in education means accepting and acknowledging the diversity within schools and ensuring the active participation of all so as to reach one's full potential. This may involve removing barriers, enabling provision, and providing support so that children may learn together, irrespective of difficulties or differences. A child's right to education or otherwise should not be subject to discrimination of any kind. Equitable access to whatever supports are needed in order to be meaningfully included and educated is of the highest importance for children who have additional needs. Otherwise, their disadvantages are intensified.
In this article, I will take a close look at the common practices of Guided Reading and the use of Levelled Readers in classrooms: how these practices do not promote inclusion, can be disadvantageous to struggling readers, and what alternatives may be more effective.
Differentiation
Differentiation

Differentiation is a delicate matter in literacy instruction. Ideally, it should involve different instruction to address the strengths and needs of children in a class so that they may all benefit. Differentiated instruction can take several forms: process, materials, environment, or product. A mixture of whole-class, group, and individual instruction allows for the inclusion of all children.
To achieve equity and full participation, all children must have access to the complete curriculum.
To achieve equity and full participation, all children must have access to the complete curriculum. One might think that whole-class literacy teaching does not allow for the individual differences and needs of children. However, the same content knowledge and skills can be taught to the whole class if differentiation is provided to meet the needs of individuals. Tomlinson outlines a practice called 'Teaching Up,' where the teacher plans first for advanced learners and then scaffolds success for struggling children on the same tasks. The "seemingly unattainable" can step within reach. Scaffolding can include small-group instruction, modelling, planning guidance, additional time, peer partnerships, or step-by-step instructions to ensure engagement and help the student reach success. These scaffolds may be temporary supports, adjusted as needed.
Differentiation is not just about ability or homogeneous grouping. Research since the 1980s illustrates that tracking and ability grouping promotes inequity rather than improving literacy achievement. Ability grouping does not grant equal access to knowledge; achievement gaps are sustained, leaving disadvantaged students continuing to fail. This common practice of small-group, ability-based literacy instruction is not inclusive and may even be detrimental to those most vulnerable in our classrooms.
The popularity of supporting children in groups rather than individually emerged when concerns were raised about cost-effectiveness. Schools want to support as many children as possible to achieve their potential. Several studies have investigated whether or not there is a significant difference in outcomes between one-to-one and small-group reading instruction. One study found that groups of 3-4 children achieved outcomes similar to those who received one-to-one teaching. Findings from others indicated no advantage to one-to-one teaching over groups of 2 or 3.
Small-group teaching, however, does allow for instructional differentiation when it provides extra or more intensive instruction to those who need it. There is a good deal of evidence to support the use of small-group teaching for literacy. When small groups have been compared to whole-class teaching, small groups have been more effective. However, this is only an advantage when every group receives instruction from a teacher. If one teacher works with one small group, and the rest of the class works 'independently,' the effects are dissipated.
Ability grouping is most disadvantageous to those in the lowest groups.
To be fully inclusive, small group instruction must be carefully considered before being put to use. What might appear to be an inclusive practice, grouping children according to ability so they get targeted instruction, can foster disadvantage. Race and socio-economic status are strongly correlated to reading achievement, meaning that the children in the 'low' groups are already disadvantaged. Ability grouping is most disadvantageous to those in the lowest groups. The children in these groups rarely catch up with their peers. Instead of ability groups or independent stations, using small groups to reteach a lesson or providing additional instruction and practice in certain literacy skills is more effective because not all children in the class will need it, only those struggling.
Guided Reading
Guided Reading

Guided Reading… is the heart of a balanced literacy program. - Fountas and Pinnell, Guided Reading, p.1
Guided Reading evolved from the work of Marie Clay in New Zealand in the 1970s. Clay had observed children, developed a theory on how they learn to read, and created the intervention programme Reading Recovery. 'Natural language' texts, aligned to a gradient, were published to be used for Guided Reading. In 1996, Fountas and Pinnell, heavily influenced by Clay, published their book, 'Guided Reading: Good First Teaching for All Children". Guided Reading, along with a Benchmark Assessment System and a Text Level Gradient, became enormously popular, arriving in the UK not long after.
Guided Reading involves assigning children to groups of 4-7 according to their assessed book level. The teacher(s) work with a group for up to 30 minutes while the other groups engage in "meaningful literacy" activities, "managing their learning". Children are given a 'just-right' text at their instructional level based on Running Records performed by the teacher. The teacher begins with a book introduction, familiarising the children with featured language and sentence structures, purportedly to enable successful independent reading. Experience is built for children in the lower groups by reading 'easier' books. Using texts with several lines of text on a page "without clear picture cues would confuse them." This framework of ability grouping for reading instruction is asserted to be an effective method of differentiation.
---