Issue 08: March 2022 Dystinct Magazine
Dystinct Magazine's 8th issue: March 2022 is available to download on Apple and Android devices. The issue covers inspirational stories from children and adults with learning difficulties (dyslexia, dysgraphia, dysgraphia and dyspraxia).
Table of Contents
How To Access Dystinct Magazine
On the Website
👉 Read further below to access all the content of the magazine on the website layout. Check links to each article in
Topics covered in this issue
On The Cover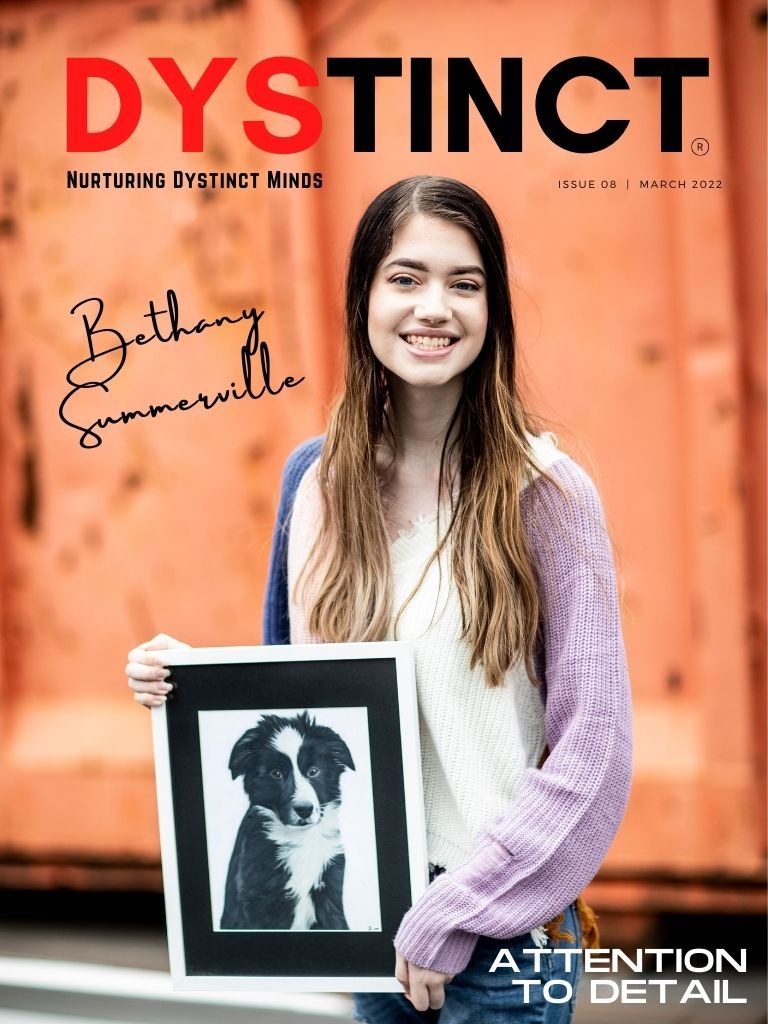 On the cover is Bethany Summerville.
This issue features the story of the talented 16-year-old homeschooled artist Bethany Danielle Summerville from Tennessee, USA who creates masterpieces that are tricky to differentiate from real pictures.
TOPICS COVERED IN THIS ISSUE
The March 2022 issue of Dystinct Magazine brings to you:
1) Phonics Instruction Myths - by Pryor Rayburn (Director of LS Educational Resource Program at Charlotte Country Day School, President of the NC branch of the International Dyslexia Association, Co-founder readyreaderdecodables.com and Founder at ortongillinghammama.com) [Click here to read]
Pryor Rayburn discusses five myths surrounding phonics instruction that educators must consider while choosing their curriculum and planning instruction.
2) The Dystinct Journey of Spencer Thorne - An interview with Adrienne Adams [Click here to read]
An interview with Australian mum Adrienne Adams about her family's journey with dyslexia and how she along with her son Spencer Thorne created a short film to help children with learning differences understand themselves better.
3) A Fresh Look at Classical Handwriting: Writing in Chancery Script- by Rebecca Loveless (Structured Word Inquiry Coach at The Nueva School, Teacher Trainer, Conference Presenter, and Founder of rebeccaloveless.com) [Click here to read]
Rebecca Loveless discusses the origins and science behind the Chancery script, a writing style that satisfies the desires of the proponents of both cursive and manuscript handwriting styles.
4) Meeting the needs of struggling students through the use of multisensory maths - by Adrianne Meldrum (Founder & CEO) and Matthew Lyda (Math Specialist) at madeformath.com [Click here to read]
Adrianne Meldrum and Matthew Lyda outline the evidence behind the five indicators of multisensory math instruction and discuss six simple methods that can be used to support students.
5) Dystinct Report - by Gwendolyn (Journalist at Dystinct.org dystinct.org/team/gwendolyn) [Click here to read]
14-year-old journalist Gwendolyn's article on evidence-based learning and how the Palmer Primary School in South Australia is providing an excellent environment for dyslexic children through the implementation of evidence-based learning in their classrooms.
6) Tools to Enhance Vocabulary Acquisition - by Lisa Barnett (Special education teacher, Trainer, Founding member of Decoding Dyslexia MI and Founder of seethebeautyindyslexia.com and barnettsbuzzingblog.edublogs.org) [Click here to read]
Lisa Barnett discusses the interrelationship of morphology, etymology, and phonology and demonstrates how studying the written word through an orthographic lens can provide high-value tools that increase the breadth and depth of literacy for students.
7) The Dystinct Journey of Bethany Danielle Summerville - (Artist at facebook.com/summervillebeth) [Click here to read]
The story of the talented 16-year-old homeschooled artist Bethany Danielle Summerville from Tennessee, USA who creates masterpieces that are tricky to differentiate from real pictures.
8) Building Successful School Relationships - by Simon Da Roza (Principal Consultant, Exceptional Learners. www.xceptionallearners.com) [Click here to read]
Simon Da Roza discusses how perceptions surrounding neurodivergence is slowly but surely changing and provides parents with 19 excellent tips on building a successful relationship with the school to support their children's diverse learning needs effectively.
9) Teacher Preparedness to Address the Needs of Dyslexic Non-Native Speakers - Andrea Kulmhofer-Bommer (Researcher, Lecturer, and Teacher Trainer) [Click here to read]
Dr Andrea Kulmhofer-Bommer examines the challenges faced by non-native students of the English language and teacher preparedness to meet the unique learning needs of dyslexic non-native speakers in particular.
10) Roots matter- Neurodiversity and Employment for Youth Development – by Gavin Hoole (Qualitative researcher, Neurodiversity advocate, and Founder at Dyspraxia Lambeth) [Click here to read]
Gavin Hoole talks about the various influences in the developmental pathway of neurodivergent children and suggests ideas for the effective transitioning of neurodivergent youth into the employment space.
11) I Think, Write and Remember in My Own Way - by Valerie Woods (Dyslexia Advocate, Author, and Blogger at bricabraccat.com) [Click here to read]
Valerie Woods from the UK talks of her journey growing up as a dyslexic child in the 1950s and shares tips and strategies that she used to cope.
12) The Role of Poverty in Special Education- by Dr Tracy Johnson (Speaker, Learning Difficulties Advocate, Consultant, and Founder at vesselsofhopevessels.org) [Click here to read]
Dr Tracy Johnson narrates her personal experience growing up as a child with learning difficulties dependent on public assistance and examines the inequality in education for students of colour, students with disabilities, and students from low-income backgrounds.
13) The Dystinct Journey of Jacob Ainsley [Click here to read]
The inspirational journey of hardworking Jacob Ainsley from the UK whose passion for design technology helped him successfully graduate from university with a bachelor's degree in product design and a prototype for a pen that can change many lives.
Editor's Note
The best time for new beginnings is now!
This is one of my favourite quotes, and I like to think about this quote, particularly a few months into the new year. I say a few months into the year because we make resolutions at the beginning of the year every year. But as the days turn into weeks and months, the pressure on ourselves to live up to the expectations we set upon ourselves turns into guilt and frustration. I had a long list of activities that I wanted to do with my boys to tick off before school resumed for a new academic year in February. My list included tasks such as introducing cursive handwriting, consolidating multiplication facts, introducing division, revising all irregular words learned at school last year and more. However, like all busy parents, I, too, didn't manage to tick off all the items on my very long to-do list. This quote reminds me that no matter what I didn't manage to do, I don't need to give up on my list or be upset about not getting things done because 'the best time to start is now."
So please go easy on yourself, and if you plan on starting a new routine to help your children with schoolwork, you can always start now.
I hope you enjoy reading this issue and all the specialist content covered.
Please get in touch with me if you have any feedback, ideas, or stories to share to change the narrative surrounding learning disabilities.
Thanks
Zahra Nawaz Shafeeq
Extracts from the Magazine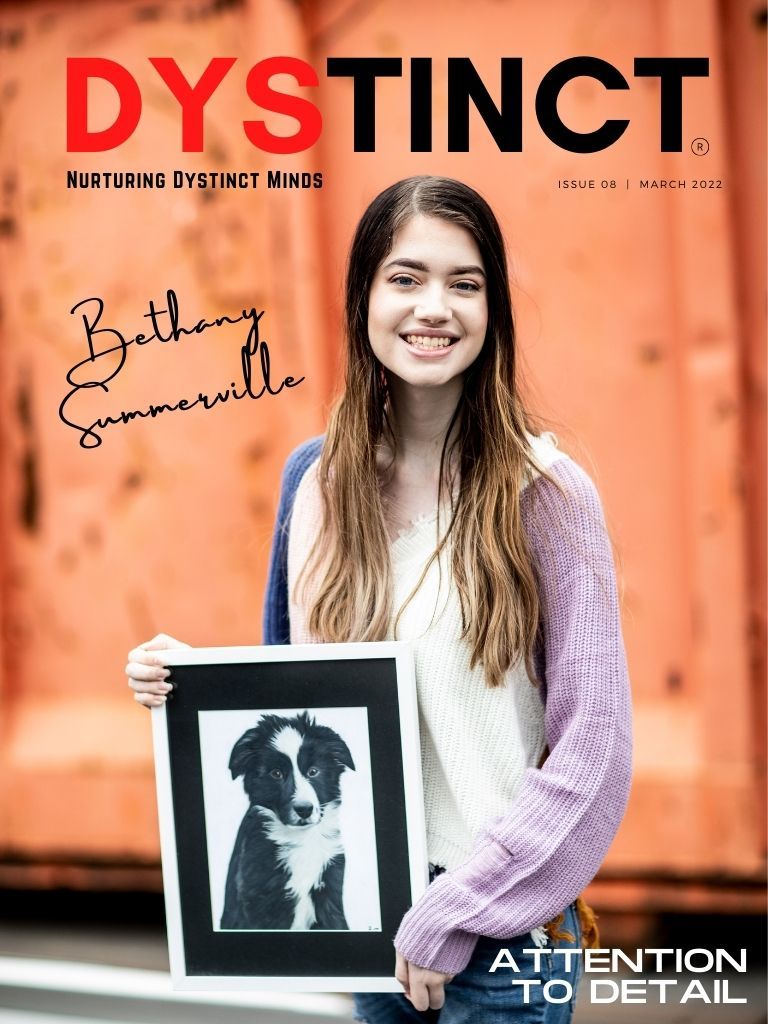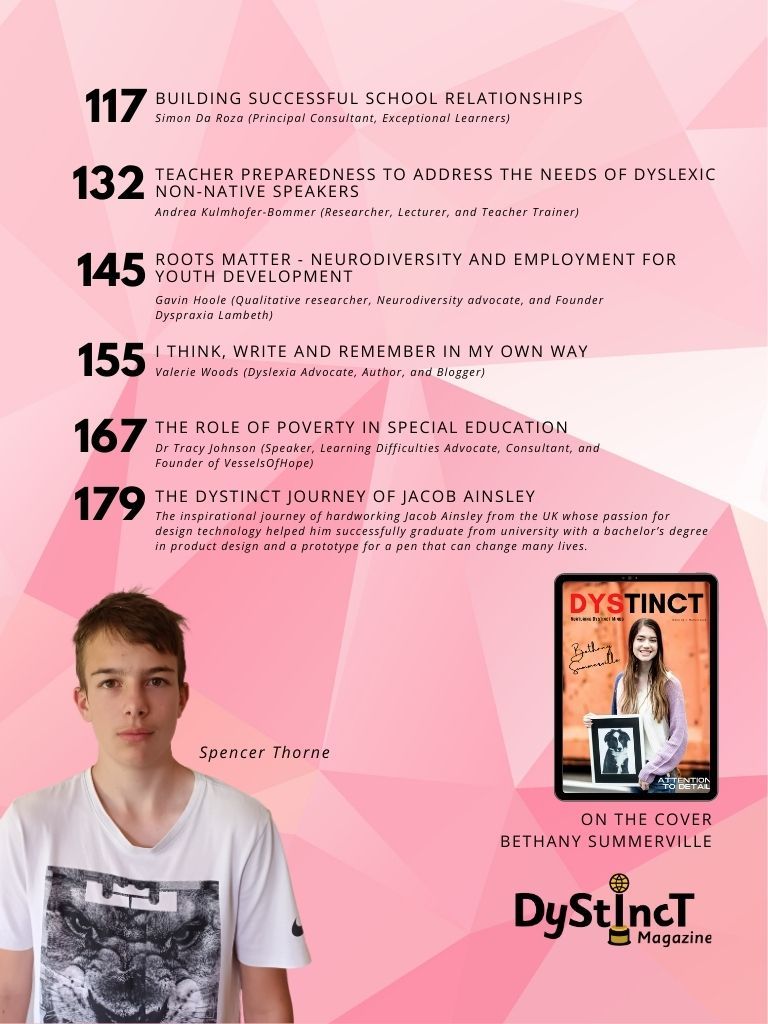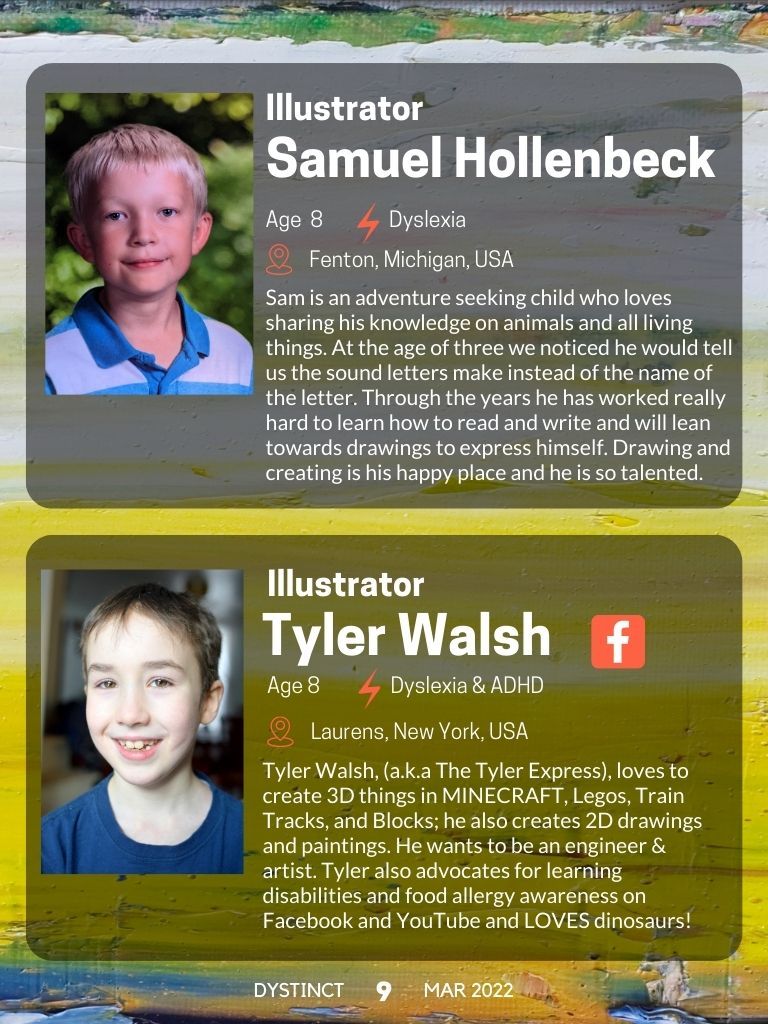 Comments
---