Issue 04: July 2021 Dystinct Magazine
Dystinct Magazine's 4th issue: July 2021 is available to download on Apple and Android devices. The issue covers inspirational stories from children and adults with learning difficulties (dyslexia, dysgraphia, dysgraphia and dyspraxia).
Table of Contents
How To Access Dystinct Magazine
On the Website
👉 Read further below to access all the content of the magazine on the website layout. Check links to each article in
Topics covered in this issue
On The Cover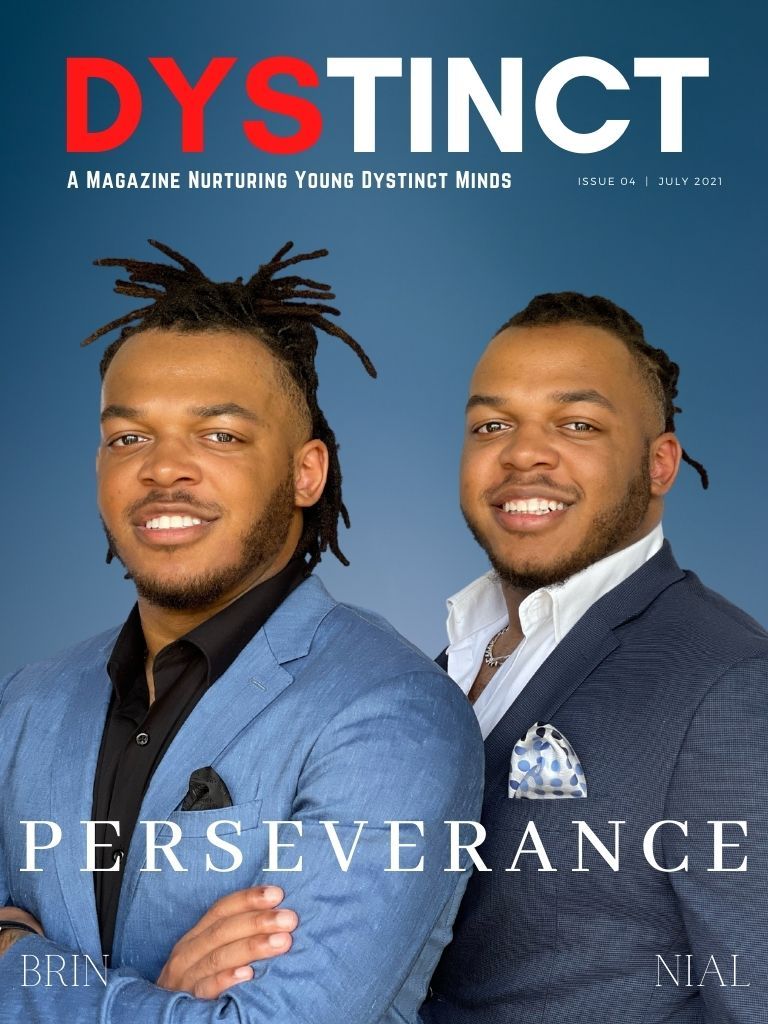 On the cover is Brin & Nial Wilson.
TOPICS COVERED IN THIS ISSUE
The July 2021 issue of Dystinct Magazine brings to you:
1) The Importance of Evaluating the Whole Child - by Ashley Roberts (The Dyslexia Initiative) [Click here to read]
Ashley discusses the benefit of getting a formal diagnosis for children with learning difficulties and substantiates her opinion with reasons why the complete evaluation of a child is of significance.
2) The Dystinct Journey of Dan Colquhoun (Rocking Dan Teaching Man) [Click here to read]
Rocking Dan, the celebrity teacher from Sydney, Australia, known for his entertaining, educational songs, talks about his struggles with reading, writing and maths growing up.
3) Morphology: The Hidden Framework of Spelling - by Sue Hegland (Learning About Spelling) [Click here to read]
Sue Hegland demonstrates how morphology is the key to unlocking spelling and explains why morphology instruction needs to be a part of structured literacy instruction from day one.
4) The THREE "E's – Experience, Emotion, & Expertise - by Lois Letchford (loisletchford.com) [Click here to read]
Lois Letchford illustrates how literacy success depends on the complex interplay of three overlapping domains: experience, emotion, and expertise.
5) Writing – still my struggle - by Lois Letchford (loisletchford.com) [Click here to read]
The story of how Lois Letchford nurtured her son, from being condemned by the education system as 'beyond repair' to gaining a PhD in Applied Mathematics from Oxford University.
6) Equity and Cultural Responsiveness in Education - by Zaretta Hammond (Culturally Responsive Teaching and the Brain) [Click here to read]
Zaretta Hammond's insights into why educators need to be aware of equity and cultural responsiveness in teaching to use their student's own cultural background to create a happy community of learners.
7) The Formula for Understanding School Psychologist / Neuropsychologist Test Scores and Reports – by Dr John Carosso (Community Psychiatric Centers) [Click here to read]
Dr John Carosso expertly simplifies the daunting task of making sense of the confusing jargon in School Psychologist / Neuropsychologist Test Scores and Reports.
8) My Motivation Change - by Carla McNeil (Learning Matters) [Click here to read]
Carla McNeil, the mother of a child with a specific learning difference and a former classroom teacher and school principal, talks of her personal experience with dyslexia and what needs to be done to raise literacy outcomes in schools across New Zealand.
9) The Dystinct journey of Jacky Smith [Click here to read]
The poignant story of Jacky Smith, who rose against odds to become her own advocate and turn around all the experiences her difficult life taught her into positive lessons that she imparts to her children who have multiple special needs.
10) Removing Limits: Helping ALL Reach their Highest Literacy Potential - by Nora Chahbazi (Evidence Based Literacy Instruction, EBLI) [Click here to read]
Nora Chahbazi talks of her experience remediating her daughter's learning difficulty and shares expert advice on how her organisation EBLI supports families of children with learning differences.
11) The Dystinct Journey of twins Brin and Nial Wilson [Click here to read]
The inspiring story of how two academically average, hardworking students whose learning was made more difficult because of dyslexia persevered and secured over 2.5 million dollars in academic and football scholarships. Brin Wilson and Nial Wilson.
12) A Student's Guide to Achieve Scholarship Success in 6 Steps - by Sonya Wilson [Click here to read]
Sonya Wilson, educator and mum of twins Brin and Nial Wilson, who both secured scholarships worth over 1 million dollars each, enumerates six powerful steps to help pave the way for scholarship success.
13) Taming the Octopus - Writing Tips for Dyslexic and Dysgraphic Students - by Kendra Wagner (Reading Writing Thinking) [Click here to read]
Kendra Wagner shares tips and tricks to help children tame the proverbial octopus of writing full of many arms of subskills and mental demands.
14) The Dystinct Journey of Matthew Quek [Click here to read]
The inspiring story of how Matthew Quek overcame his severe limitations to become an international award-winning singer and movie producer.
Editor's Note
This month has been a whirlwind of action at our little home office from where we produce the Dystinct Magazine. We are kicking off our campaign for October Awareness Month for Learning Difficulties a few months in advance. I've been reaching out and connecting with some incredible people who are the faces behind the Not-for-Profits who work tirelessly to make the world better for our children.
We now have ten organisations with whom we have joined hands to raise awareness for learning difficulties collectively. We will be focussing on highlighting the tremendous impact of these organisations in the communities they work in. We will be showing the world how far we have come and how much further we need to go to give our kids a fair go.
While we've been busy working on the Dystinct 2021 Coffee Table book, which will be released for pre-orders in a week from now, we've tried hard to bring you some more inspirational stories from Australia, New Zealand, Singapore and the USA. I particularly enjoyed my conversation with educator Zaretta Hammond who kindly provided me with insights on equity and cultural responsiveness in education to share in this issue. The possibilities really are endless and worth it in the end when you're willing to expand your horizons!
Please get in touch with me if you have any feedback, ideas, or stories to share to change the narrative surrounding learning disabilities.
Thanks
Zahra Nawaz Shafeeq
Extracts from the Magazine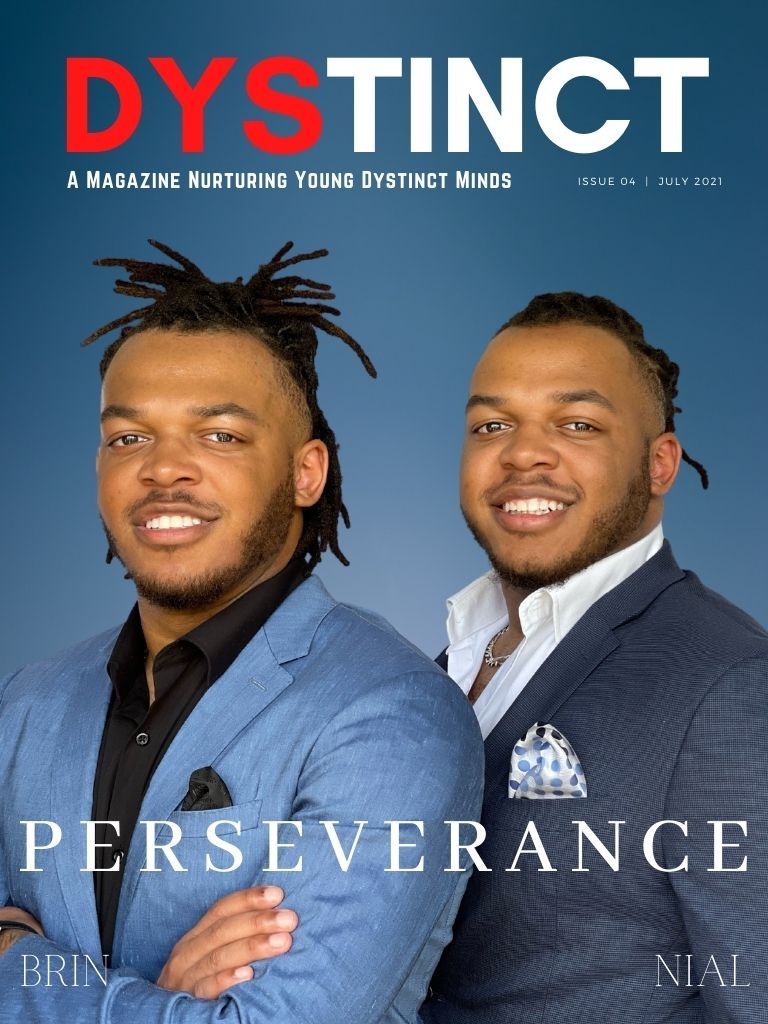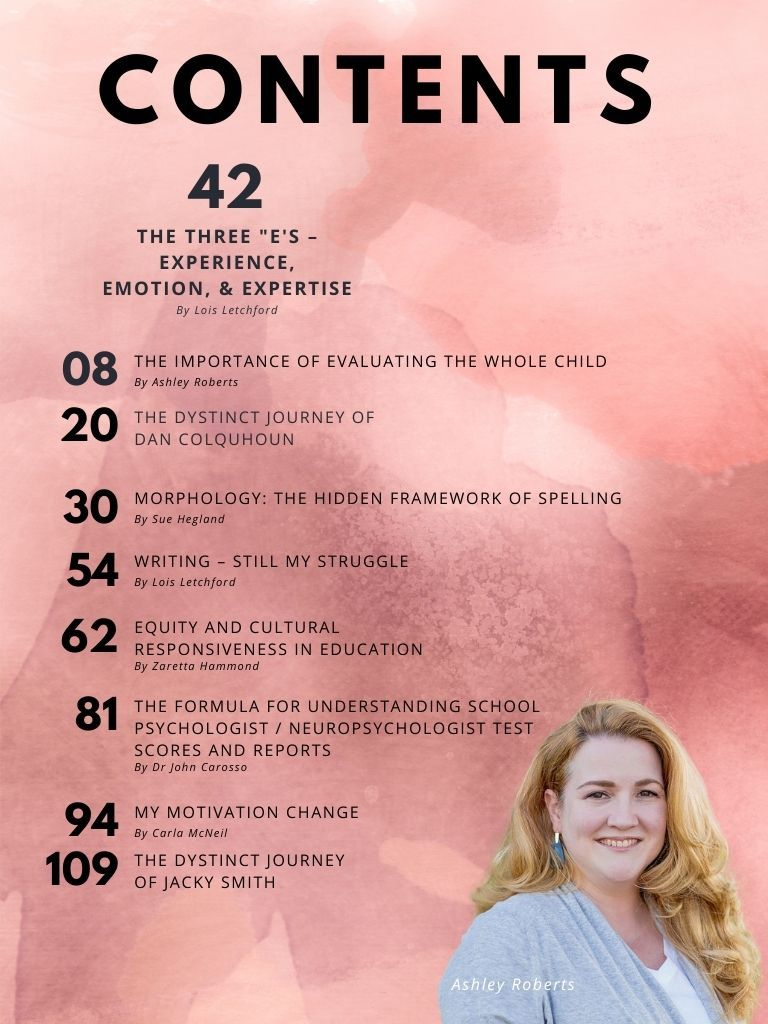 Comments
---