Issue 01: January 2021 Dystinct Magazine
Dystinct Magazine's 1st issue: January 2021 is available to download on Apple and Android devices. The issue covers inspirational stories from children and adults with learning difficulties (dyslexia, dysgraphia, dysgraphia and dyspraxia).
Table of Contents
How To Access Dystinct Magazine
On the Website
👉 Read further below to access all the content of the magazine on the website layout. Check links to each article in
Topics covered in this issue
On The Cover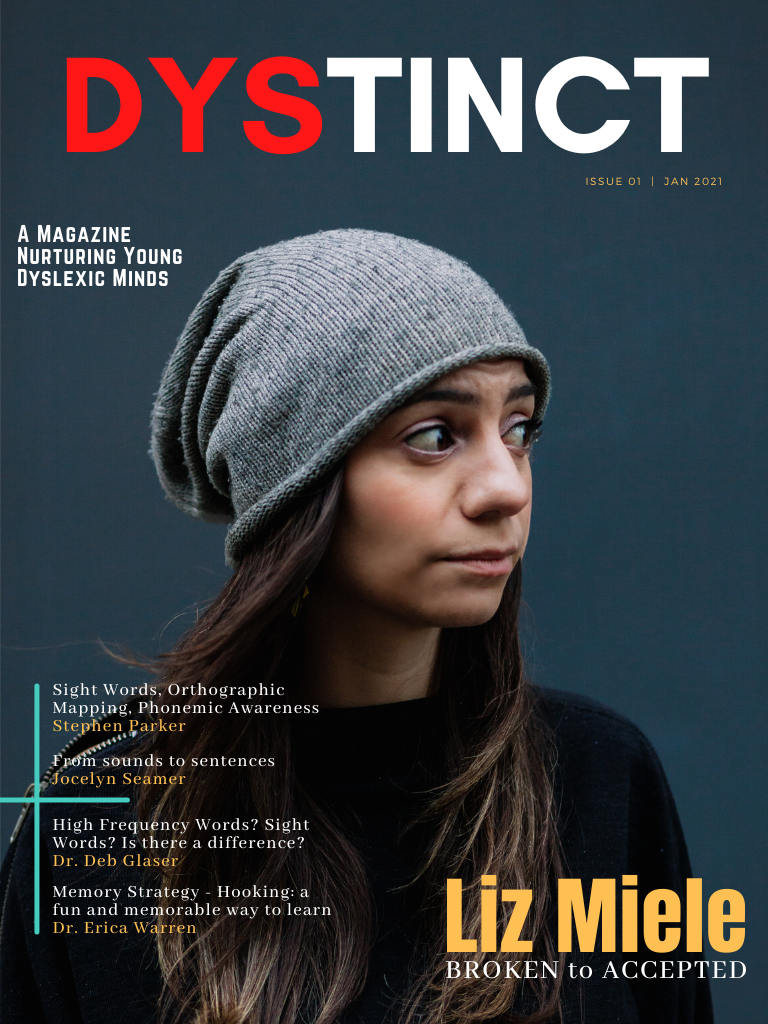 On the cover is Liz Miele
TOPICS COVERED IN THIS ISSUE
The November 2022 issue of Dystinct Magazine brings to you:
1) Phonemic Awareness: Where do I start? The What, Why and How – by Lindsay Kemeny [Click here to read]
Lindsay, an experienced OG, and CERI certified elementary school teacher from Utah, USA, also the mum of a dyslexic child, demonstrates how phonological awareness skills can be taught in small and whole groups within the classroom.
2) The Dystinct journey of Noah Casey – Homeschooling success story [Click here to read]
The story of Noah Casey from Auckland, New Zealand, who was homeschooled by his mum before he successfully went back into school and set up his business Coloured Fish Products, where he designs and sells customised products with a positive tagline about dyslexia.
3) From sounds to sentences – by Jocelyn Seamer [Click here to read]
Jocelyn, an educational trainer and early literacy development consultant from NT, Australia, discusses the evidence behind how children acquire writing skills and ways to help them build strong skills necessary for writing.
4) Famous people with Dyslexia – The Dystinct journey of Liz Miele [Click here to read]
New York-based Standup comedian Liz Miele shares her journey of how she went from considering herself as broken to where she is now.
5.A) Memory Strategy – Hooking: A fun and memorable way to learn – by Dr Erica Warren [Click here to read]
Dr. Warren, a dyslexic educational psychologist with a doctorate in special education, school psychology, and adult education from New York, USA, shares a memory strategy to teach dyslexic children.
5.B) The Dystinct journey of Dr. Erica Warren [Click here to read]
The story of how dyslexic Dr. Warren managed to beat the system and become a specialist helping children with dyslexia.
6) Punisher MAX saved me – The Dystinct journey of Brandon from Barefoot Comics. [Click here to read]
Profoundly dyslexic, Brandon from Melbourne, Australia, shares his story on how comic books are why he can read to survive now.
7) Sight words, orthographic mapping, phonemic awareness – by Stephen Parker [Click here to read]
Author Stephen Parker from Boston, USA shares a detailed essay on how sight words can be created through orthographic mapping and why phonemic awareness is necessary for children to become competent readers and spellers.
8) The Dystinct journey of Leia Schwartz [Click here to read]
Determined to spread awareness about dyslexia, 15-year-old Leia Schwartz from New York, USA, shares her story of how she was diagnosed with dyslexia, dyscalculia, dysgraphia, and ADHD at 9 and went on to publish her first book the 'Dyslexic Renegade' the same year.
9) High frequency words? Sight words? Is there a difference? – by Dr. Deb Glaser [Click here to read]
Dr. Glaser from Idaho, USA outlines the difference between high frequency words and sight words and delves into ways of helping children build a sight word lexicon.
Editor's Note
If anything is broken and needs to be fixed, it is the system, not our children.
2020 was a year like no other in many ways. However, to its credit, the year did offer us the gift of time to be present and observe our kids cope with their schoolwork as we tried our best to support them through remote learning. I've spoken to many parents who surprisingly felt like their kids did better being homeschooled than at school being sidelined year after year. I believe this is because of the time and individual attention they received from us and some of their teachers.
The new year marks a clean slate, fresh beginnings, and new prospects. We have seized this opportunity to launch the first issue of the Dystinct magazine through which we hope to bring some new possibilities for families of dyslexic children. Our children have many unmet needs. Needs that we, as parents, are unable to cater to because each of us is fighting bigger fights with the system. Our dyslexic children need to feel accepted despite their difference, need to feel comfortable in their uniqueness, need people who will believe in them, need opportunities to show their potential, need to be given a platform where they can belong and shine. If anything is broken and needs to be fixed, it is the system, not our children. We, the champions of dyslexic kids, need the support to help them flourish and take ownership of their difference.
As we work on shaping Dystinct magazine, we hope to bring to you a space where dyslexic children and their champions can share the challenges and successes of their journey with others who are travelling the same path. We aim to bring you evidence-based content to support you on your journey. More importantly, we would like to nurture dyslexic children to take pride in their uniqueness. We would like to eventually offer a platform where they can exhibit their skills and talents and be recognised for their true value.I hope you enjoy reading this first issue. We are passionate about making a difference and have many exciting ideas in the pipeline.
I hope you enjoy reading this issue and all the specialist content covered.
Please get in touch with me if you have any feedback, ideas, or stories to share to change the narrative surrounding learning disabilities.
Thanks
Zahra Nawaz Shafeeq
Extracts from the Magazine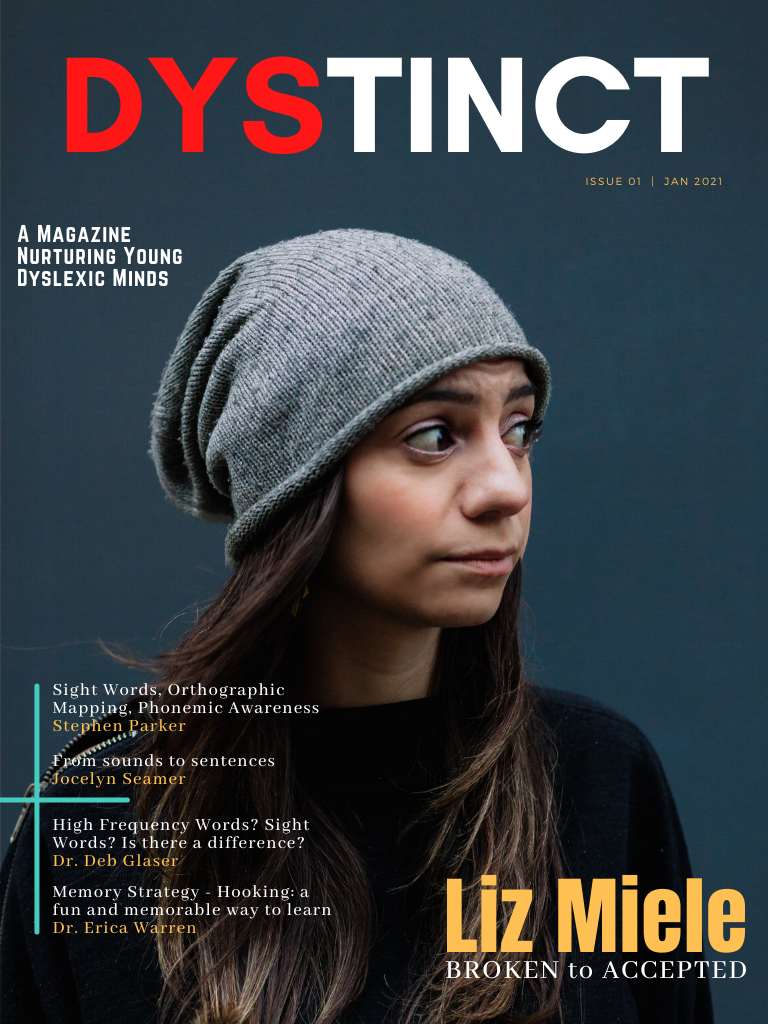 Comments
---