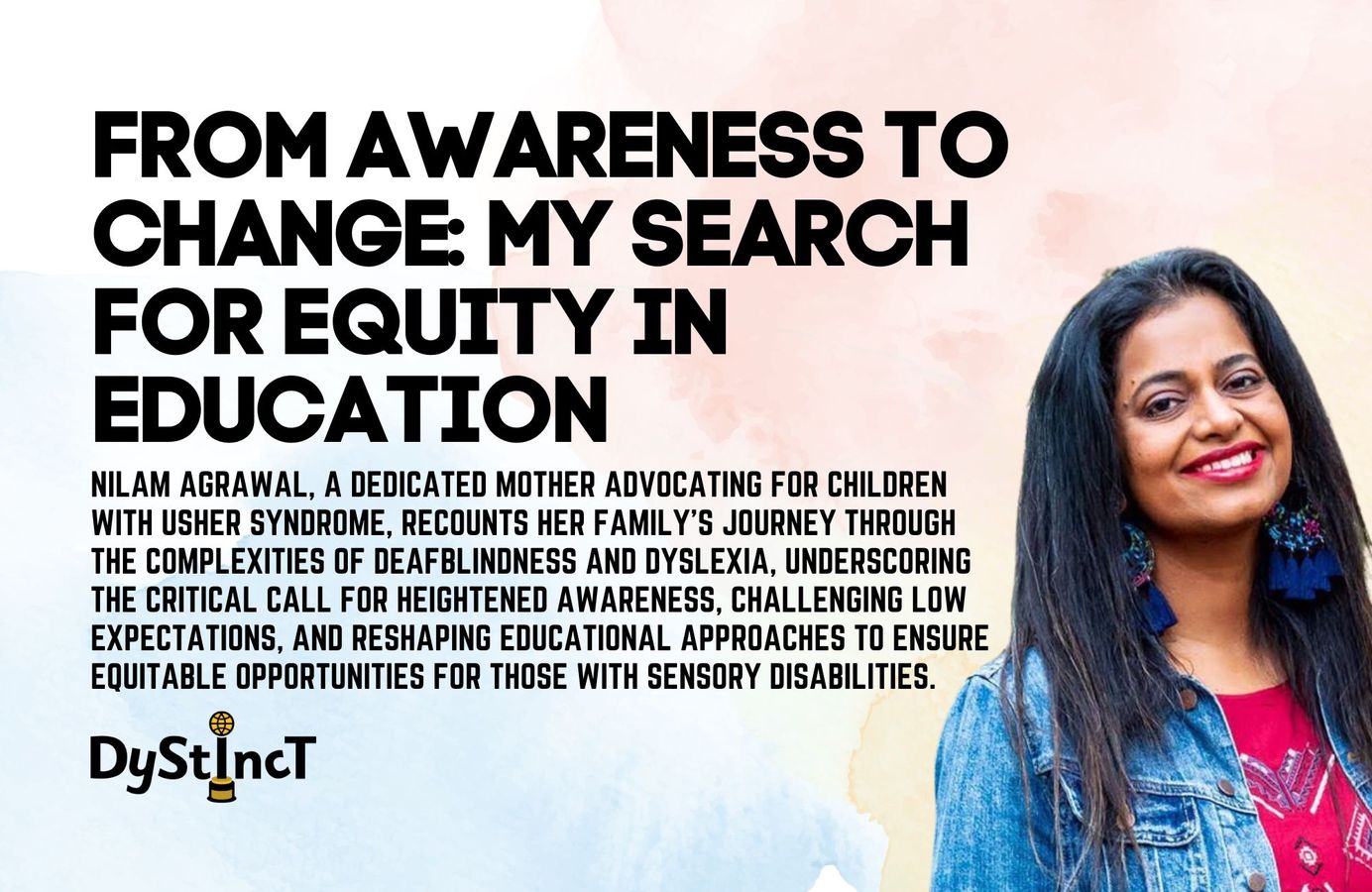 Issue 18: From Awareness to Change: My Search for Equity in Education | Nilam Agrawal
Nilam Agrawal, a dedicated mother advocating for children with Usher syndrome, recounts her family's journey through the complexities of DeafBlindness and dyslexia, underscoring the critical call for heightened awareness, challenging low expectations, and reshaping educational approaches.
Table of Contents
Nilam Agrawal is Disability Rights Advocate, Board member and Co-Chair of Outreach for National Family Association for Deaf-Blind, and Ambassador to India for Usher Syndrome Coalition.
The month of October holds a special significance for my family. It is a time when we come together to celebrate Disability Employment Awareness Month, Blind Awareness Month, and Dyslexia Awareness Month. These events celebrate three life experiences that embody my passion and are the essence of my existence.
I am the proud mother of two children diagnosed with Usher syndrome, a rare genetic disorder that causes progressive hearing and vision loss. Both of my children are deaf and wear bilateral cochlear implants. My youngest also has low vision (legally blind) and dyslexia, which was identified when she was 11 years old. She is a large print reader.
I am often met with raised eyebrows whenever I mention DeafBlind and dyslexia together. This constant reaction motivates me to continue speaking up for the need to expand the understanding of low vision, deafness, and dyslexia.
Understanding the Disability Spectrum
Understanding the Disability Spectrum

Blindness is a spectrum, much like many other disabilities. As per Perkins School for the Blind, only about 10-15 percent of people who are blind see nothing at all. The rest have some form of residual vision. Legally blind people can see colors, shapes and varying degrees of light. They can also read large prints. Not all low vision or blind people read Braille, just like not all deaf people use sign language to communicate. It is a very famous saying in our community that when you meet one DeafBlind child, you have met just one DeafBlind child. It's a huge disservice to the children when we try to look at them from the cookie-cutter lens of what their disability should look like and how it should be addressed.
The Unique Challenges Faced by Children with Sensory Disabilities
(Deaf, Hard of Hearing, Blind, Low Vision, DeafBlind)
The Unique Challenges Faced by Children with Sensory Disabilities
(Deaf, Hard of Hearing, Blind, Low Vision, DeafBlind)

Even without the comorbidity of dyslexia, most literature, conferences and training talk about the bare minimum literacy needs for our kids with sensory disabilities. This is particularly true for DeafBlind children. One of the sentences from the 2008 guide developed by Perkins School for the Blind titled Deafblindness: Educational Service Guidelines reads -
Often such a child's world extends no further than the reach of her hands; her concepts are therefore very basic and concrete.
These low expectations have a trickle-down impact inside the classroom, thereby making it impossible for kids to get early access to interventions and grade-level literacy efforts when they struggle with acquiring reading and numeracy skills. It is very common for parents and children to hear, 'it is expected for a deaf or a blind person to struggle with literacy.' 'Deaf kids are not expected to read beyond 4th grade level.' Imagine the hurdles that our kids have to cross to reach a place where they are treated worthy of high expectations and college and career readiness focused academic skills and instructional support. Imagine the microaggressions in society towards disabled individuals and the long-lasting impact on their confidence, emotional health, and employability, which in turn impacts our economy and country as a whole.
Interconnection of disability biases and struggles with dyslexia eligibility
Interconnection of disability biases and struggles with dyslexia eligibility

If you think non-disabled children with dyslexia have it tough, you have no idea how difficult it is for children who have dyslexia with additional comorbidities. There are challenges in identifying SLD in children with sensory disabilities. However, another contributory reason why kids with sensory disabilities do not get identified with SLD is the inherent low expectations that are built and normalized in our society. I see it happening every day around the world. How many deaf, blind or DeafBlind children do you know who have been identified with SLD and have received evidence-based instructions implemented with fidelity? This is happening even when researchers believe that Specific Learning Disability is the most common disability in children and youth who are D/Deaf or Hard of Hearing (DHH), with dyslexia being the most common type of learning disability (10.7%). Estimates of this cohort range from 25% to 35% (Bruce, DiNatale, & Ford, 2008; Luckner & Ayantoye, 2013) to 40% or greater (Blackorby & Knokey, 2006; Mitchell & Karchmer, 2006), with the case being made that a significant proportion of deaf learners have learning disabilities and other neurological, physical, or psychological issues (Hauser & Marschark, 2008).
Likewise, a study by JN Erin and AJ Koenig indicates that between 14% and 65% of students with visual disabilities also have learning disabilities.
My experience has shown me that there is an urgent need to raise awareness about not only the spectrum of disabilities and the educational rights of children with disabilities but also about the coexistence of dyslexia in our student population of Deaf and Blind children, irrespective of their degree of hearing and vision loss. There is a huge need to expand the conversation to address the lack of representation of children with sensory disabilities in all discussions around Specific Learning Disabilities (SLD) and dyslexia. We need to recognize the long-lasting impact on their quality of life due to failure to adequately support their academic needs. It is about time that we challenge the normalized low expectations that meet an individual who is blind, deaf or DeafBlind whenever they dare to stand up and say: 'Our education is important to us.'
Unmasking the Impact of Low Expectations
Unmasking the Impact of Low Expectations

The deeply ingrained ableism in our society poses a significant barrier for children with disabilities. Our children deserve the same evidence-based instruction that non-disabled children receive. However, because of the way the SLD definition is written in IDEA, the exception language of 'not primarily caused by hearing, vision loss..' is often misinterpreted and used as an explanation to deny eligibility of SLD to kids with sensory disabilities, and therefore, they never get access to the same research and evidence-based, structured reading program that children without additional disabilities are provided with.
There is a lack of ownership in getting students with disabilities college-ready and achieving grade-level expectations. As per IDEA Congress 2022, 15% of school-aged students are receiving special education under IEP. However, a lower number of children with disabilities are graduating high school with grade-level literacy skills. My school district has a college readiness of 12.6% in special education - it means only 12.6% of students who are receiving special education under IDEA are ready to handle college rigor by showing efficiency in reading and math with grade-level skills. The college readiness numbers for general education students was 72.1%
My school district is a celebrated school district within the state of Texas, which, as a state, does not have the greatest track record of its own. Texas ranks 28th in the United States out of 50 states. Texas has shown a negative change in the percentage of students aged 14 through 21 exiting IDEA, Part B, and school who graduated with a regular high school diploma between 2011–12 and 2019–20. It has only 36.0% of students under IDEA graduating with regular high school diplomas. Texas has a huge difference between the graduation rate and literacy scores of children graduating high school. So why are kids who are graduating from school not reading at proficient or grade level? How are these kids meeting the high school diploma graduation requirements but are reading at a fifth-grade level?
Looking at these numbers, I worry about how many kids with existing disabilities have additional comorbidity of dyslexia and are never identified. I am concerned that even though RTI is suggested as one of the possible ways to identify SLD/dyslexia, state education agencies allow local education agencies to choose between the discrepancy model (patterns of strength and weaknesses) or RTI, and mostly everyone uses discrepancy model thereby disqualifying many students with sensory disabilities. How is using an assessment tool that does not have norm-referenced data to measure skills for children with sensory disabilities (auditory processing, visual processing) or a late identified student (crystallized intelligence) considered ethical practice? Why are school psychologists not factoring in the Matthew Effect in learning while evaluating older kids? In previous authorizations of IDEA, the discrepancy model was followed, meaning that a student must demonstrate a discrepancy between their ability and academic performance prior to the identification of a specific learning disability. With the reauthorization in 2004, professional teams may now identify a learning disability based on the child's response to a research-based intervention. How many school districts are actually practicing this?
Search for Equitable Education
Search for Equitable Education

I feel that getting the diagnosis is the easiest part of a parent's life. The toughest is to 'find equitable education for kids who have disabilities inside the public schooling system.'
When we talk about equitable education, we often forget that it should extend beyond providing admission to children with disabilities. It should also address the unique needs and challenges faced by children with multiple disabilities. These children require tailored educational approaches, specialized resources, and a supportive environment to thrive academically and emotionally. If you ever want to study the literacy spread within each of the 13 categories of disabilities under IDEA, you will be shocked to know that there is no disaggregated data available on the college readiness and reading scores for each of the 13 categories of disabilities. If we do not even know which categories of student demographics are struggling the most and why, how do we find solutions to support them?
I have tried hard to reason why special education is so poor in the USA. Is it truly because of lack of funding, lack of training, and lack of state and federal support? However, I keep coming back to the fact that parents are homeschooling their kids with great success with a shoestring budget. If school districts can raise bond money to build multi-million dollar sporting facilities (one school district in North Texas is building a stadium and performing arts center by raising a $ 2.8 billion bond), then what is stopping them from funding special education adequately? Why do our kids with disabilities not receive evidence-based instruction and curriculum, or specially designed instruction, or Every Student Succeeds Act (ESSA) aligned IEP goals that are implemented with fidelity? Do the school admins, state education agencies and the Department of Education not realize the lifelong impact of poor education on this vulnerable student population?
Impact on Employment and Employability
Impact on Employment and Employability

The seeds of future employment and employability are sowed within the schooling system. When a child steps inside kindergarten, they are getting equipped for their future life as an independent contributing member of society by gaining not only educational knowledge but also social skills, leadership skills, entrepreneurial skills, functional skills, and risk-taking skills. When I envision schools, this is what I believe should be the essence of its existence. Instead, what I see is that our schools have become production lines, rolling out 'workers'. And since this is an assembly line, products that don't fit the prescribed model are forgotten about! Kids with disabilities are at higher risk of not pursuing post-secondary education or getting livable wages. These poor practices impact crime rates, incarceration rates, poverty rates and the economy as a whole. These poor statistics impact financial freedom - as per the USA Department of Labor, in October 2023, the labor force participation rate for people with disabilities in the age 16-64 was 40.4% compared to 78% in people without disabilities. These poor statistics impact something far deeper, which is immeasurable - the esteem and self-worth of a child.
Path Forward
Path Forward

There is a dire need for us to redesign the education structure. Here is a summary of everything that I believe is critical to improving equitable education access for learners with sensory disabilities.
Literacy audit for all students who are Deaf, Blind, DeafBlind in the United States.
Disaggregated data on literacy scores for each of the 13 categories of disabilities as identified under IDEA.
Awareness that Deaf or Blind does not mean that they can not meet grade-level standards in education. Being deaf or blind does not mean low capability or low intelligence.
Understanding that dyslexia or SLD can co-exist with other disabilities.
Accepting that dyslexia does not discriminate, we humans do. Deaf, Blind, or DeafBlind children can have dyslexia. Children who are Braille readers and deaf students who use ASL to communicate can have dyslexia.
Early identification and remediation are critical.
Expanded core curriculum captures the present literacy level for the child under compensatory services. Documentation of the evidence-based, specially designed instruction provided to the child for reducing the learning gap.
Neuropsychological and educational testing must be normed to evaluate children with hearing and vision impairment.
In the absence of norm-referenced data, using discrepancy models for dyslexia eligibility is discriminatory and unethical. Utilize Response to Intervention to Identify Learning Disabilities in Students With Visual Impairments. (Jones et al., 2015)
Presumed competence for every child who is Deaf, Blind or DeafBlind. Even after all required accommodations for vision and hearing access have been provided, and the child does not achieve adequately on multiple measures in the academic areas, SLD should be considered as a comorbidity, and having hearing or vision loss can not be used as a primary cause of learning disability.
Intensive speech therapy can artificially show phonological awareness in isolation. It's important to look into decoding, multisyllabic word reading, spelling, fluency and writing to find phonological deficits.
Stop normalizing overlooking atypical learning patterns in children by blaming it on their hearing and vision loss.
Texas Education Agency has released a guidance document that recognizes dyslexia and SLD in children with sensory disabilities. As thankful as I am for this, we need more than this guidance document, though. We need legislative bills and laws.
I dream to see that the definition of SLD eligibility under IDEA is expanded to state the following-
A student with learning problems that include visual, hearing, or motor disabilities, intellectual disability, emotional disturbance, or environmental, cultural, or economic disadvantage may also have a Specific Learning Disability. If such a child does not achieve adequately on multiple measures in the academic areas aligned to grade level skills, an evaluation for Specific Learning Disability should be considered. In the absence of normed data, the best and ethical practice involves using RTI to see the response to interventions for these kids.
Judith Huemann had said, "We are tired of being thankful for accessible bathrooms." It takes a humongous amount of courage to get up every day for our kids and say words of affirmation to themselves: 'I am worthy, I am capable, I am enough.' I want the world to start saying these words back to our kids. I want to believe that we live in a world where inclusion for children with disabilities is normalized expectation, where segregation and low expectations don't have a place, where when people see injustice- they fight against it.
I will leave you with the question that keeps me up at night: 'Is celebrating all these awareness days just a feel-good factor, a fad, the easiest way to show solidarity without actually putting in the effort to change, or is it a conduit to open doors for meaningful insight and call for action?' As a recognition and nod to my role model, Judy Huemann, here is my parting line- 'I have my toothbrush out! What about you?'
Additional Reading
Additional Reading

Reference
Reference

Nilam Agrawal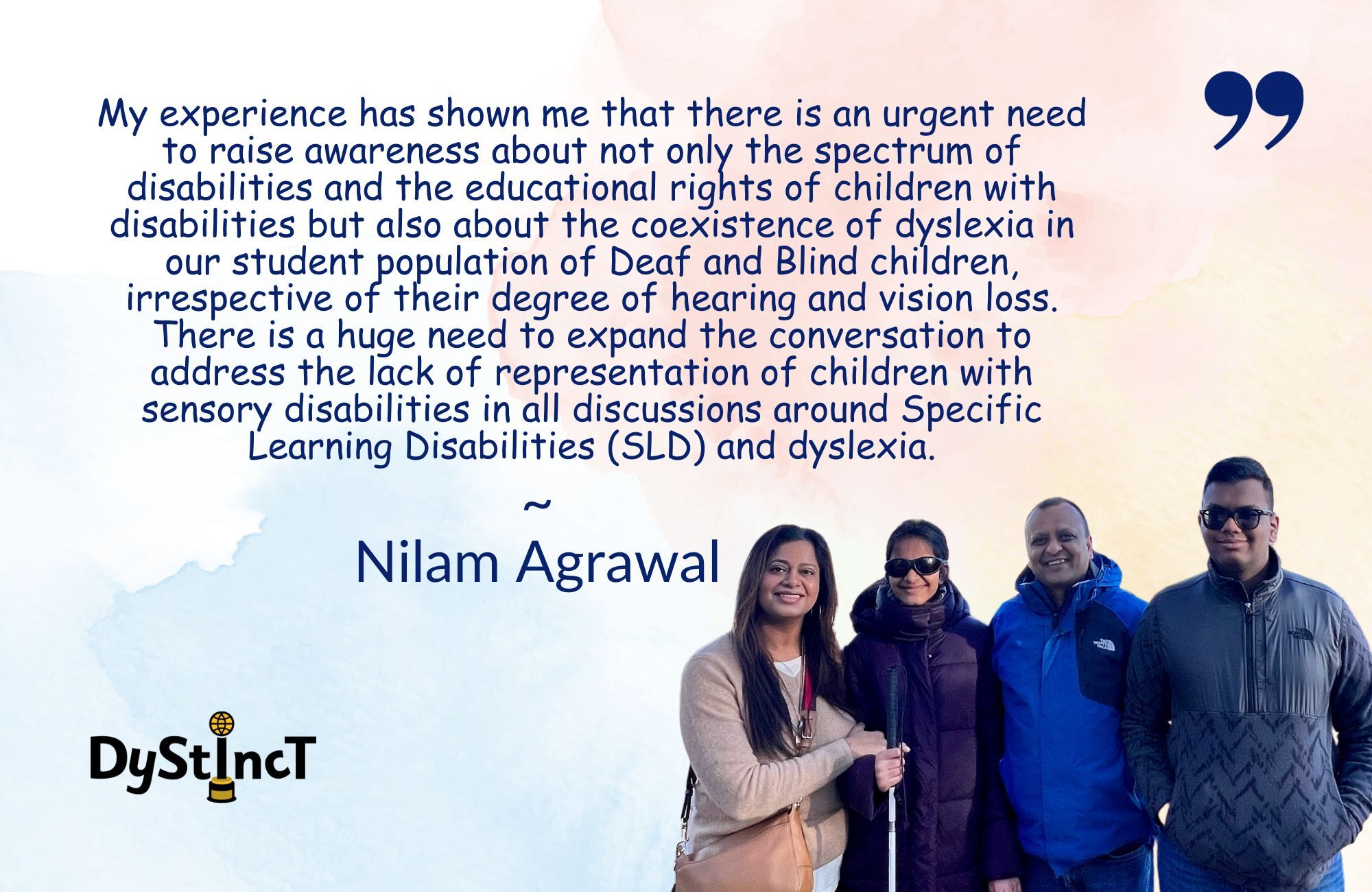 Nilam Agrawal is a children's disability rights and parent rights advocate. She lives in Texas with her husband and their two children, who are both diagnosed with DeafBlindness.
Nilam is passionate about creating a more inclusive and accessible world. Her work is focused on the areas of education and policies, accessibility, inclusion and diversity, and advocating for the social, emotional, and educational success of children with disabilities. She blogs on issues around DeafBlind advocacy needs. Nilam is a graduate of Texas Partners in Policymaking, class of 2022. She has an Associate level training certificate from Orton-Gillingham Academy.
Nilam is currently serving as a Board member and Co-Chair, Outreach for National Family Association for Deaf-Blind, and is an Ambassador to India for Usher Syndrome Coalition. She also co-facilitates Family 2 Family Community Call for DeafBlind School Aged Children in the USA. This is a joint endeavor of NCDB, NFADB and State DeafBlind Projects.
Nilam draws her life inspiration from the famous quote of Ignacio Estrada: 'If a child can't learn the way we teach, maybe we should teach the way they learn.'
Extracts from Dystinct Magazine
Extracts from Dystinct Magazine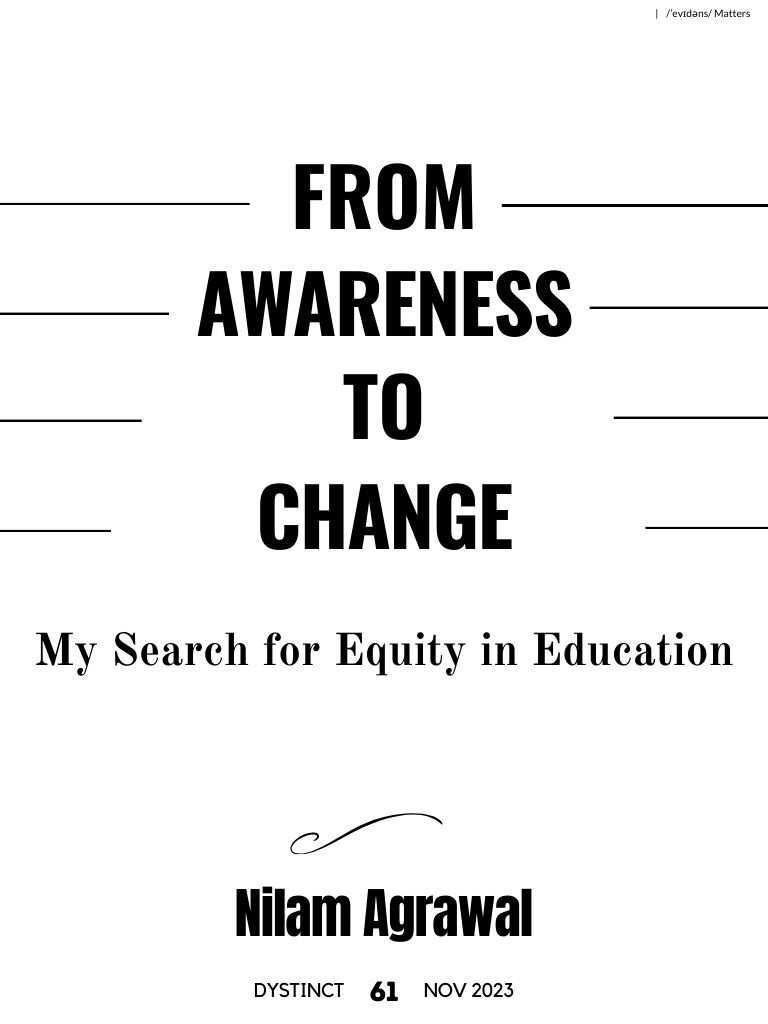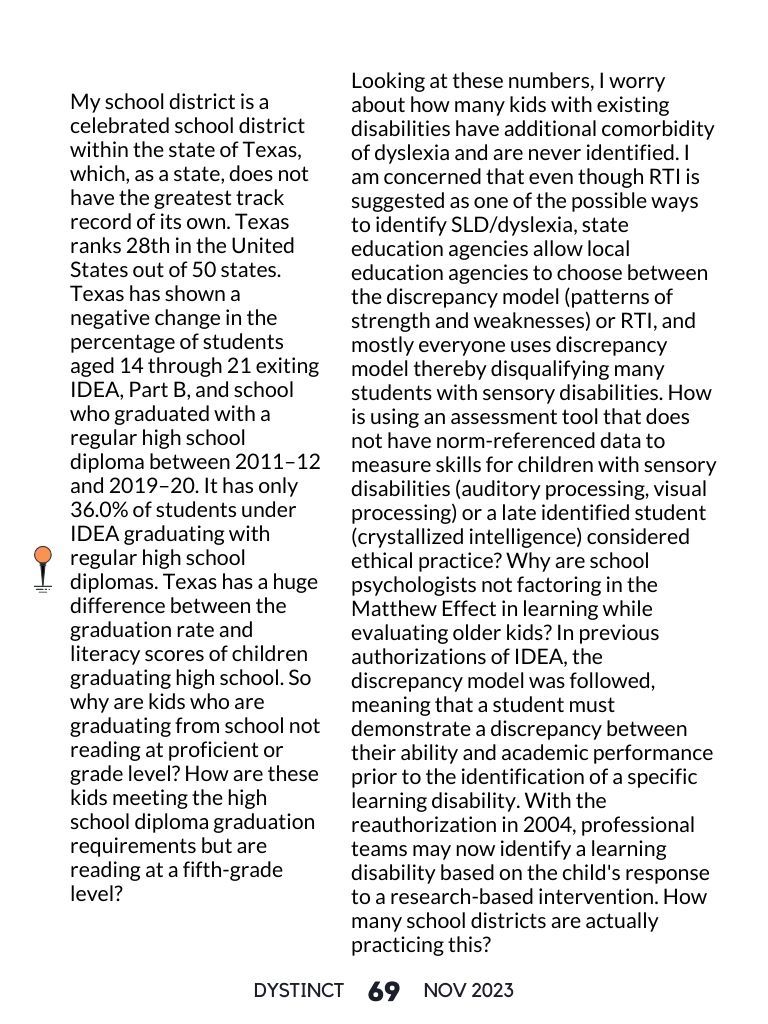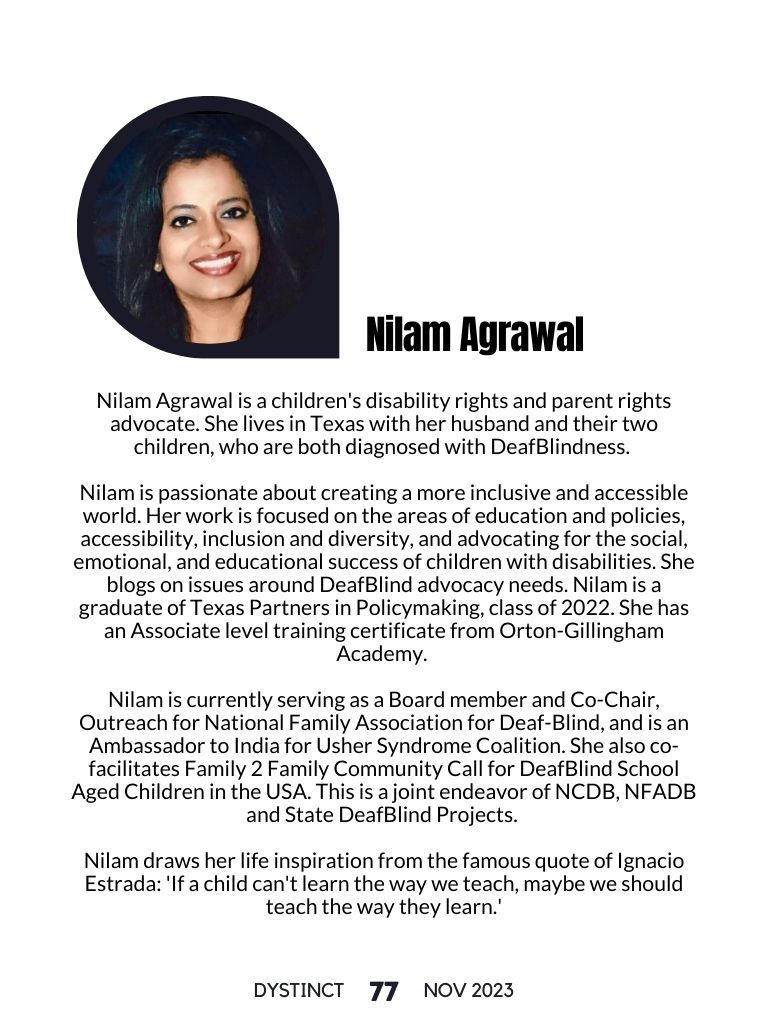 Comments
---