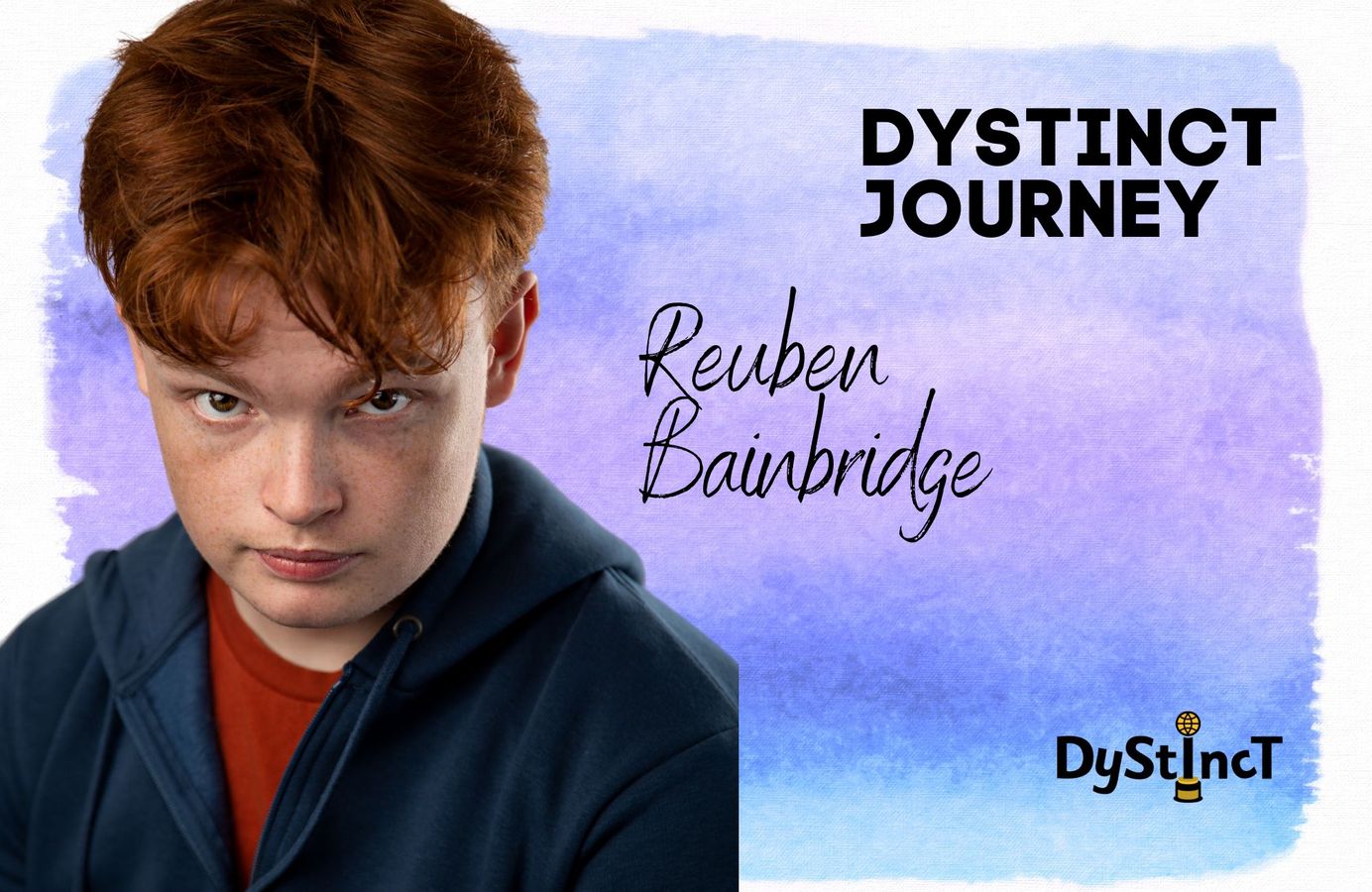 Issue 18: Dystinct Journey of Reuben Bainbridge
The journey of Reuben Bainbridge, a young talent from County Durham with a diverse career spanning acting, farming, barista work, animal training, and music. His life story highlights resilience in the face of dyspraxia, ADHD, dyslexia, dysgraphia, and dyscalculia.
Table of Contents
Reuben Bainbridge is an Actor and Musician [
imdb.com
]
Even though you may never fit in, you can stand out.
Reuben Bainbridge, with his candid charm and insightful reflections, brings a new voice to the conversation about neurodiversity. Navigating the complexities of dyspraxia, ADHD, dyslexia, dysgraphia, and dyscalculia, Reuben's life showcases his resilience and determination. His journey, marked by overcoming personal obstacles and embracing his unique abilities, stands as an inspiring example of the strength found in diversity and the value of self-acceptance.
Reuben's Story

At the young age of 18, Reuben's career is as varied as it is fascinating. Living in the picturesque area of County Durham near Barnard Castle, he juggles numerous roles with ease. From assisting on his family's farm to his work as a barista, Reuben is accustomed to hard work. His talents also extend to the film industry, where he combines his love for animals with his skills as an animal trainer on set. Acting, however, remains a central passion. Remarkably, Reuben's journey in performing arts began at the age of 4 with his first commercial, where he sang a playful, naughty nursery rhyme. This initial exposure led to voice roles in various formats, including commercials, radio, and animation, highlighting his versatility from an early age. These experiences paved the way for further opportunities in film and TV, with notable appearances in movies like "Casualty," "Thirteen Cars," "Gelato," "The Old Oak," and "The Ghost". Beyond these endeavours, Reuben delves into the world of music as a lyricist and singer, showcasing his dedication through his detailed song composition and mixing process.
Born during what he considers an "inconvenient time" for his family's farming operations in County Durham, Reuben entered the world amid the turmoil of a severe foot-and-mouth disease outbreak in the community. This agricultural crisis led to the distressing task of culling all infected livestock and implementing strict quarantine measures, which were overseen by army soldiers. As his parents grappled with these challenges and embarked on a new toy shop business venture to support the family, Reuben's early developmental delays, including not walking until the age of two and not speaking until four, along with a stammer when he did speak, initially went unnoticed. Additionally, his mother was deeply involved in caring for her ailing father with Parkinson's disease, further diverting attention from Reuben.
When Reuben started formal school, he faced significant challenges due to his numerous conditions, and at that time, he did not fully grasp what he was going through. Reflecting on his struggles, Reuben says, "When you have a lot going on, things just morph into one. Mainly, while reading, I'd accidentally skip lines. My hands would ache with the work I was doing. I couldn't express anger at people, only at tasks. Everything just compounded, making it hard to pinpoint each issue. It felt like you weren't in much control because you're always mad at your hands because your hands won't do what you want them to do, and you're aching all the time. It was really frustrating."
Since Reuben's older brother Josh was diagnosed with dyspraxia, Reuben was also assessed at about six years of age and started attending physical therapy sessions alongside Josh. While this joint experience initially eased Reuben's apprehension towards the exercises, their significant seven-year age gap limited their closeness. Reuben explains, "My brother's a lot older than me. When I was around 11, he was leaving for university, so he was only consistently present in my life until I was about 13." This age difference meant that their paths diverged as they grew older, with Josh moving on to university while Reuben was still in primary school.
Reuben's primary school years remain a patchwork of memories for him, a blur of experiences he has had to gradually piece together as he grows older. Despite cherishing his childhood overall, Reuben faced significant challenges, notably bullying.
His distinct appearance as a ginger-haired, glasses-wearing child with a stammer made him a prime target. "I was often seen as the freak in the class," Reuben recalls about his primary school experience. "We had tables, never officially labelled by academic ability, but it was obvious. I was on what you'd call the 'dumb dumb table.' I remember I tried really hard to move up, but I just couldn't. I worked hard, especially for merits. There was this big blue sheet where they'd tick off your good deeds. I managed only three merits in a year. The prize was at 500 merit points. So, I started forging them, just using a pencil, adding like ten a day. I got up to 600 merits and was excited about finally getting a prize. But the assistant headmaster, before announcing my prize, said he never thought I'd get one. That hit me hard because I knew I'd forged them. I did try, legitimately, but it never worked out."
My whole school life was a massive blur of years, and I've had to try to piece it together as I got older.
Among the limited school memories that Reuben recollects, he notes that most of his teachers were encouraging and supportive of his acting aspirations. However, he also faced opposition from a few teachers who appeared to harbour biases against him. A particularly memorable incident occurred when he was seven years old. Reuben had been selected to appear in an Ed Sheeran music video, a notable opportunity for any aspiring actor. Unfortunately, his participation was obstructed by the deputy head teacher, who didn't allow him to leave school due to his poor attendance record. "When helping students in schools, it's important to treat them as normal, especially in front of their peers. I'm not saying my teachers didn't do this; they were amazing. However, being different is often targeted in schools. Schools can be tough environments; kids can be harsh. But it's crucial to remember that everyone who ever made a mark in history wasn't normal," shares Reuben.
Different is very much preyed upon in schools. Kids can be horrendous and Schools can be a horrendous place.
During his difficult school years, Reuben found comfort and support in his friendships with Matthew and Olly. Mathew, who was fostered by Reuben's uncle, became a close friend before he even enrolled in school, forming a bond that shielded Reuben from the negative reputation he later faced among other students. Olly, a newcomer from Newcastle, also befriended Reuben before he heard any of the damaging rumours. Together, they created imaginative worlds in a field with towering grass, building "sun pods" as hideouts and christening a nearby forest as "Tree Town." These spaces were Reuben's refuge from the harsh realities of school life, where he could escape the judgmental eyes of others with his true friends.
As Reuben's struggles in primary school intensified, his mother decided to intervene, opting to homeschool him for his final year. This decision was rooted in a desire to provide a more tailored and supportive educational environment to better accommodate his unique needs and learning style. "I had a writer at school, so I didn't realize the extent of my difficulties with writing until I was back home. My mom wanted me to do this handwriting program. Your hands would ache terribly after five minutes of writing anything. I was so annoyed about writing that I picked up the book and attempted to throw it into the fire. I remember that just anything to do with handwriting was painful. It felt like torture, a punishment every time I had to do a page of that book. It was hard repeating the same thing with your hand, which was always clamped up and aching."
Doing a page of that book felt like punishment to me. It was torture.
the punishment for talking in class was the equivalent of a broken arm and that really annoyed my mom and I could see how it did.
After his brief stint with homeschooling, Reuben chose to try attending a secondary school within the public education system. During his return to school, Reuben was involved in a physical altercation that resulted in him sustaining a broken arm. However, this wasn't why his mother withdrew him within three months of enrolling in secondary school. The tipping point was a different incident: Reuben received two detentions in one day for talking in class, leading to a day of isolation as punishment. This was perceived as grossly unfair, particularly in light of the lenient punishment – a similar day of isolation – given to the student responsible for breaking Reuben's arm. Frustrated by this disparity in discipline, Reuben's mother opted to resume homeschooling, prioritizing his well-being and equitable treatment in his education. "I continued acting and worked on the farm while my mum taught me Maths and English, and my mum's friend, a university science teacher, taught me Science. Then, I got into a college course part-time for about two years and cleared my English Functional Skills Level 2. And then, I got my Performing Arts Level 2 diploma, and the next year, I got my Performing Arts Level 2 certificate," shares Reuben.
Reminiscing about his teenage years, Reuben fondly recalls the times when he had no Wi-Fi at his family's farm home and the lengths he went to watch his favourite YouTuber, DanTDM, by secretly using a business internet box late at night on an iPad. Reuben's early introduction to acting, thanks to his mum's initiative with a local talent agency, was a significant part of his childhood. He is grateful for the opportunities that have come his way as they laid a foundation for his creative expression. However, it was during his teenage years that he stumbled upon another passion, entirely on his own - music. "The base of my acting was started by my mum, and I'm very grateful for that. But I want something that feels like, 'If I didn't do it, it wasn't going to happen.' I don't feel judged when I'm making music. I love music. It's honestly a great outlet for me because it's a very easy thing to do in the way of making a product. If you want to make something out of wood, you need wood; you need to craft it and everything. But I can just write down some lyrics on my phone and find a beat on YouTube or something, and I feel gratified by it."
Reuben reflects on the gradual nature of his progress, noting, "I didn't wake up one day to find that my struggles had vanished. I wish it had been that simple, but it wasn't. My progress was gradual, spanning many years. Slowly, the pain became less intense. Over time, I noticed that I could write for 20 minutes and then, two years later, for 25 minutes. About three years ago, I was looking through my old scrapbooks at my handwriting and the drawings I had made. That's when I realized how far I had come. The progress was so gradual that I hadn't noticed the changes. It's like growing an inch every three years; in 30 years, you might forget your original height. Growing up, I could sense that I was different, that I stood out like a sore thumb. I had always hoped that my differences would fade away, but they never did. It was only as I got older and reflected on my past that I began to see things differently." Now, as an 18-year-old, Reuben finds his concerns have shifted from writing and bullying to being more aware of social cues and taking responsibility for his actions.
Reuben dreams of making it big in the rap industry. His aspirations, however, go beyond personal success and fame. He harbours a deep-seated desire to give back to the community, particularly by supporting charitable causes. One of his unique ideas is to redirect the funds typically spent on extravagant rapper accessories, like a $40,000 watch, to more philanthropic endeavours. He envisions buying a more affordable imitation and donating the bulk of the money to charity, particularly to aid in healthcare and cancer treatment initiatives. For Reuben, the ultimate fulfilment would come from being able to generously contribute to these causes, a reflection of his values and the kind of impact he wishes to have in the world.
I'd love to get like a knockoff version of a 40 grand watch for 1000 dollars, and then like donate 39 grand to charity because, that would just be sick!
If given the choice to eradicate my condition, I wouldn't because I'd rather be unique with my quirks than normal.
Drawing from his own experiences, Reuben offers a unique perspective on embracing and valuing one's own traits. His words not only reflect his journey but also serve as an inspiration to those who might feel overshadowed by their challenges. Here's what Reuben has to say: "Your difficulties will never go away, and that is the harsh truth, but that's okay because they are truly special. And I don't mean 'special' in a bad way, but in a good way. Imagine being a six-year-old and being told, "You have a difficulty". Difficulty means bad. That doesn't sound encouraging as a green light, does it? But if someone were to say, "You possess traits similar to Albert Einstein, Henry Ford, and Isaac Newton." This reframing could completely change your perspective. Instead of thinking, "Oh no, I don't have as many brain cells as other people," you might think, "That's cool! I share traits with these incredible individuals. Imagine being related to a famous boxer; you'd feel cool, right? It's the same with learning difficulties. They're part of who you are and can be your strength. I would say keep persevering; try to find something you like. And be honest with yourself; there's a good chance you won't find it for ages. I didn't find music until I was 15, which is considered late. I've seen writers in the industry who are only 12 years old, writing on their MacBooks since they were seven. I'm jealous of them because they've known what they wanted to do since they were so young. I only figured it out at 15. Once you find that creative outlet, it's cool to be who you are. If given the choice to eradicate my condition, I wouldn't because I'd rather be unique with my quirks than just another casual blond guy with blue eyes blending in with millions. I don't want to be normal; normal is just boring!
Reuben Bainbridge
Actor & Musician
IMDB
Reuben Bainbridge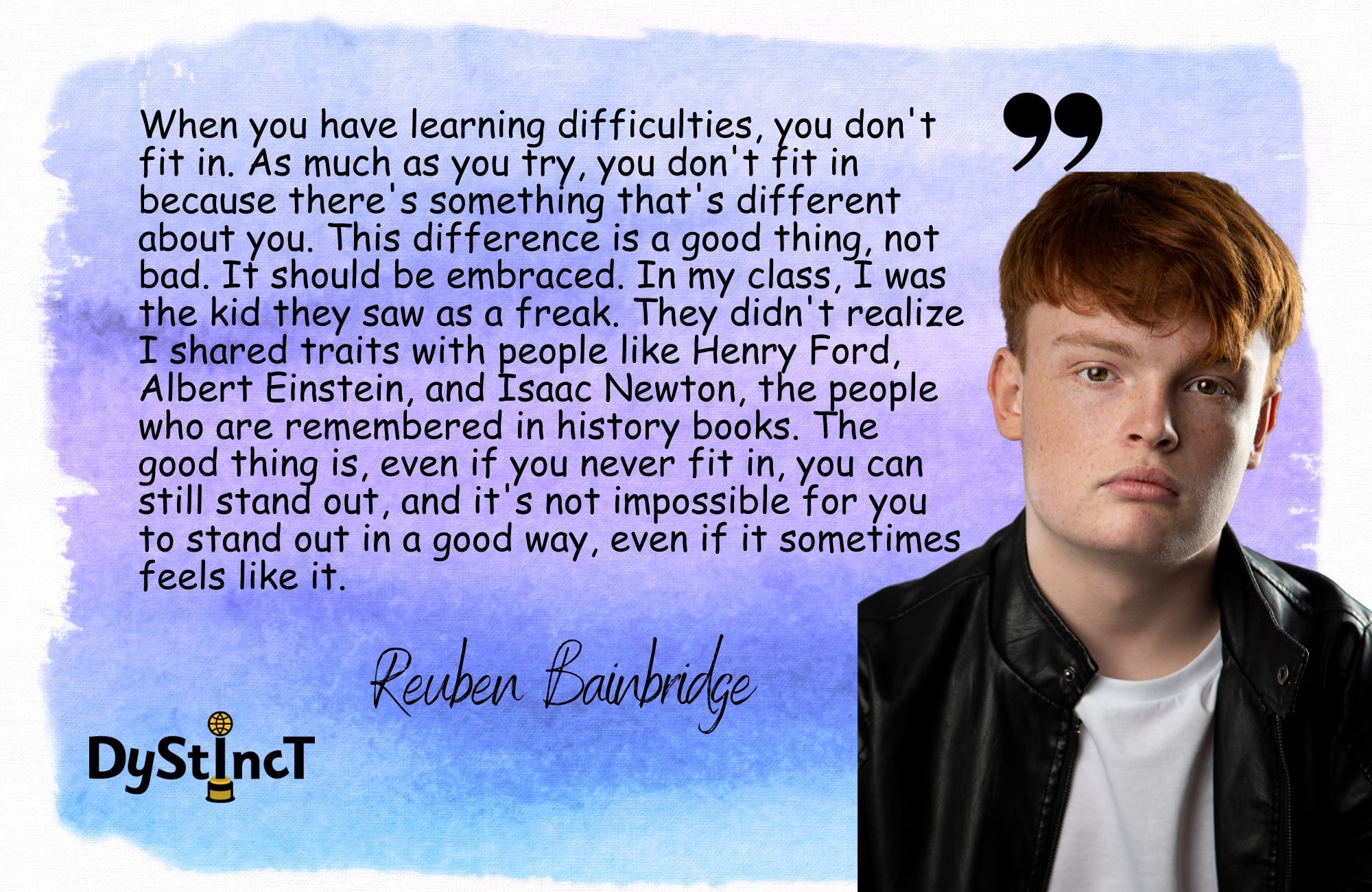 Extracts from Dystinct Magazine
Extracts from Dystinct Magazine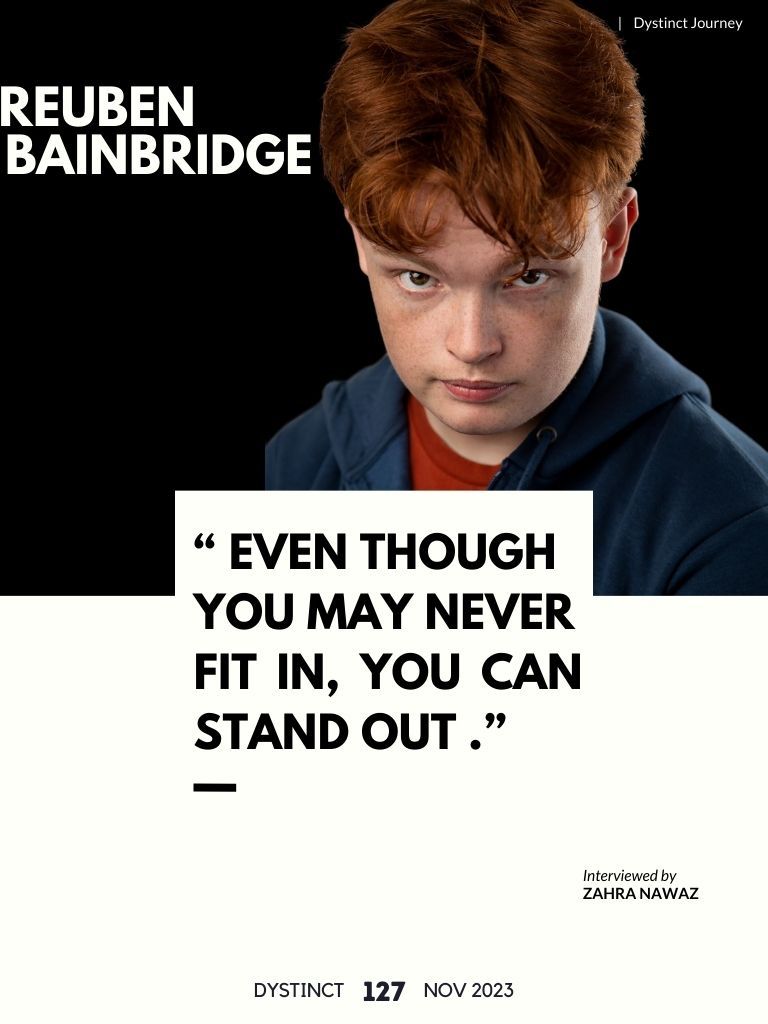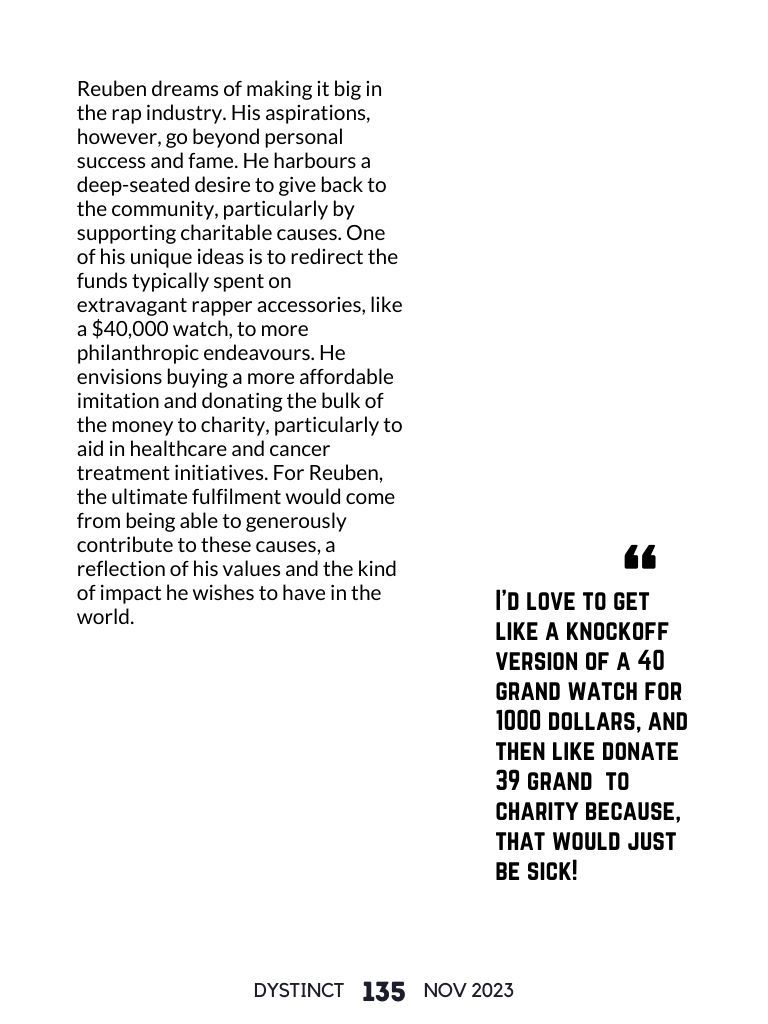 Comments
---