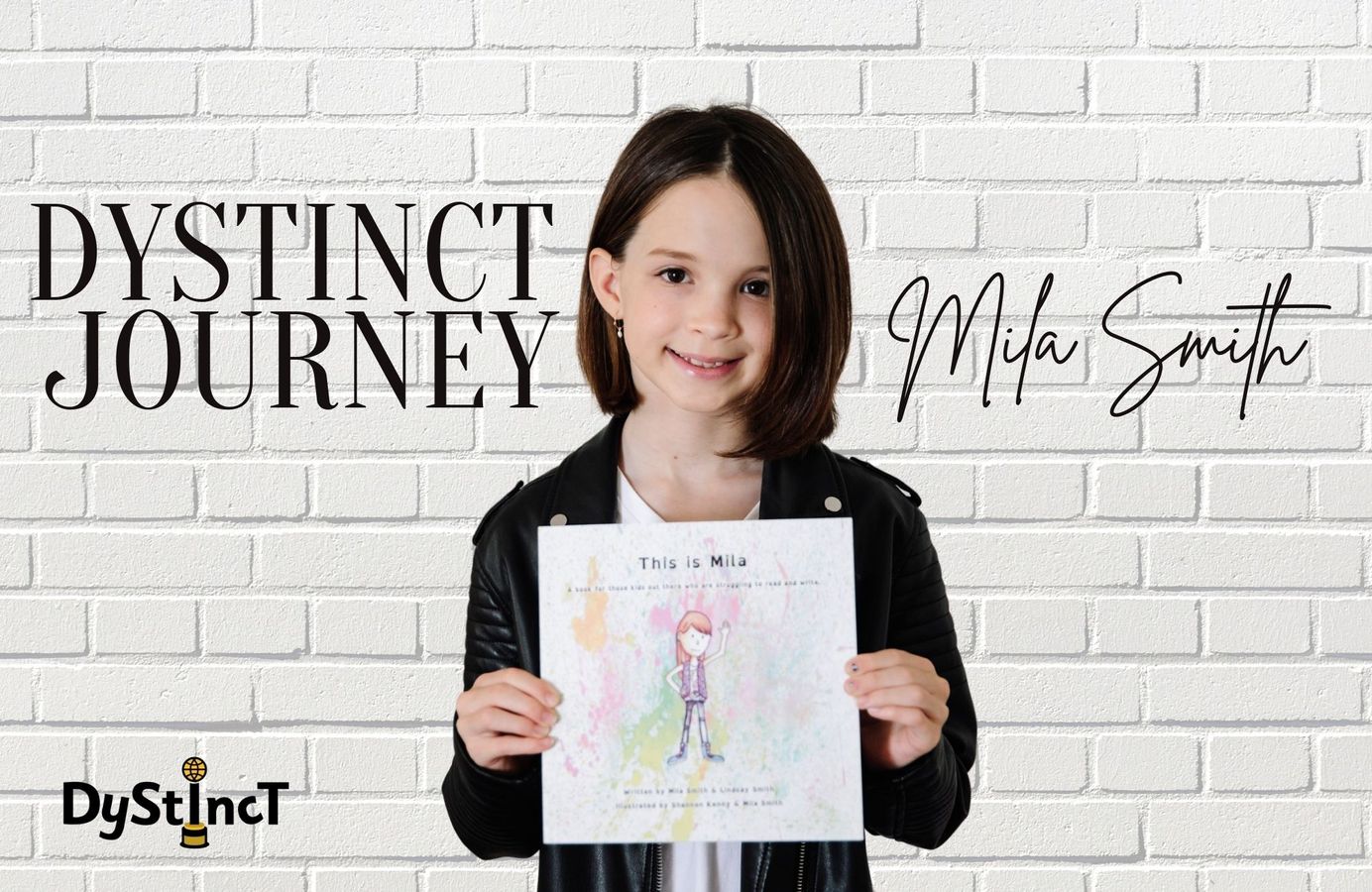 Issue 14: The Dystinct Journey of Mila Smith, Author of This is Mila
Story of Mila Smith, an eleven-year-old author from Trinidad and Tobago. Despite facing challenges with reading and writing, Mila wrote and self-published her book "This is Mila" at the age of eight, which celebrates her strengths and unique qualities.
When Mila Smith was diagnosed with dyslexia at the age of seven, she found her challenges with learning and dealing with the unsupportive school system incredibly frustrating. During this difficult time, her mum Lindsay Smith stepped in to help Mila see that she was more than her struggles with learning. Lindsay encouraged Mila to focus on all the things that made her extraordinary and unique. Together, they created a list of Mila's strengths which sparked the idea for her very own book, "This is Mila". By the time Mila was just eight years old, she had begun writing it, and by the time she reached double digits, she had already achieved the impressive feat of becoming a self-published author.
Today, Mila is an eleven-year-old residing in Port of Spain, Trinidad and Tobago, who has accomplished a lot at a young age, and her story serves as an inspiration to others facing similar challenges. "Mila is an amazing and inspiring girl who just wows us every day. She's a great big sister and excellent at taking care of our Cockapoo, Cocoa Bean. She's extremely creative. Loves anything to do with arts and crafts. Loves to sew, knit, and crochet. She's an amazing little baker and even has her own cupcake business called Mila's Munchables, which she wrote about in the book. She is an avid skateboarder and a self-proclaimed fashionista. She also does aerial arts and hip-hop dancing. Her interests and talents are endless," shares Lindsay.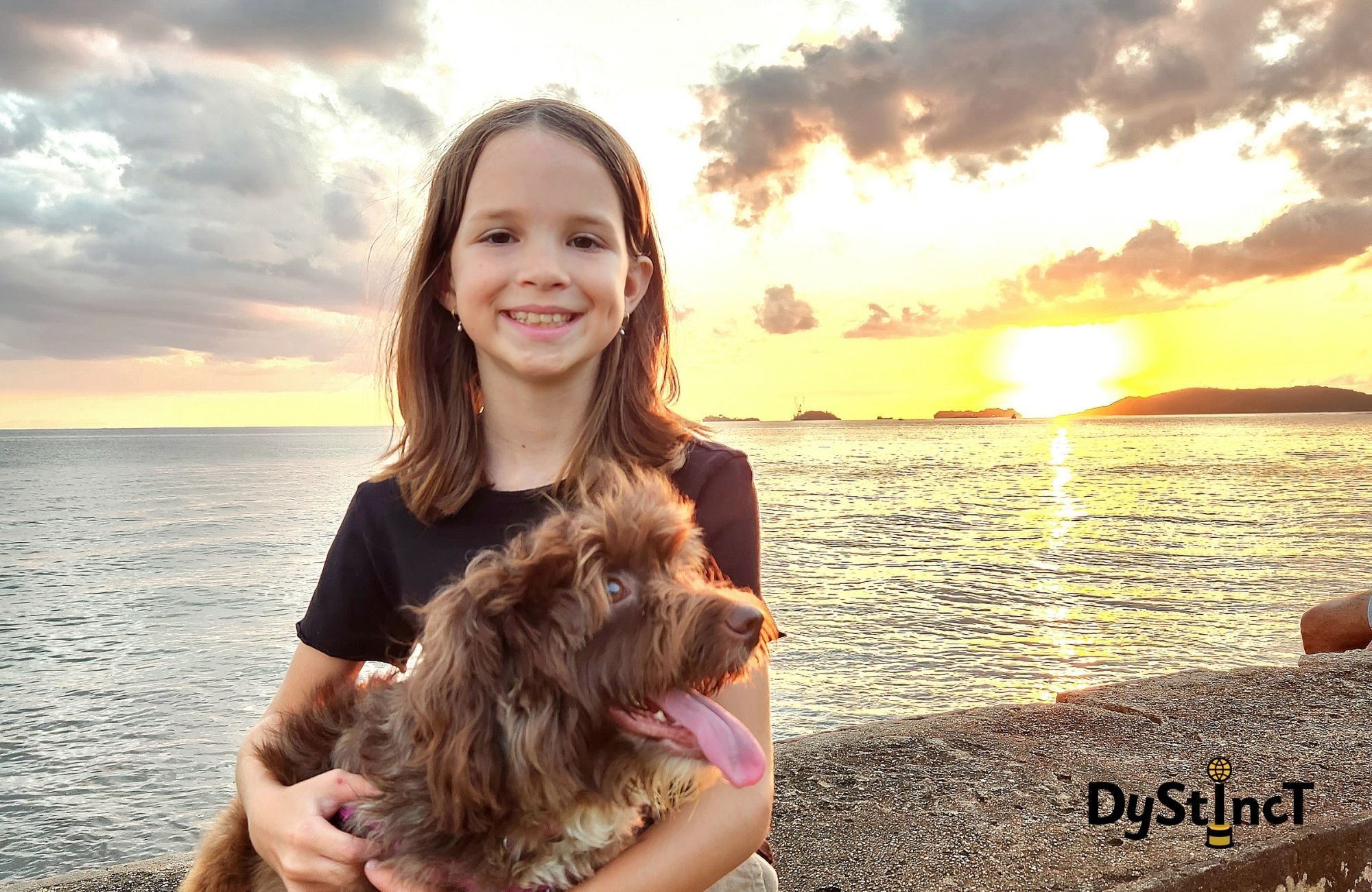 Mila's challenges with reading and writing were evident from a young age. Lindsay noticed that she was flipping letters, mixing up words and struggling to read and comprehend written material. Despite these obstacles, Lindsay shares that Mila's love for reading remained unwavering, and she persisted in her efforts to improve. "She would count how many pages she got through in a day. I always loved how she didn't want to give up. I know this is not the norm for kids going through the same, it can be so discouraging, but she loved stories, and we would read together when she was really struggling to get through."
As Mila progressed through primary school, her difficulties with reading and writing persisted, and Lindsay began to realise that her struggles were not simply a phase. Mila's teachers also became aware of her difficulties and expressed concerns about her progress. When she turned 7, a concerned teacher who was experienced in dealing with children with learning disabilities assessed her for dyslexia which led the Smith family to seek a formal psych assessment which led to the additional diagnoses of ADHD and dysgraphia and confirmed what they already knew about dyslexia. Following the diagnosis, Mila has received excellent support from her school. She has been offered a place in their remedial program, is given extra time where needed to finish her work and no marks are taken away for misspellings unless it's a spelling test. Lindsay is grateful for their amazing school and Mila's wonderfully supportive friends.
Unfortunately, Mila's progress was halted by the COVID-19 pandemic. The sudden shift to remote learning and the lack of in-person support took a toll on her, causing her to regress again. Mila's parents have been working closely with her school and have continued with private lessons for literacy and math to ensure she receives the support she needs. "We have been sending her to extra lessons for years with a wonderful afterschool teacher named Nicky. Mila started LIPS with her and then moved on to Orton Gillingham. She's been so wonderful with Mila. She also recently started going to another amazing teacher for math. Word problems and memorising her times tables are a huge struggle for her. I have definitely seen an improvement. Her reading has improved. Her spelling is still a huge issue. I'm not sure if that is ever going to get better. We'll wait to see. If we study nonstop for a spelling test, she does fairly well, but if you ask her to spell the same words a week later, it's like the first time all over again. Luckily her teachers are fabulous at figuring out what she's trying to write, and she can get her point across."
Like most parents of struggling students, Lindsay wishes there were more than 24 hours in a day to fit in the extra help Mila needs and allow time for activities that the hardworking Mila truly enjoys. "I would love for her to get even more help, but there are only so many hours in a day and allowing her to continue with all the extracurriculars she loves takes up a lot of her time. So, we just try to balance it all out."
Mila's parents have made a conscious effort to give Mila a well-rounded life, even while navigating the challenges of school and dyslexia. "What we've always tried to do is make sure she has a good balance when it comes to school and life. Even though schoolwork is important, we have always encouraged her to pursue her interests and try everything. We don't want her to only have to focus on the everyday struggle with her dyslexia."
We have always made sure she knows that she is so much more than her diagnosis.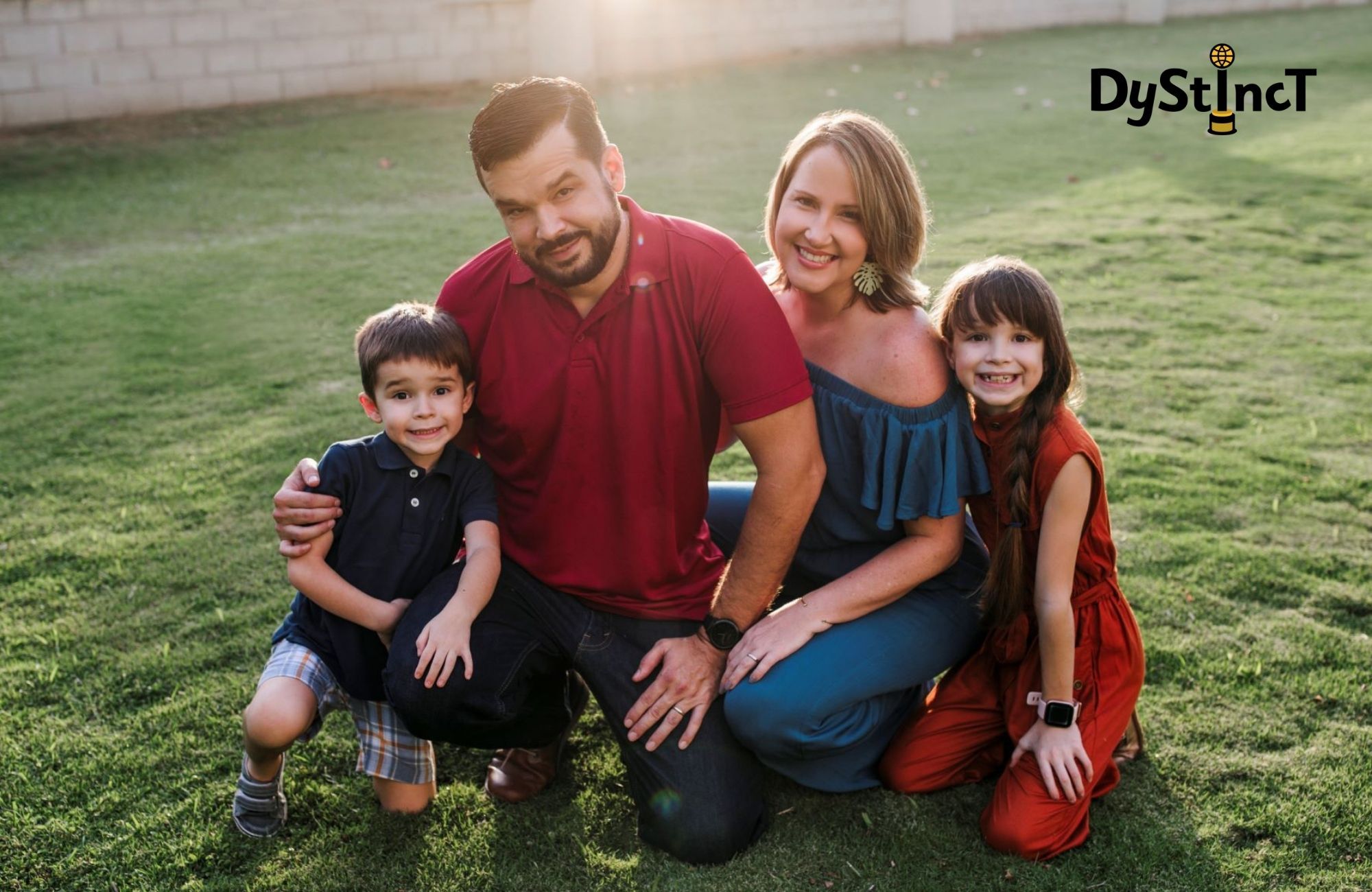 In the early stages of helping Mila embrace her unique qualities, Lindsay was on the lookout for a book that would affirm how special neurodivergent children are and highlight their potential for achieving great things. After much looking around, when Lindsay realised that there were no books available that resonated with Mila's experience, they decided to create one themselves. "When I was younger, I would have these nights when I would get really upset because I couldn't keep up with my class and felt very behind. I knew it was not my fault, but it still really upset me. My mum and I would have these heart-to-heart talks where she would try to make me feel better. One night she asked me to write up a list of all the things I'm amazing at. So, I did. It was a long list. I have a lot of interests and things I'm good at doing. She told me that I was going to achieve something amazing with one or many of my talents. She told me that this was just a bump in the road and that it would not hold me back. Then she tried to find a book that taught kids that same lesson, but we couldn't find one. We then googled people who have achieved great things while struggling with dyslexia. There are so many people who have done amazing things out there who are just like me. I can't remember which of us suggested it, but one of us thought we should turn this into a book for kids like me. So, we did!" shares Mila.
Mum told me that I was going to achieve something amazing with one or many of my talents.
Lindsay encouraged Mila to write her story and then helped her edit it. The project was put on hold for a while due to busy schedules, but when the COVID-19 pandemic hit, and they had more free time, they were able to put their all into it. Shannon Kenny, Lindsay's sister, provided the illustrations for the book, with Mila contributing her own artwork in some sections. Though Lindsay had no prior experience in publishing a book, she sought guidance from a friend who works in the publishing industry to explore their options for bringing the book to life. Lindsay shares, "I had no clue what went into publishing a book or where to even start. We had our story and our illustrations. I printed a copy on Shutterfly just to see what it looked like in person and to see if we needed to fix anything, and I surprised Mila with that for her 10th birthday. She was so excited to have it in hand. Luckily, I have some amazing people here who were very helpful. I talked to a friend who works for a publishing company, and he helped guide me through. I also got a lot of great advice from a local children's book author and now friend. After making many mistakes and learning a lot of hard lessons, that same author/friend led me to Kindle Direct Publishing, and they have just been so easy to work with. If anyone wants to self-publish a book, they are definitely the way to go, and it costs nothing."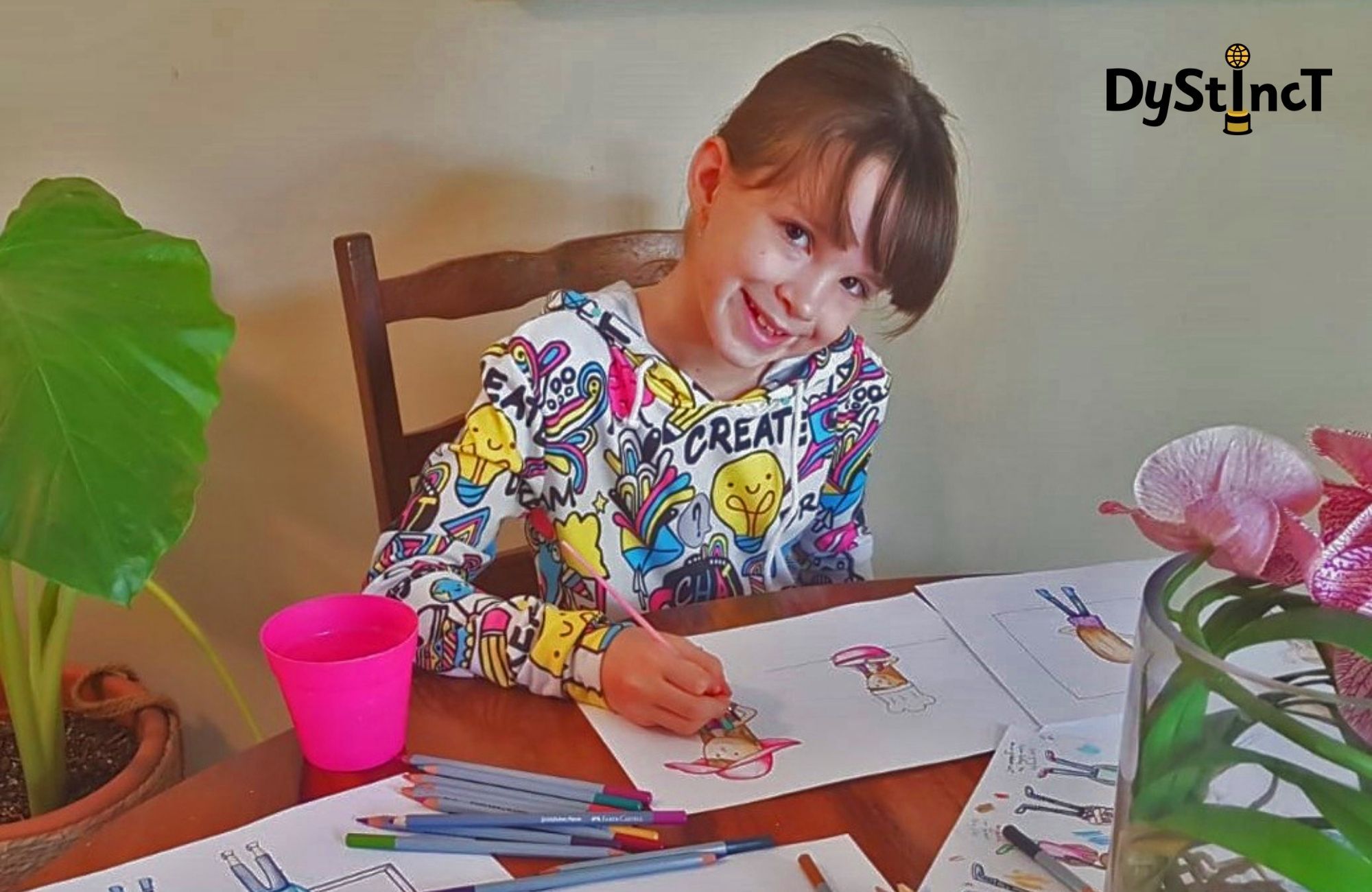 Seeing her book in print was an exciting experience for Mila. When she was surprised with the first copy of her book for her 10th birthday, she was so excited she "screamed," shares Mila. "My friends were very shocked and surprised that I had published a book. They were also really happy for me. My vice principal called me up on stage the other day in front of everyone to say how proud she was of me, and she showed the whole school an article that was written about me in the papers. They only ever call up people who do really well in school or sports. That was an amazing day."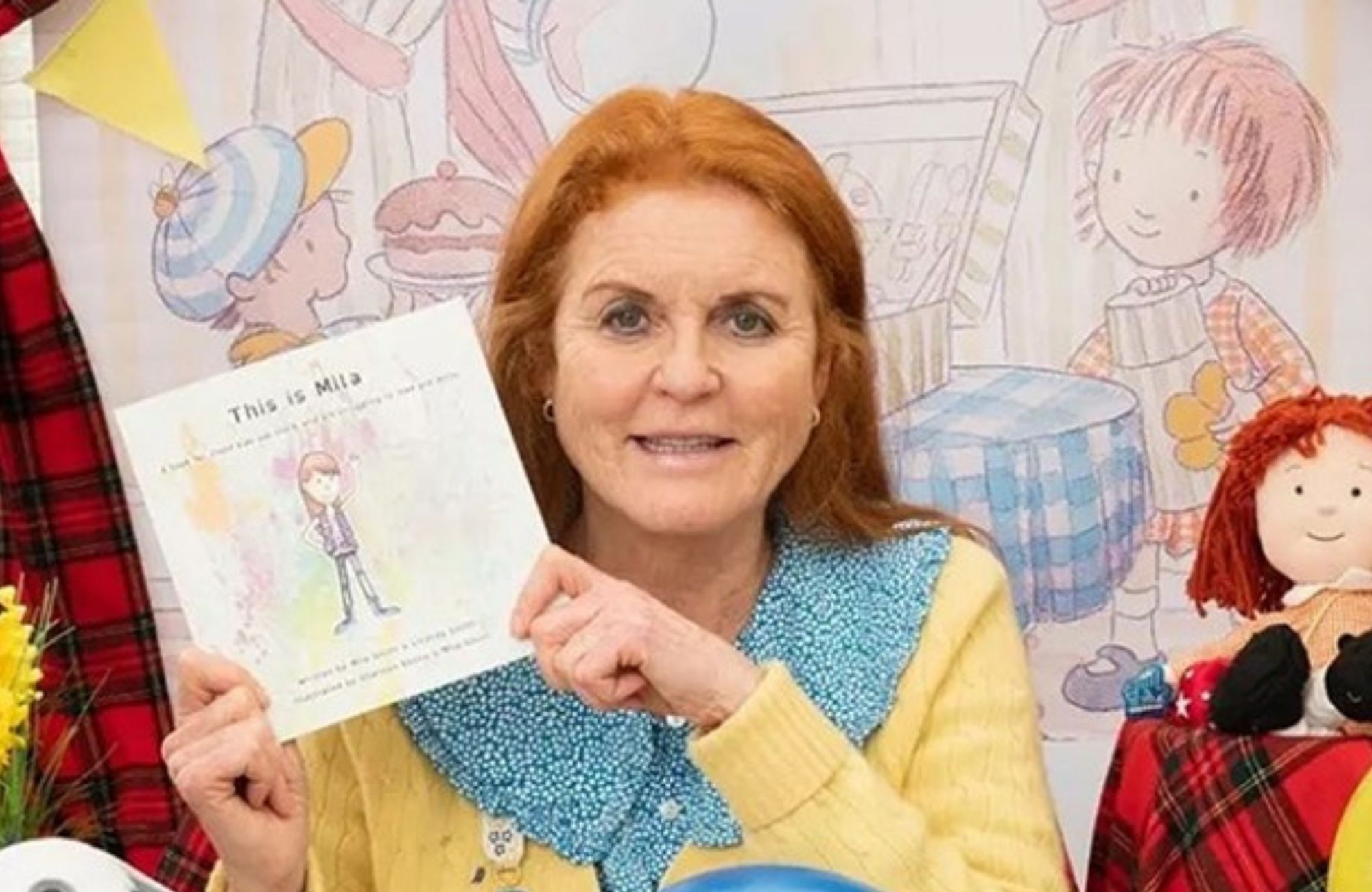 My friends were very shocked and surprised that I had published a book.
As Mila continued to receive positive feedback from friends and teachers about her book, she was overjoyed to hear that it had caught the attention of the Duchess of York, Sarah Ferguson. The Duchess had selected Mila's book to read on her YouTube channel. Mila and her mother were both overwhelmed with excitement when they heard the news. It was an incredible moment for Mila, who felt incredibly proud to have her work recognised by someone as influential as the Duchess. "It was unreal. My mum and I cried. I still can't believe it. Did you know her daughter, the Princess, is dyslexic, just like me? I felt really special," shares Mila.
Mila and her mother continue to receive messages of support and gratitude from other neurodivergent kids and their parents, who have been inspired and comforted by Mila's story. For Mila, being able to help others has been the most rewarding part of the entire process. "It was nice to be able to tell my story, and I really enjoyed working on the illustrations, but the coolest thing was hearing from kids like me and their parents that the book helped them a lot. I like helping people," shares Mila.
It was nice to be able to tell my story.
Lindsay acknowledges that there is a significant level of awareness about learning disabilities in Trinidad and Tobago. Despite this, the experience of having a learning disability can be financially burdensome. Lindsay notes that there are excellent resources and services available, including the Dyslexia Association. However, the local school system, including the secondary placement exam, does not adequately support students with learning challenges. While there are excellent international private school options that cater to these children, they are prohibitively expensive for many families.
Mila has her sights set on writing a chapter book, attending a creative college to pursue her passions for art, baking, and fashion, and eventually opening her own bakery and clothing store. Mila is determined to follow her dreams and make them a reality, and with her talent and drive, there's no doubt she will achieve it all.
What really hurts is that our kid is extremely smart, she just sees and interprets things differently.
While Mila's aspirations for her future are nothing short of impressive, her mum is focused on the present to help Mila achieve all of her dreams. "We have an extremely difficult secondary placement exam which Mila will have to sit next year to get into a decent school. It's very stressful and puts so much pressure on our kids, and the pressure starts from as young as 7, which I don't think kids that age should be dealing with. This exam is very hard for kids who don't have learning challenges, much less for those who do. It's geared more towards those kids who excel academically in exams. What really hurts is that our kid is extremely smart, she just sees and interprets things differently, but unfortunately, this exam does not cater for those kids, and Covid made that even harder. So we have applied for special concessions, those being ungraded spelling, extra time and a private space to do the exam away from distractions. All I can do is ask her to try her best, and whatever happens, we'll just figure it out as we go along," shares Lindsay.
Patience, according to Lindsay, is essential when it comes to parenting a child with a learning disability. As a mother of a dyslexic child, Lindsay knows firsthand how frustrating it can be to navigate the challenges that come with learning disabilities, even with knowledge of the diagnosis. Lindsay shares, "If you are concerned, you should have your kid assessed. Even knowing Mila's diagnosis, my husband and I still get frustrated, and we have to constantly remind ourselves that it's not her fault. It's not an easy road for them or for the parents, and you have to put in the effort. A friend, the teacher who diagnosed Mila, who is also a parent of a dyslexic child, told me that you have to be their advocate, and this really stuck with me. It takes a lot of energy to be there for them all the time, but it is crucial to their success."
Lindsay has noticed a stark contrast between Mila and her younger brother, who seems to grasp concepts easily. This has helped her to understand just how challenging and frustrating it can be for children with learning disabilities when others seem to effortlessly understand things that are difficult for them. Lindsay's dedication to helping her daughter study and supporting her in all her aspirations has not gone unnoticed. Mila calls Lindsay her dyslexia champion. "My mum is my champion. She helps me study and supports me in everything I want to achieve. Sometimes we still get frustrated, but she tries her best to make me feel better," shares Mila.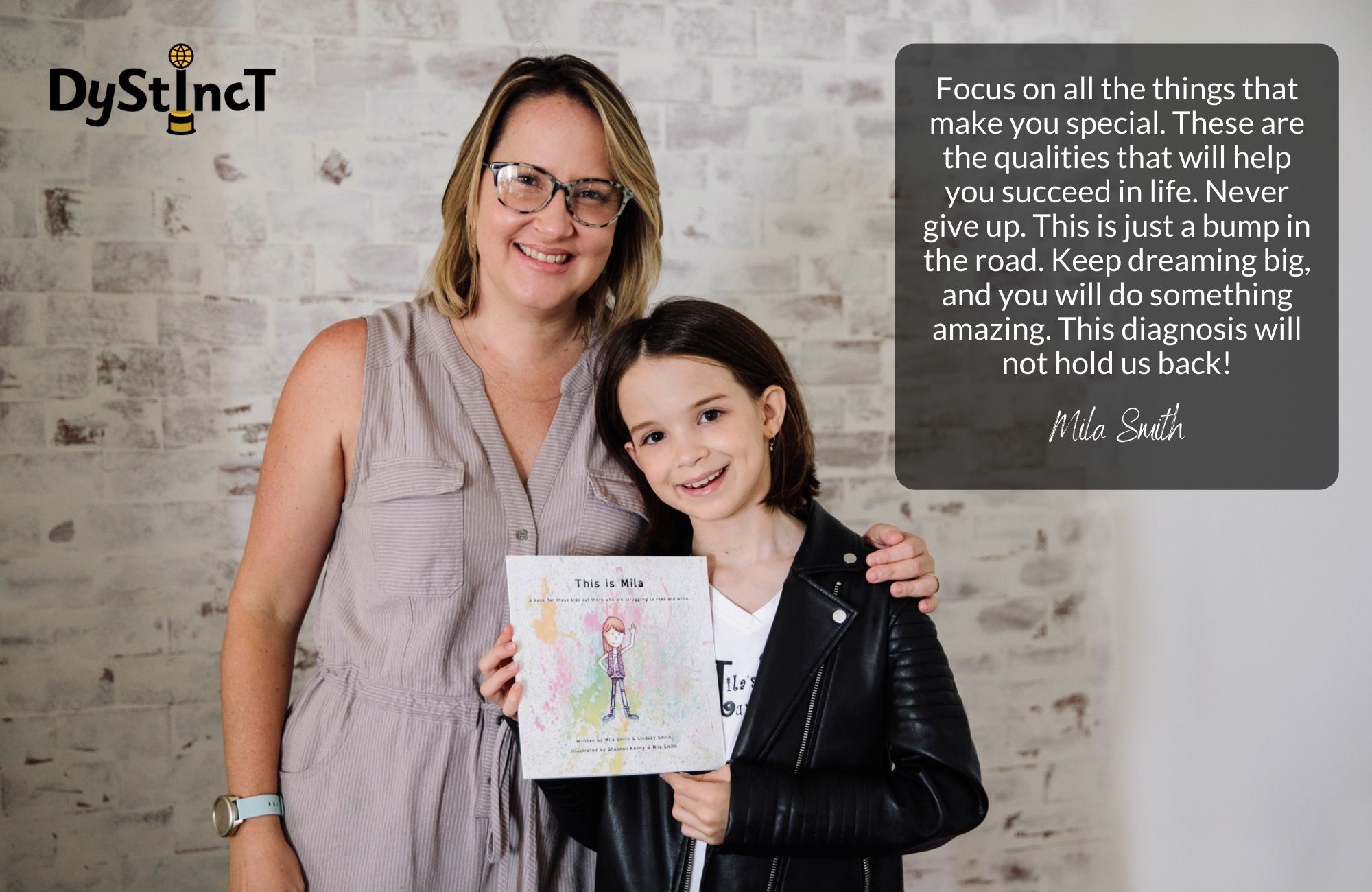 ---
---
BUY BOOK: This Is Mila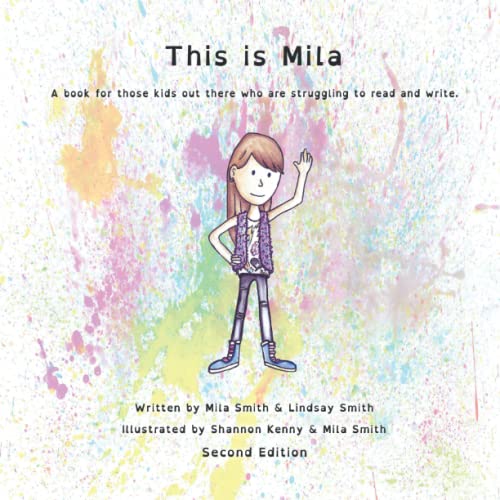 This is Mila
"This is Mila" is a true story about a little girl who struggles to read and write. Instead of focusing on this difference, Mila, the author and main character of the book, channels her energy into all of her special and amazing qualities. She has written this book for kids who are going through similar challenges.
Buy on Amazon (#AffiliateLink)
#AffiliateLinks: As an Amazon Associate, Dystinct earns a commission from qualifying purchases made by Dystinct readers on the affiliate links we share. The product details such as description, price, stock levels, etc are accurate as of the time of publication of this article.
Extracts from Dystinct Magazine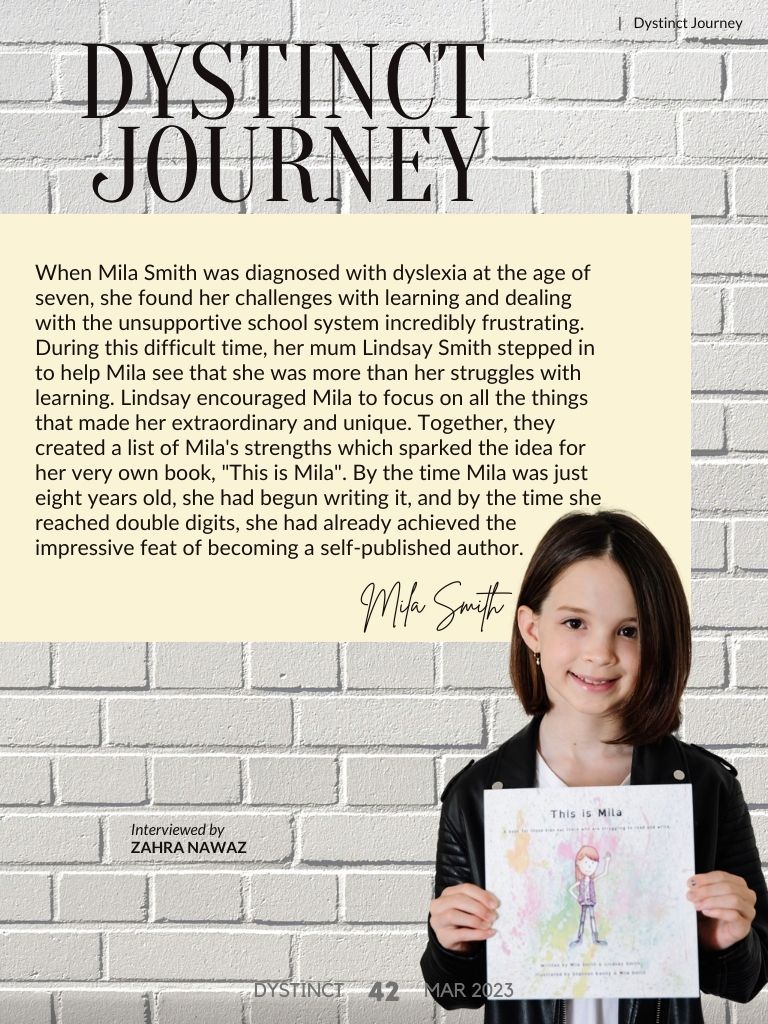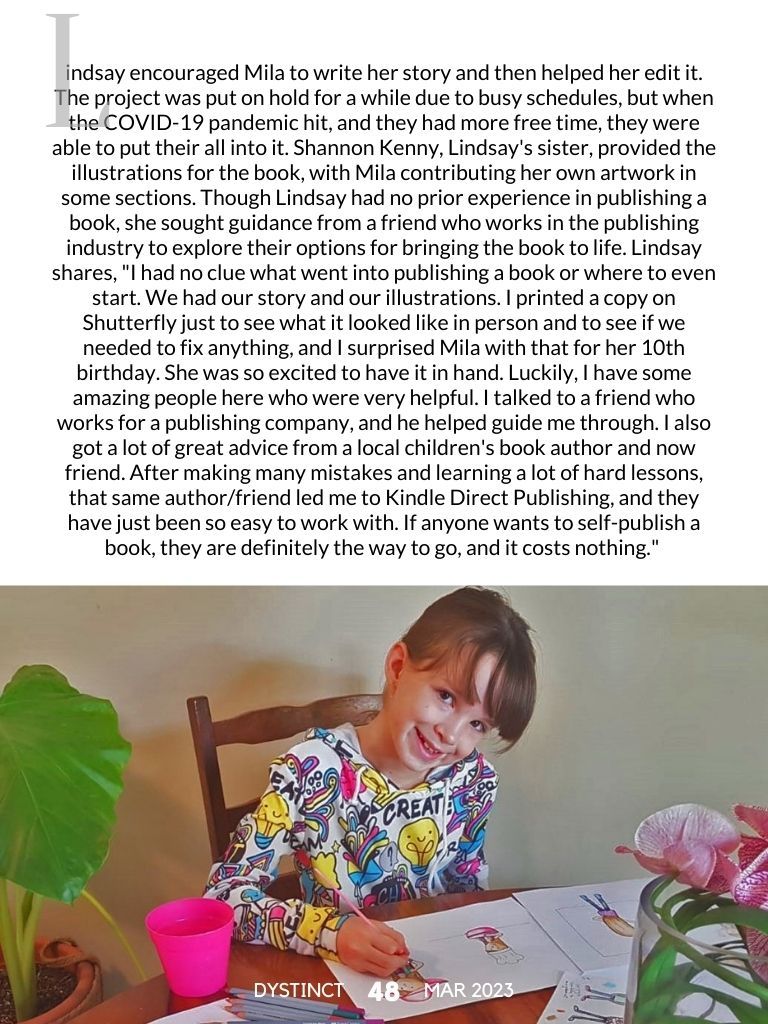 Comments
---