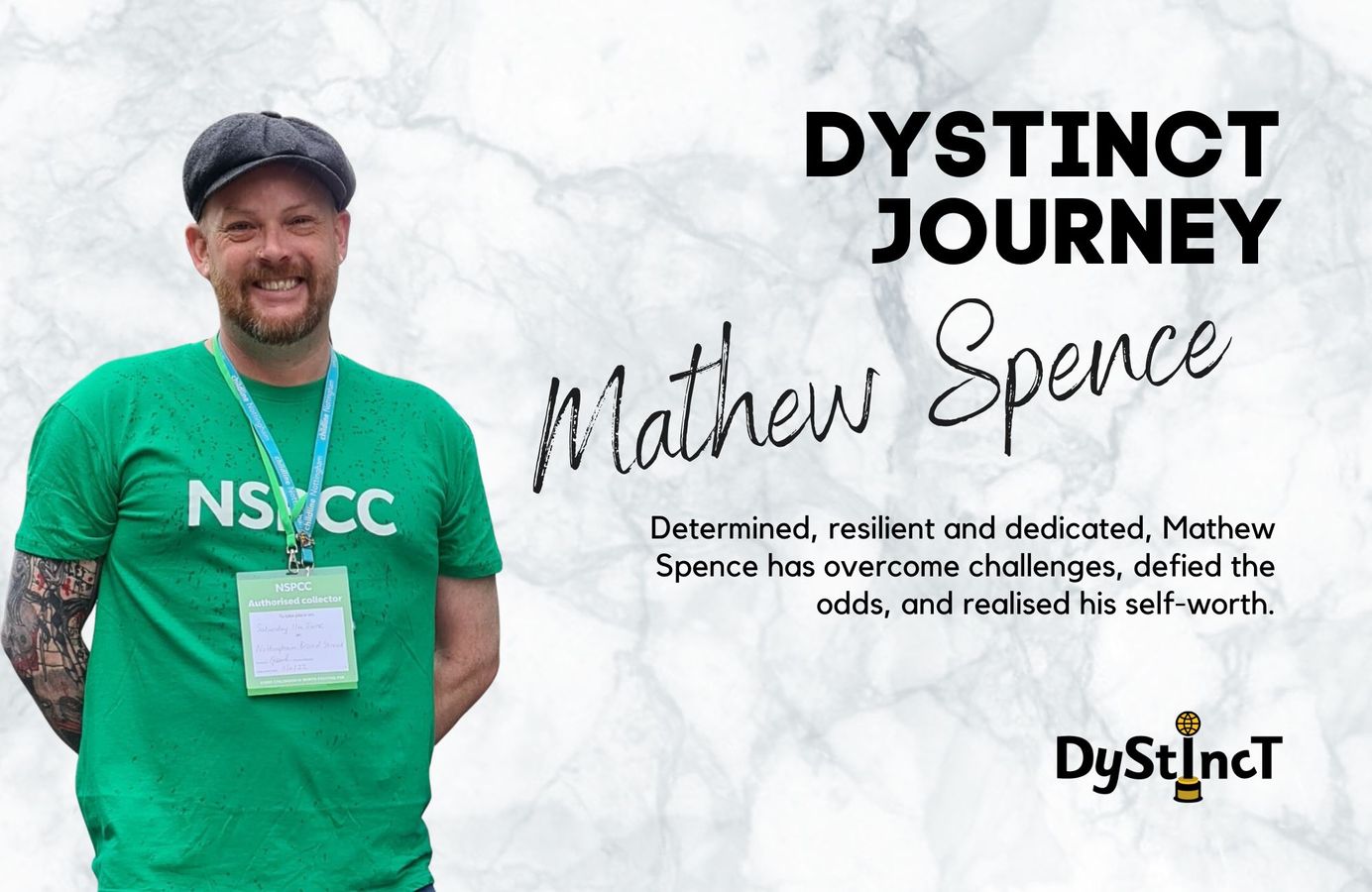 Issue 18: Dystinct Journey of Mathew Spence
Mathew Spence overcame the challenges of dyslexia, ADHD, and ASD, defied discouraging predictions, and earned a psychology degree at the age of 42. He is now planning to establish a counselling service for individuals on the autism spectrum.
Table of Contents
Determined, resilient and dedicated, Mathew Spence has overcome challenges, defied the odds, and realised his self-worth.
Despite early setbacks and discouraging predictions, Mathew Spence has defied the odds, overcome challenges, and carved a unique path to personal and academic achievement. His journey is a testament to the invincible spirit of individuals with dyslexia.
Mathew's Story
Born in March 1981, Mathew Spence spent his early years in Gate Burton, a peaceful small village in the historic countryside of Lincolnshire. His educational journey was marked by initial struggles, but it wasn't until the age of 12 that he was formally diagnosed with dyslexia. Mathew Spence's path through the education system was increasingly complex due to underlying neurodiversities that were not fully recognized until much later in life. Alongside his dyslexia, it was only in 2023 that he received a diagnosis for combined ADHD and ASD traits.
At School, Mathew faced difficulties in many subjects, but English proved to be the toughest due to his struggles with spelling and grammar. The daunting task of reading aloud in class—words jumbling and sometimes seeming to vanish—only intensified his struggle. Beyond the academic struggles, Mathew also faced social hurdles; being bullied became a part of his daily life. Both classmates and family members failed to understand his condition, which only added to his challenges.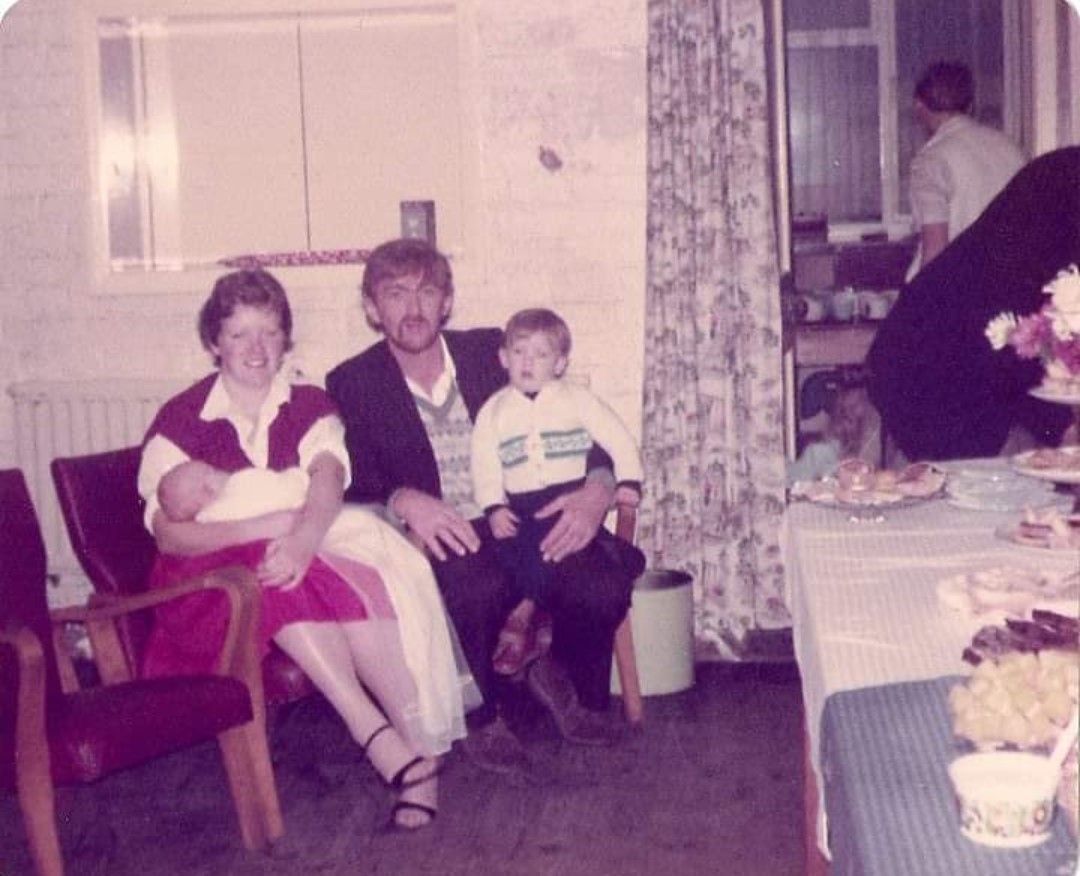 Frequently labelled as 'thick,' Mathew experienced a profound effect on his self-perception and confidence. The rigidity of school schedules and the often-limited empathy from educators towards Mathew's unique learning needs posed yet another layer of difficulty, which significantly hindered his willingness to seek the assistance he needed. "By the time I was 13, I knew if I asked a question, I would end up being sent out of class or punished. So, I stopped asking for support. I regularly had to write lines as a way to improve my spelling, but this usually resulted in me having to write even more lines due to my lack of engagement with the task and the inevitable spelling mistakes I made. By this age, I also learned when it was my time to read aloud in class, causing a fuss and being sent out would mean I wouldn't get ridiculed in class for my poor reading skills, which was a win for me," shares Mathew.
Mrs Irvin helped me believe even if I failed, I could be proud if I tried and put my effort forward.
Within the challenging school environment, one teacher, Mrs. Irvin, emerged as a guiding light for Mathew. Her empathy and encouragement helped him to recognize the value of effort and persistence. "She had so much compassion and understanding. She helped me believe even if I failed, I could be proud if I tried and put my effort forward and would be surprised with the outcomes if I worked hard. Thank you, Mrs Irvin."
On the home front, Mathew's journey wasn't any easier. His mother grappled with her own emotional and mental health issues while his father, a long-distance truck driver, was frequently absent due to the demands of his job. However, Mathew and his dad shared a special bond through their work on old cars. These moments with his dad were precious to him. Mathew absorbed knowledge through action and observation, learning more from the hands-on guidance of his father than he ever could from textbooks. By the time he was 12, he was already able to take apart and put together an engine all by himself. "I loved cars, anything about them. I especially enjoyed breaking things down and learning how they worked. In my family, I am famously known as one of the only children in the world to break the indestructible Tonka toy. It took me about an hour to get it into its working components. I found a way to dismantle it without being destructive. I spent countless hours working on old engines, and by the time I was 12 I had my first car, an Austin Mini."
By twelve, Mathew had not only acquired an Austin Mini but had also dived into the world of Mini Stock racing at Blyton Raceway, competing until he was sixteen. The open spaces of the countryside, with its fields and old farm tracks, served as his proving grounds. Despite the occasional trouble with the law for driving without a license, these experiences only strengthened his resolve and passion. Observing the inner workings of machines laid out before him unlocked his ability to learn and replicate complex processes.
I learned that if I could use my hands I could comprehend many things, and if I could see how things worked, I could replicate my learning.
Mathew's official diagnosis of dyslexia at age 12 came with an unsettling prediction. Mathew and his mother were warned that he would likely fail in all his GCSEs and, most alarmingly, was at risk of ending up in the criminal justice system. Ignoring the grim predictions, Mathew poured his energy into his studies with unwavering dedication.
"The prediction was ultimately my driving force to prove to the world I wasn't a failure and I could achieve anything I put my mind to. I studied very hard for all of my exams. Although I didn't achieve the requirements for higher education, I only received F's for History and French, but I hated these subjects, so I wasn't that disheartened. I achieved D's in English, English lit, Biology and Physics, a C in Maths, and even got a B in Art. Anything below a D was classed as a fail at GCSE level."
Emerging from the education system, Mathew secured an apprenticeship in Engineering at WEFCO, a local manufacturing firm. Nonetheless, the enduring struggle within an unsympathetic academic structure had taken its toll, leaving him grappling with anxiety and depression. "Starting my apprenticeship was very scary as I had very little social skills. But my mentor, Chris Dundadale, was a friendly chap who had a lot of time to educate me in the process of engineering. At WEFCO, we build large pressure vessels, complex engineering structures and petroleum tankers. I learned the process of building these big engineering structures very fast, and my mentor said he enjoyed teaching me because he only had to show me something once. I learned better in the apprenticeship model because it was one-to-one. By the time I finished my apprenticeship at 20, not only did I complete it a year early, but I also managed to get a promotion into the Quality Assurance department. I achieved a Level 1 and 2 in engineering processes (fabrication and welding) and a Level 3 in technical services."
Just when Mathew was finding his place and thriving as a Quality Assurance inspector across the three different sites operated by the company, the local engineering industry began to decline. In April 2002, Mathew faced redundancy as his workplace ceased to exist. During this difficult time, he discovered a back-to-work initiative offered by DFDS, a company that sponsored individuals to obtain their Heavy Goods Vehicle (HGV) licenses. With his father already employed as an HGV driver at DFDS, Mathew's acceptance into the scheme not only secured him a new job but also the opportunity to work alongside his father.
Mathew enjoyed working with his father until he was 24, but his world was turned upside down when his father passed away at the age of 50 due to cancer. This loss left Mathew heartbroken and made continuing in the same industry unbearable. "I had some dark times thinking about how and why my dad had died. I needed to get out of the industry."
Working in the industry where I loved working with my dad was no longer an option for me.
In search of a new beginning, Mathew returned to education between 2014 and 2016, this time to learn about plumbing and heating. He successfully completed his Level 1 and 2 certifications in plumbing and heating, as well as specialized courses in unvented heating systems and heat pumps. With these new qualifications, he launched his own plumbing business in October 2016. Initially, he enjoyed the work and had a small but loyal client base, yet the business struggled financially. The demand for heat pumps was not yet apparent, a stark contrast to the surge in popularity they would experience later. As a result of these financial pressures, Mathew found himself returning to HGV driving, a move driven by necessity rather than passion.
IIn December 2017, Mathew's life took another downturn when he began experiencing panic attacks. The cumulative weight of losing his father, going through a difficult divorce, and feeling a lack of fulfilment in life plunged him into severe depression. In response to his mental health struggles, his GP prescribed anti-depression medication in March 2018. However, not long after starting the medication, Mathew began to suffer from blackouts. Upon consulting with his GP again, he was warned that these could be epileptic seizures and was advised not to drive until further investigation—a directive that effectively left him unemployed and uncertain about his future.
Facing formidable challenges and employment barriers, Mathew found a glimmer of hope in his life when he met Lizzie, his new partner. She offered Mathew "the love and encouragement on days I feel like I can't achieve anything," becoming an unwavering pillar of support throughout his journey. Amidst these trials, Mathew made a courageous choice to pursue higher education in psychology with the hope of understanding the root of his depression. Starting his undergraduate studies in September 2018, he found himself working steadily towards achieving a goal that once seemed out of reach.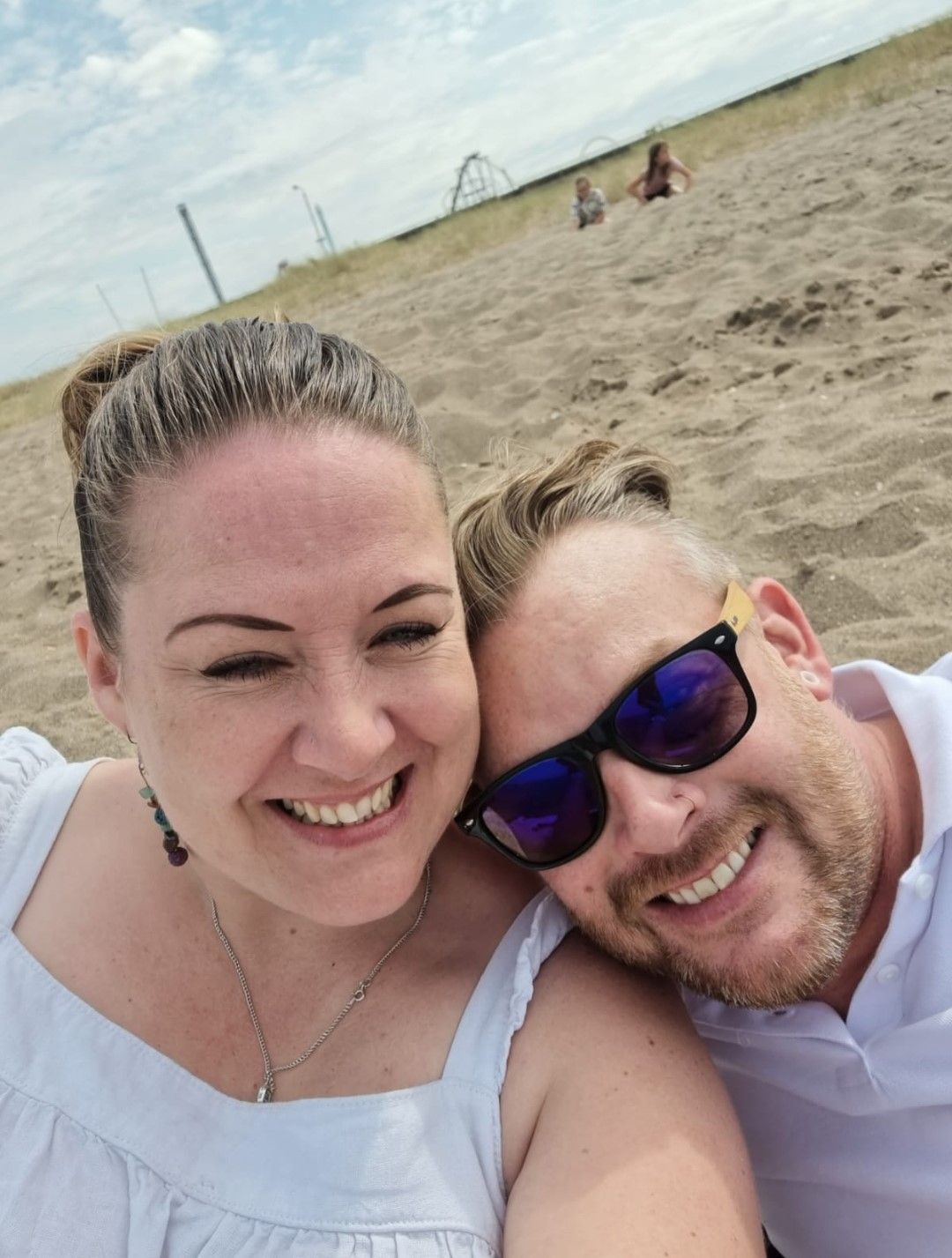 However, the arrival of the COVID-19 pandemic brought unprecedented changes to Mathew's educational journey. The one-on-one support that had been instrumental to his progress at the Open University where he was enrolled was halted abruptly, and all in-person tutorials ceased. During this time of isolation and disruption, he found comfort in the television series "The Big Bang Theory." The character of Sheldon Cooper, with his distinctive idiosyncrasies and social challenges, resonated with Matthew, reflecting aspects of his own experiences. This connection was profound enough that in January 2020, Matthew requested his GP to refer him for an autism assessment, believing that he might share more with Sheldon than just challenges—he might also share a diagnosis.
As Matthew continued to navigate his personal and academic challenges; he found an avenue where he could contribute meaningfully. In March 2020, he completed his training as a volunteer counsellor at ChildLine, a remarkable charity that offers one-on-one support for young people dealing with home life difficulties, academic stress, or loneliness. For Matthew, working with ChildLine felt like being part of a larger family.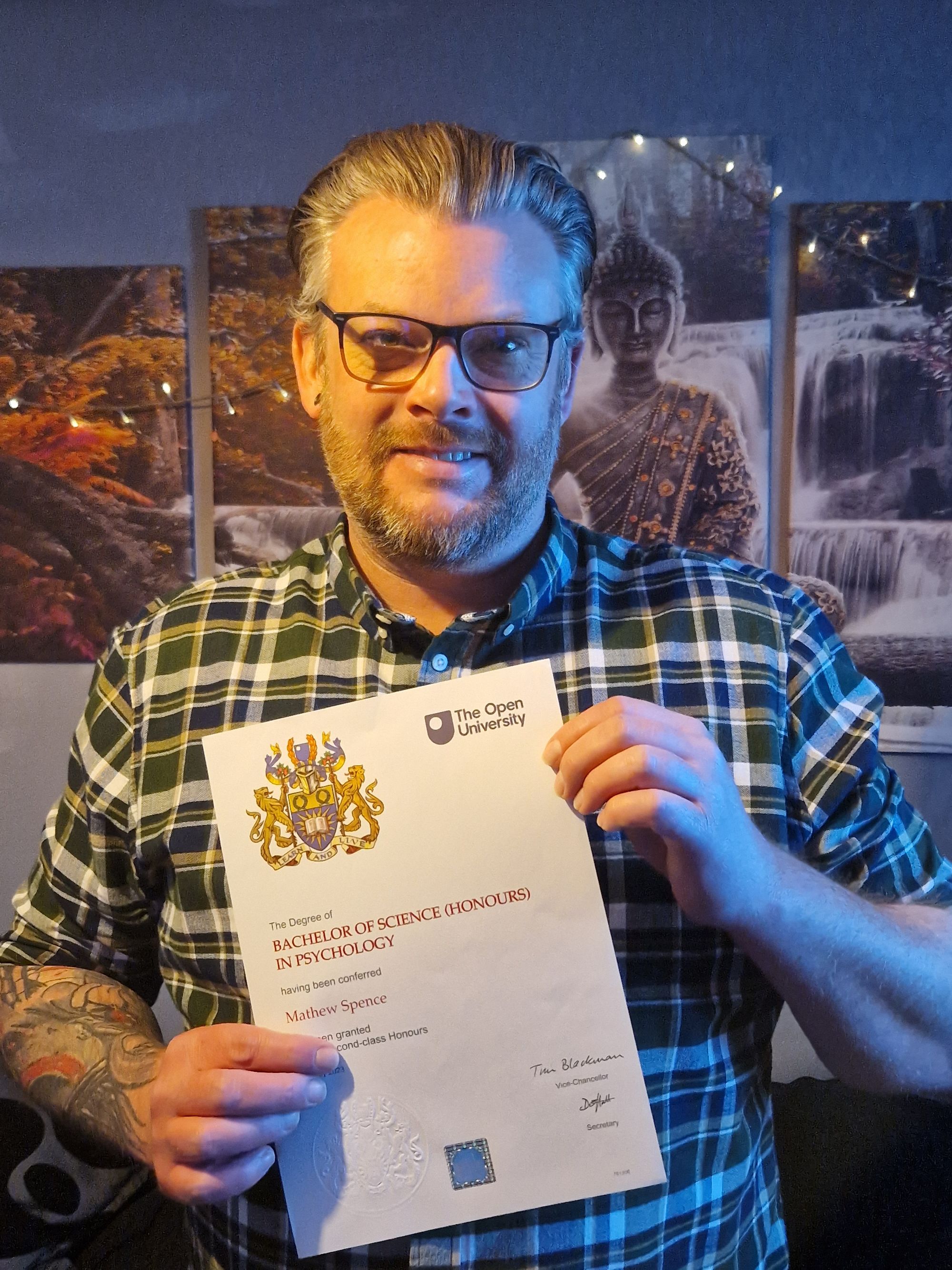 In 2023, at 42 years old, Matthew accomplished the significant feat of finishing his psychology degree, a task fraught with challenges. "I will admit that getting my higher education was the hardest thing I have ever done. It took me five years to complete; this was a direct result of failing one module, having no support throughout my studies, and studying with both dyslexia and undiagnosed ADHD. I believe I struggled with consistency throughout my studies, although the determination and support from my partner, Lizzie, helped in a big way. She proofread all my work, making sure there were no grammatical errors, and spell check was my best friend. I will always be grateful for the support that Lizzie gave me." In the end, Matthew didn't just earn a degree—he discovered an enduring affirmation of his own potential and worth. "If I can achieve an undergrad degree in psychology with all those challenges, what can I achieve with the right support? I now know that my assessor was wrong, and I can achieve many amazing things in life; I now know my worth as a human."
In 2023, Matthew was diagnosed with combined ADHD and Autism Spectrum Disorder traits, a revelation that has steered him towards pursuing a master's in counselling, focused on person-centred therapy, to start in September 2024. His goal is to establish a counselling service for those on the spectrum grappling with mental health issues, and he plans to further his work by developing a non-observational assessment tool during his subsequent PhD studies. This tool aims to objectively identify neurodiverse conditions like ASD, ADHD, and dyslexia through numerical values, potentially reducing diagnostic wait times and costs. "Being diagnosed with ADHD has taught me that many who have one diagnosis would have many others. S, Bagnall (2018, Derby University) argues that being neurologically diverse should be a broader term, with conditions like ASD, ADHD, Dyslexia, etc., as identifiable symptoms of being neurodiverse."
Mathew views dyslexia as "an alternate way of thinking," offering a distinct perspective on life and its myriad challenges. He views the dyslexic mind as inherently creative and adept at "thinking outside the box." History provides numerous instances of scholars on the spectrum who have achieved significant academic accomplishments. Mathew is convinced that the unconventional solutions dyslexic thinkers can uniquely contribute are essential for addressing the world's pressing issues.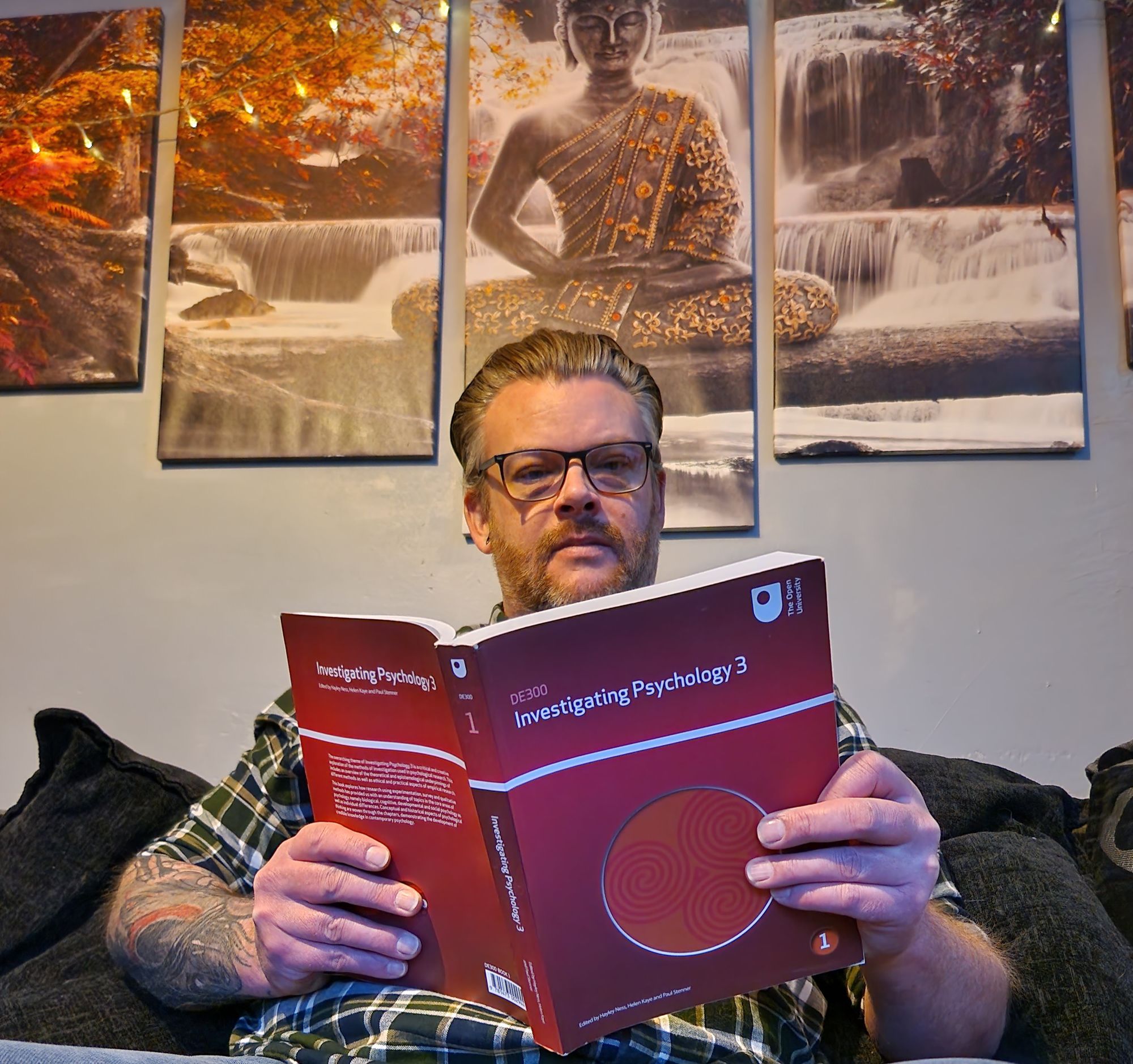 I am very proud of everything that I have achieved so far in life, and I believe I still have a long way to go before I am finished with my education. I am very proud of the relationship I have with Lizzie; I am also very proud of the fact that I turned up every day and tried my hardest. I may not have achieved the best results, but turning up and trying hard has shown me anything is possible, even with no support. Although, if I am totally honest, having my story written about really makes me proud of how hard I have worked.
Mathew Spence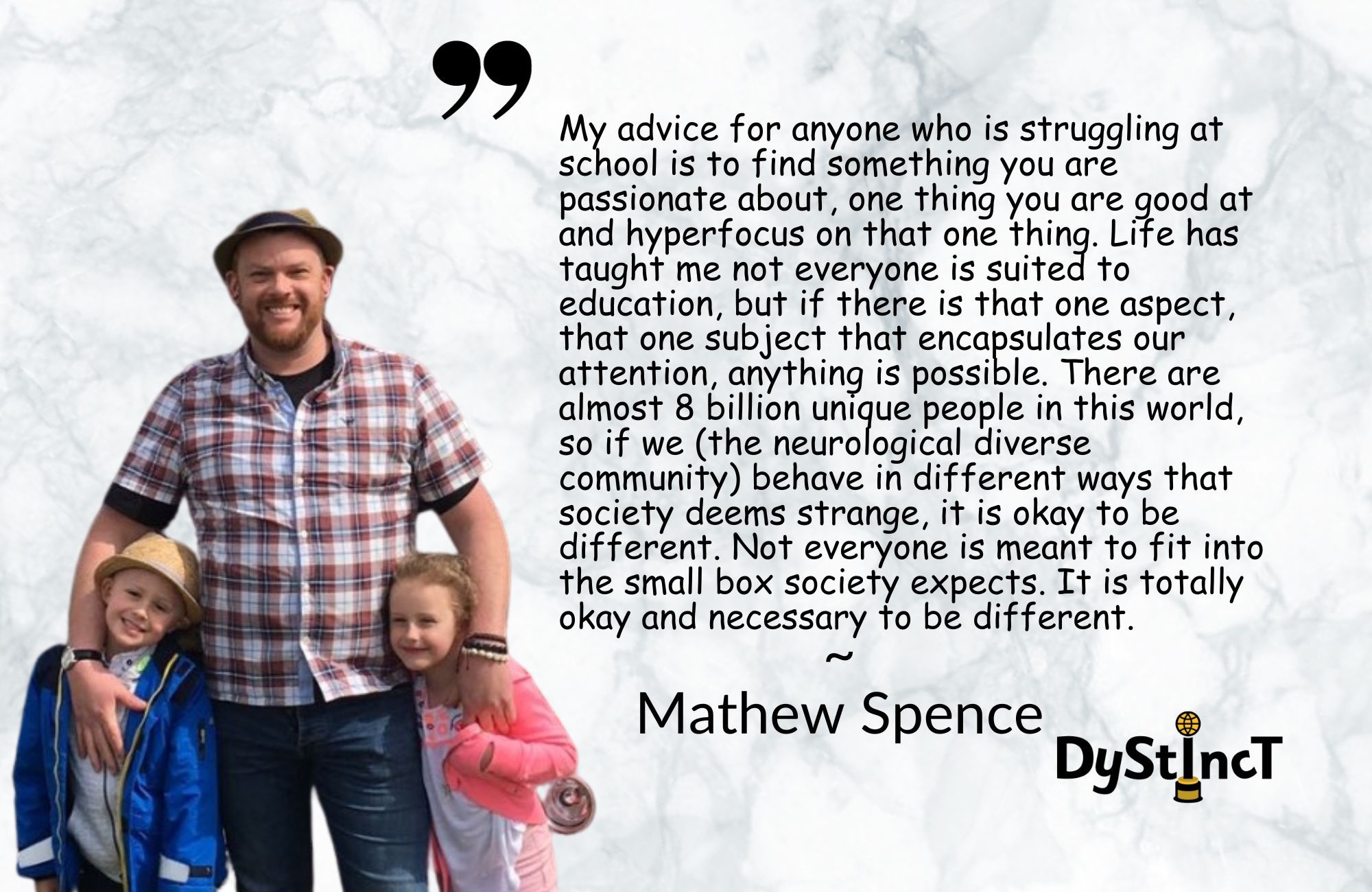 Extracts from Dystinct Magazine
Extracts from Dystinct Magazine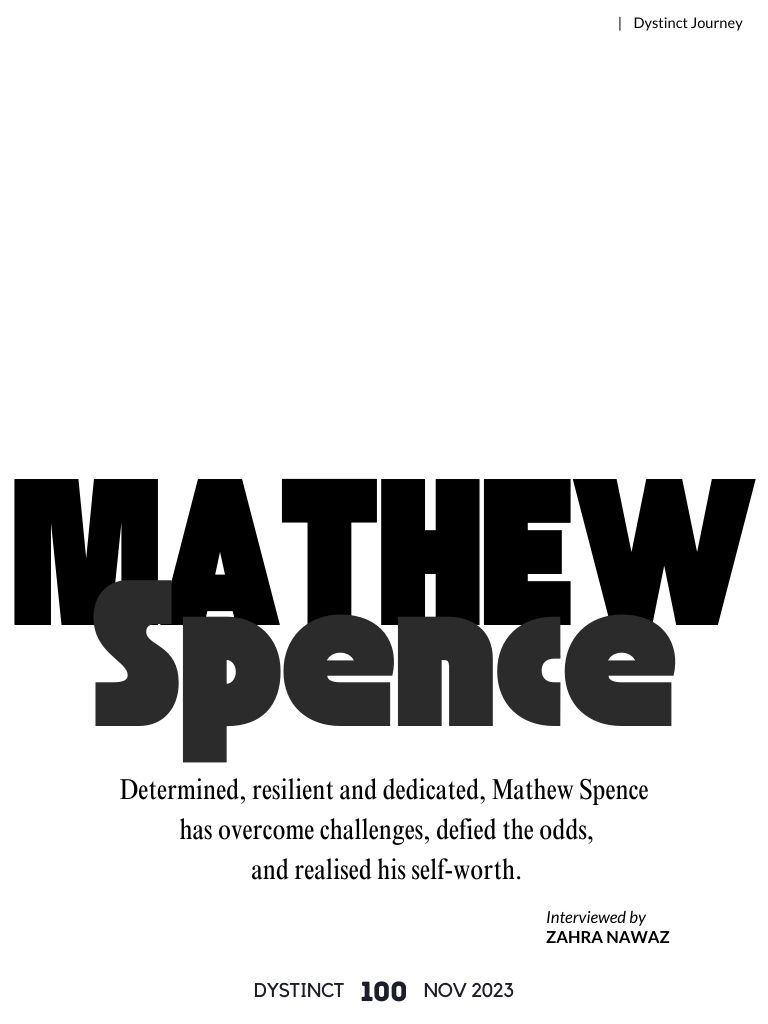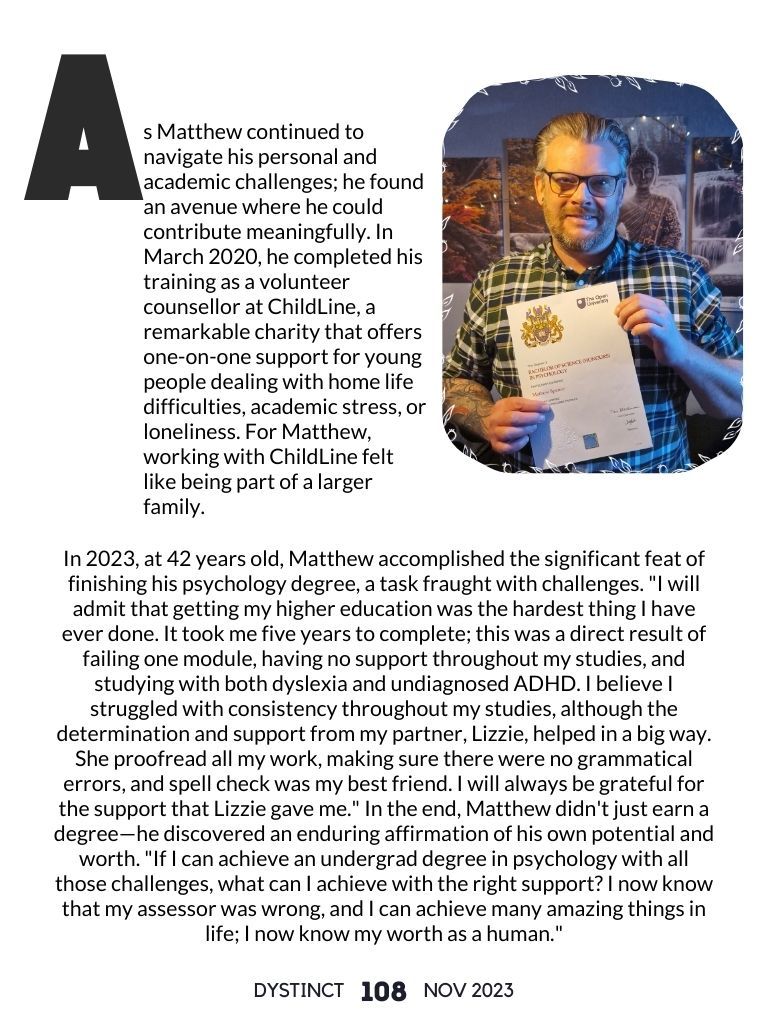 Comments
---