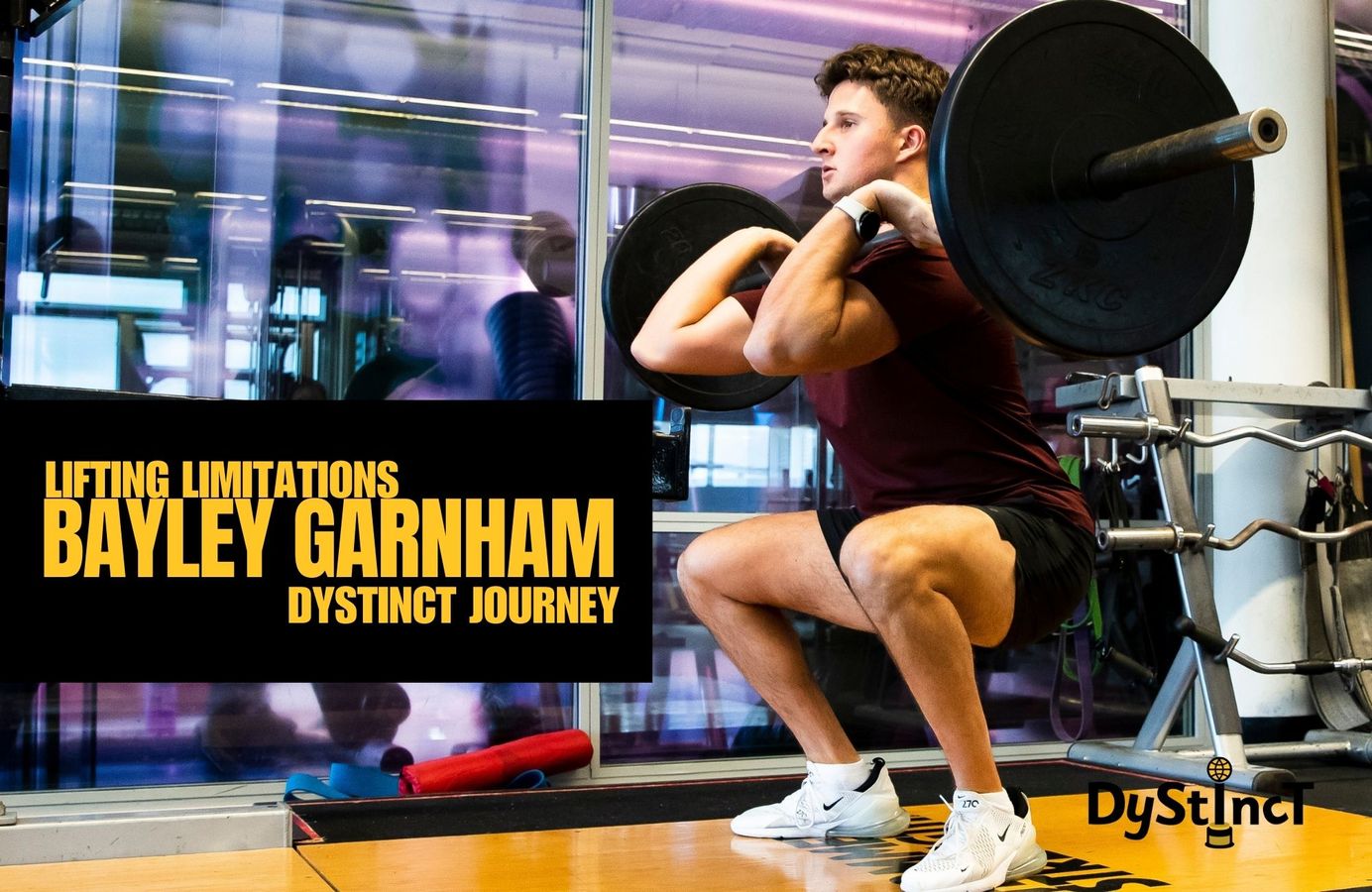 Issue 15: Dystinct Journey of Bayley Garnham
Bayley Garnham's inspiring journey from struggling with dyspraxia and dysgraphia to becoming a weightlifting champion and now a personal trainer who motivates people to achieve their dreams.
Table of Contents
Bayley Garham is Fitness Instructor & Personal Trainer from Auckland, New Zealand
23-year-old personal trainer Bayley Garnham from Auckland, New Zealand, is a determined young man with a clear vision for his future. With a bachelor's degree in Sport and Recreation and a successful career as a personal trainer, Bayley is already making waves in the fitness industry. His journey towards success hasn't always been smooth. Only a few years ago, Bayley was a poorly coordinated little boy frustrated at his inability to keep up with his peers. It wasn't until he was diagnosed with dyspraxia and dysgraphia at the age of 12 that his struggles began to make sense. However, Bayley refused to let his disabilities define him. Instead, he used his love of sports and fitness as a way to overcome his challenges and become the successful personal trainer he is today.
Bayley's journey
Bayley's journey
Growing up, Bayley struggled with schoolwork. "I was always behind in reading and writing. I think my reading age would be about six or seven when I was ten. Completing homework was a mission. It would take me double the amount of time to do it, even with the help of my parents. In class, keeping up with the speed of the content given was a challenge. I was forever asking questions and looking for reassurance. Change was a big thing for me; needless to say, I found it hard to adapt to anything new or different. That included everything from a change in my schedule tonew teachers and friendships."
Despite his difficulties, no one suspected he could have an underlying condition, and Bayley was simply considered a late developer. However, this lack of awareness and support had a significant impact on Bayley's life, particularly in activities that Bayley loved the most. "In terms of schoolwork, it didn't really affect me too much because I thought that was just normal. I only got frustrated in terms of the sports side of things, where I really tried to excel. I was the kid that wanted to be in the school representative team for cricket, but I never quite made it. My friends always did, and they weren't as passionate about it as me. I would get frustrated, and the coaches would get frustrated at why I couldn't do what the others were doing. It was frustrating to not know why all the practice I was doing wasn't paying off," shares Bayley.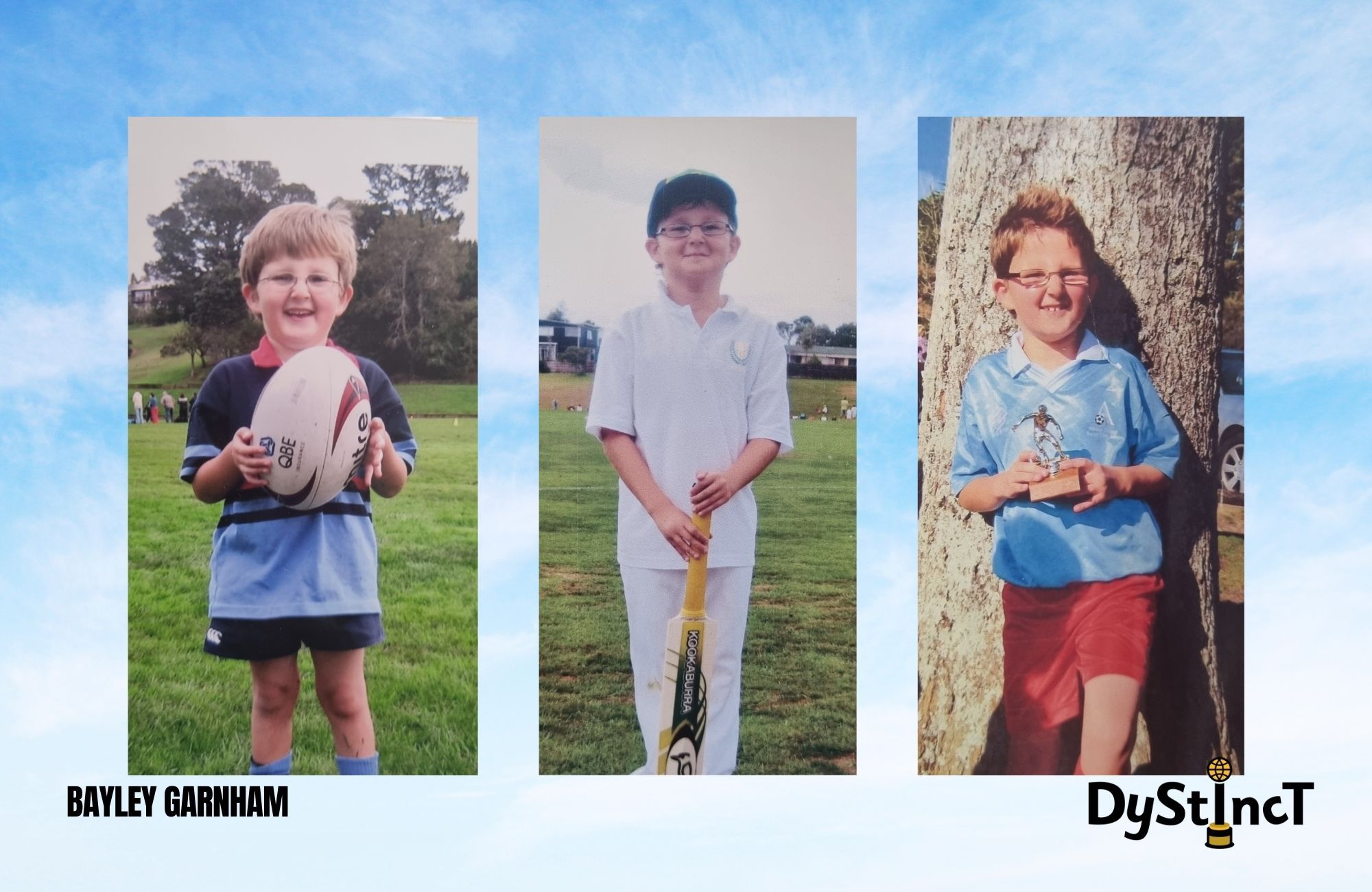 Socially, as we all know, in the school environment, anyone seen to be different is a target.
Bayley's struggles on the playground also made him a target for teasing and ridicule from his teammates and friends. "Socially, as we all know, in the school environment, anyone seen to be different is a target. While playing games like handball, four square or rugby during break times at school, we were all very competitive, but I'd ruin the flow of the game or kind of end up at the bottom. A friend of mine I had grown up with took playground banter to a whole another level and started verbally hurting me."
His family's unwavering support got him through those tough early years. His parents and his grandparents, with whom Bayley spent a lot of time, encouraged him to try every sport possible and instilled in him the value of persistence and hard work. Bayley's grandfather was a source of constant inspiration and encouragement, constantly reminding him that he could do it and to keep going. Through words of affirmation and tough love, Bayley's family never allowed him to give up, even when he wanted to. "My mum always proofread my schoolwork for me and helped me each night to ensure I had everything I needed for school, sports and outside activities that helped relieve any added stress. This is something I still practice. My grandparents had these old-school reading books to try to assist me in reading something I was interested in. My grandfather came across Toe by Toe, a reading literacy program and each week, we would sit down and work through it. Granddad always said things like 'You can do it' or 'Just keep going'. One thing my family instilled in me was that learning to be good at something involved a lot of practice and time and to be ok with that."
When Bayley was ready to transition from primary to secondary school, his parents carefully considered their options. They ultimately chose Kristin, a private school on Auckland's North Shore, because of the smaller class sizes, excellent facilities, and overseas opportunities it offered its students. Despite not yet knowing about Bayley's needs, his parents' choice would ultimately prove to be advantageous for him. "I know if I had gone to a mainstream school, I would have been classified as the naughty kid that never listened and always had his hand up asking questions," shares Bayley.
Bayley's dyspraxia and dysgraphia finally came to light thanks to the keen observation of his Year 8 art teacher. The teacher noticed unusual hand movements while Bayley was drawing and suggested that he get an assessment. Receiving the diagnosis was a significant moment for Bayley as "it gave me the answers to why I was like I was" and allowed him to access the necessary support and skills to succeed.
The diagnosis gave me the answers to why I was like I was.
After Bayley was diagnosed with dyspraxia and dysgraphia, the only recommendation at his age was to do a keyboard course to improve his literacy skills. His mother met with the school's dean, head of special education, teacher, and pro-ed to discuss how best to support him. As a result, he was provided with a reader/scribe for exams and had the option for extra time on assignments if needed. However, he never utilized the extra time as he preferred to get everything done early and proofread by his mum.
I always ensured I had everything done early as mum had to proofread everything.
At the start of each school year, his mother would meet with his teachers to explain his needs. However, some teachers were resistant to the idea or chose to ignore it. But Bayley's mother persisted and continued to discuss his needs at each parent-teacher meeting until he was old enough to advocate for himself.
After Bayley's diagnosis, his parents enrolled him in a gym to help improve his coordination. It was there that he met Mike Schofield, who would go on to change the trajectory of Bayley's life. "The one person outside of my family who I will forever be in debt to and look up to as a mentor is Mike Schofield. At 12, I started going to the gym. Mike was my personal trainer, and I met with him twice a week for training. Without him, I wouldn't be where I am now and have the understanding of my dyspraxia as I do. As soon as we told him about my dyspraxia, he went away and started to research it and develop an understanding of what it's like to train someone with dyspraxia. As time went on, he knew me inside and out. He would know by seeing how I would walk into the gym if he could push me or if we needed to take it easy and focus on simple movements, I would tell him anything and everything, and he was always there to listen, give advice or just have a good laugh which now looking back, was exactly what I needed. Now a personal trainer, I believe I have a platform that can allow me to do the same as he did for me," shares Bayley.
Without Mike, I wouldn't be where I am now and have the understanding of my dyspraxia as I do.
After starting personal training sessions with Mike at the gym, Bayley was introduced to Olympic weightlifting. Initially, Bayley's mother had concerns about him taking up Olympic Weightlifting due to her uncertainty about the environment being suitable for a young teenager and the misconception that weightlifting may stunt growth in teenagers. However, after seeing Bayley's positive response to it, she allowed him to continue as long as it did not have an impact on his schooling.
Bayley was soon competing in interclub and regional competitions and eventually qualified for national events. Although he gave up all other sports to focus on weightlifting, he quickly noticed improvements in his coordination and movement. Mike understood Bayley's needs and spent six months just helping him learn to do a proper lunge. By this time, Bayley's overall understanding of how his body moved had improved too.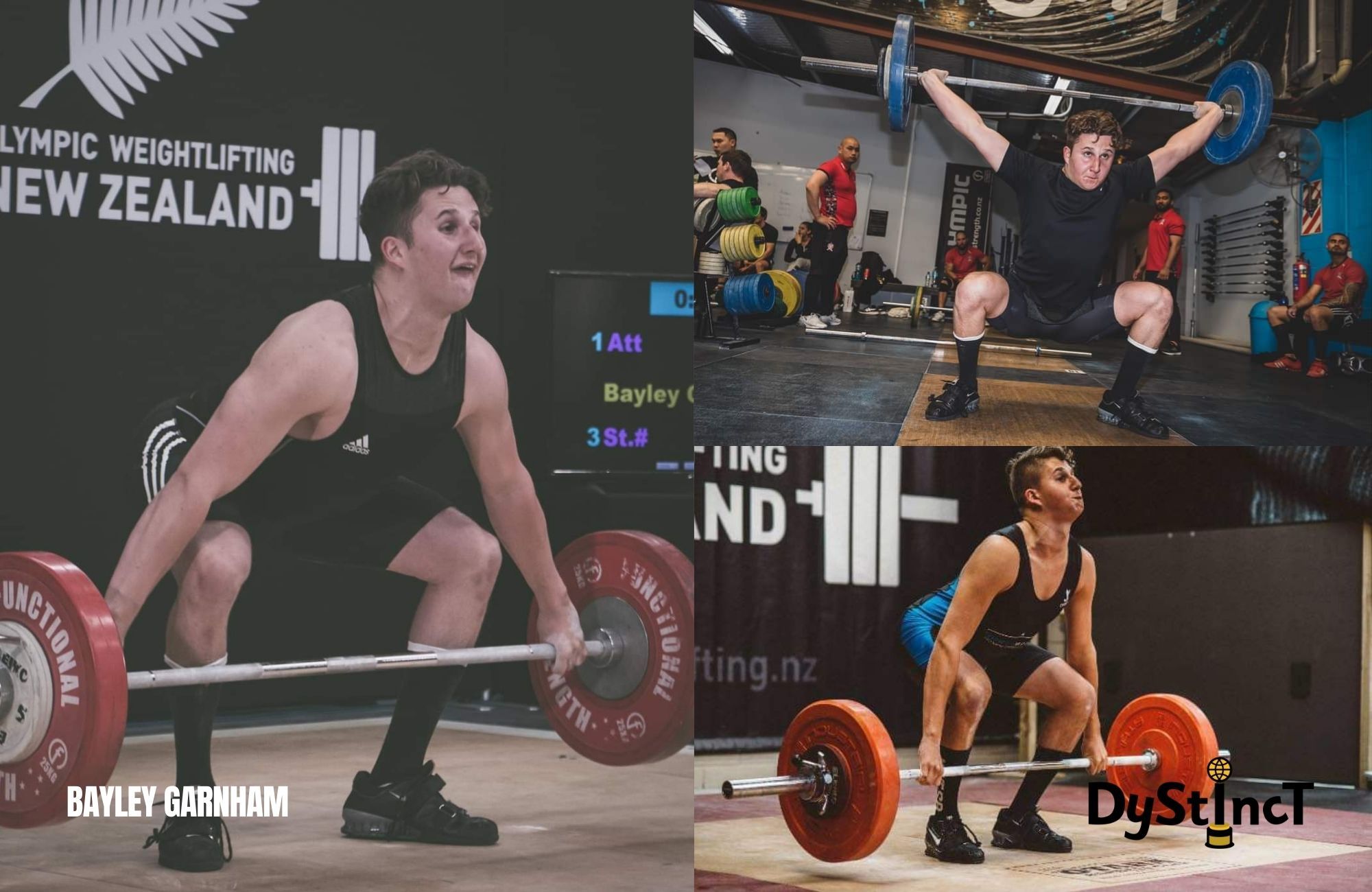 If there was something that needed doing, even if I didn't feel like it, I knew I just needed to do it.
Before discovering the gym and weightlifting, Bayley admits that he struggled to control his emotions and often lashed out. However, once he found weightlifting, things began to change. "The gym and weightlifting became a safe place and a way to escape for me and grounded my emotions as I had something else to think about. The environment being amongst adults and high-performance athletes forced me to mature early."
The boost to his confidence was also reflected in his school life. He had developed the ability to be "light-hearted about my diagnosis", which helped him explain to his friends and teachers why he was the way he was. Bayley's creative side showed through when he started dancing in Year 8. "Alongside sports, another passion of mine has been dance and performing arts. Throughout school, I performed in school musicals and dance shows both in school and regionally across Auckland. Also, my storytelling was great if you could get past my handwriting. I was very focused and borderline obsessive, especially when it came to things I enjoyed. From an early age, I knew what I wanted to do when I left school, which was unusual among my friends. If there was something that needed doing, even if I didn't feel like it, I knew I just needed to do it."
During Year 11, Bayley found a turning point in his life. He had the opportunity to choose subjects that he was interested in, including business studies, dance, and outdoor education. Along with this newfound academic freedom, he gained his driver's license and purchased a vehicle. Additionally, Bayley started working part-time as a swim instructor. This sense of ownership and independence helped him thrive, and he began to understand his limitations and how to work with them.
Bayley continued to train hard with Mike, and his passion for Olympic Weightlifting not only brought him personal growth but also inspired him to help others, particularly teenagers. This desire to make a difference led him to pursue a career in the sports and recreation industry. Upon graduating from school in 2017, Bayley enrolled at Auckland University of Technology (AUT) to pursue a bachelor's degree in Sport and Recreation, with a major in Sport and Exercise Science.
Bayley adapted quickly to university life, and at the beginning of his studies, he was offered support from the disability unit at AUT. While exploring several options, he eventually realized he could manage the degree and its content independently. This was aided by his mum's support and the flexible learning model provided by the university, which allowed him to work at his own pace.
It all happened really quickly, so I didn't have time to digest it.
He continued his weightlifting training, and in 2019, Bayley achieved an impressive second place in the under-21-year-old juniors category at the Nationals. During the Covid lockdowns in 2020, Bayley was in his final year at AUT and started his placement at the AUT Millennium Gym, the same complex where he trained with Mike. At the end of his placement, Bayley was offered a position at the gym, which he happily accepted. While the year-long placement in their final year at university is intended to provide an opportunity for students to secure a job, many of his friends were still looking for jobs six months after graduation. Bayley was fortunate to be one of the first in his cohort to secure a job immediately after graduation. "I did my placement here through university in the gym under one of the PTs, and that's how I got a foot in the door here. Our old gym manager said there were some personal trainer spots that became available, and she said, 'Look, you've just graduated, you know the place, and everyone knows you. Do you want to be a PT here?' And I just said, ok. So the day after I finished univ and submitted my last assignment, I was in here being a PT. It all happened really quickly, so I didn't have time to digest it."
Initially, Bayley found it stressful to be self-employed, with all the responsibilities resting on his shoulders. However, the competitive yet supportive environment within the gym pushed Bayley to do more and rise to the challenge. "I look back to when I was 20, and I was given this opportunity and felt like I was not completely ready for it. I had to grow up and learn how to do taxes and accounts and run a business. At the start, I did probably wonder, 'What have I got myself into? Can I do it?' But now, probably the past 12 months have been where I've got into a really good flow state of everything, and I know how to do everything relatively well. It feels great."
Working at the same complex where he used to train for weightlifting is "a dream come true" for Bayley. As a young weightlifter, Bayley used to walk by the gym and dream of being a PT there, and now that dream has become a reality. Bayley's work as a self-employed personal trainer involves offering one-on-one training, sport-specific strength and conditioning, and group fitness classes. He typically works 45 to 50 hours per week in the gym, spending the rest of his time on administrative tasks such as marketing, invoicing, and communicating with clients.
I'd always walk by the gym and go, 'Oh, it'd be cool the PT there', and then now I'm here!.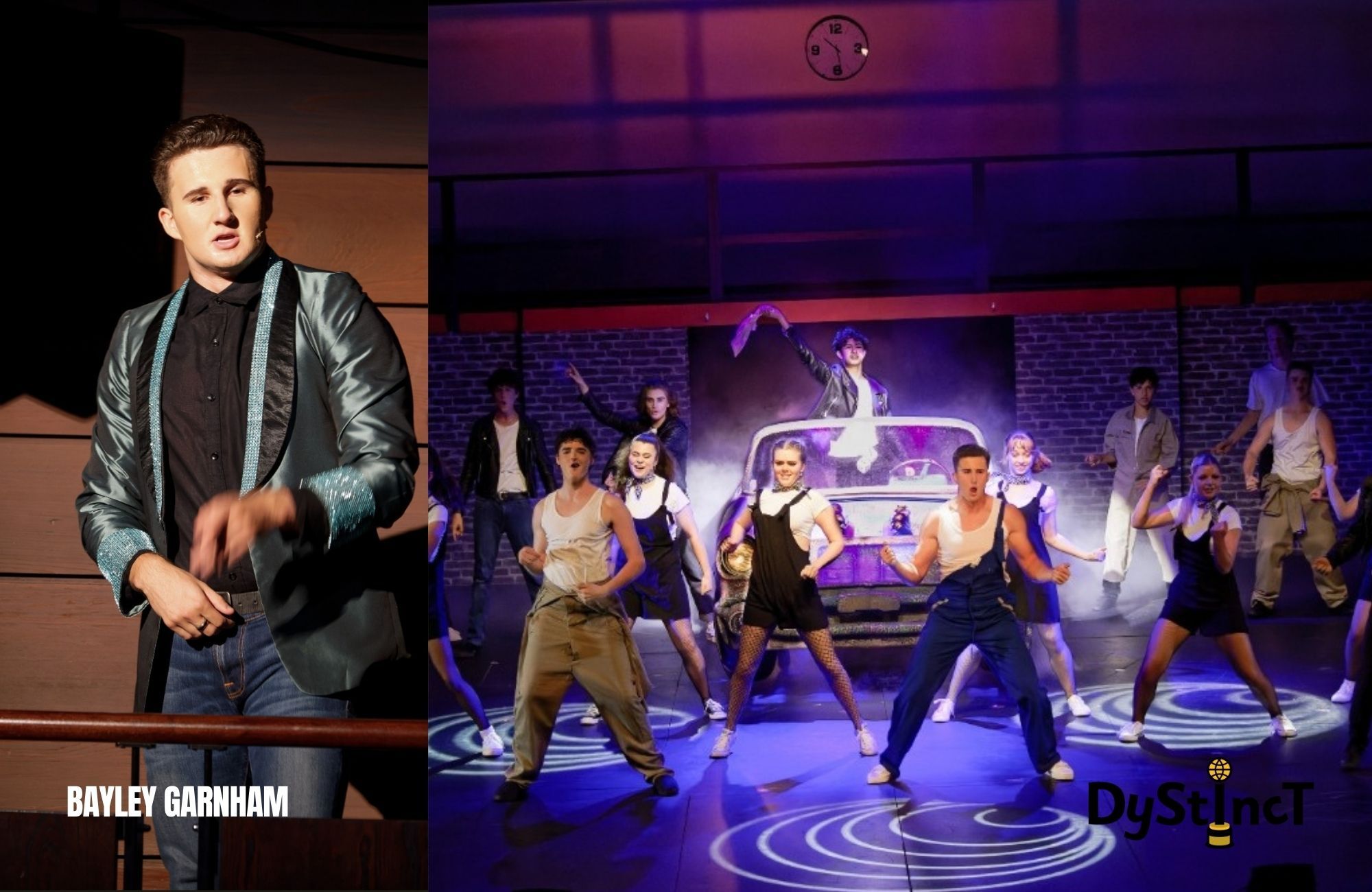 Working full-time meant that Bayley had to consciously decide to prioritize his career, so he gave up weightlifting in 2020. He shares that he reflected on what was more valuable to him, weightlifting or his business, and ultimately chose to focus on his career. He still pursues his passion for theatre, though. In December of last year, he had the opportunity to play the role of Vince Fontaine in Grease Lightening at the ASB Waterfront Theatre, performing with the Auckland Performing Arts Academy.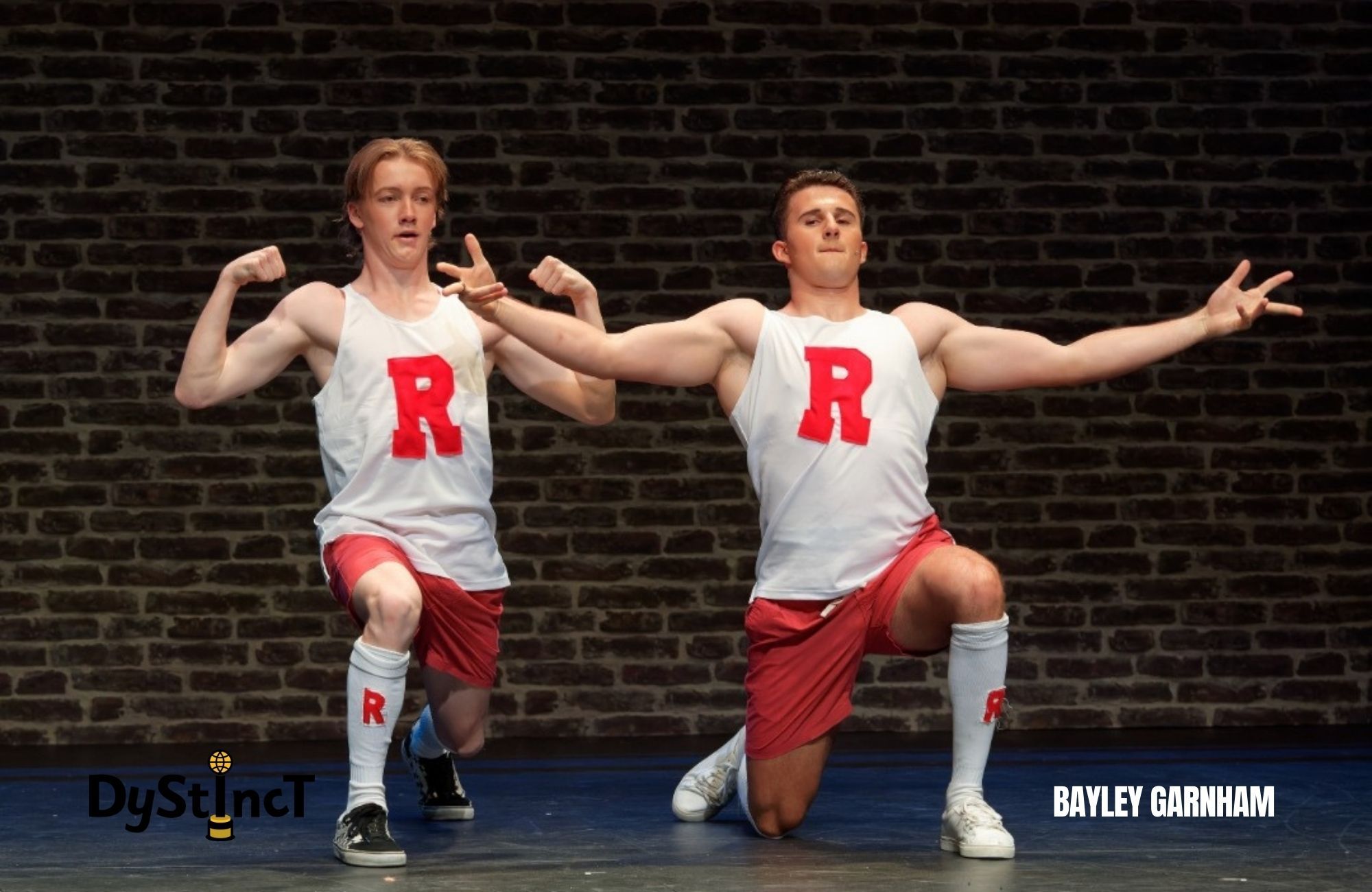 It allows me to do what Mike did for me pretty much.
Bayley was recognized for his outstanding work as a personal trainer in the Exercise New Zealand annual awards ceremony held in 2021. He was nominated for the Up and Coming Personal Trainer of the Year category, which recognizes personal trainers with two years or less of experience. Bayley went through a rigorous four-step selection process that included writing essays, answering questionnaires, submitting video recordings of his interactions with clients, and finally, an interview with the full judging panel. Bayley's hard work and dedication paid off, and he was selected as one of the four finalists for the award.
Bayley's personal experience with dyspraxia and Mike's profound impact on his life have inspired him to take on a mentorship role for his clients. Currently, he trains two boys with dyspraxia who were referred to him by SPELD New Zealand. He has been training one of them for two years and the other for a year. In addition to dyspraxia, he also trains teenagers with other conditions, such as ADHD and ear coordination issues. Bayley takes his work with these clients to heart and can get emotional about it. When asked how it feels to be a role model to the boys, he humbly replied, "I take the work I do with them quite to heart; I'm very invested in them. So, it can be emotional for me. I always think I could do better for them than what I currently do. I don't consider myself a role model. I'm just like their mates. We chat to each other like we're mates. If they look up to me, that's cool, which I think they have said they do, but I'm more just trying to be friends with them. It makes me look forward to coming to work. It allows me to do what Mike did for me pretty much. This doesn't feel like a job."
Bayley's future plans involve continuing to work with high-performance athletes and sports teams. He is currently interning with Auckland Rugby assisting the head strength and conditioning coach for the premier teams and training the under-21 teams. Bayley also has a client who is a para-athlete with cerebral palsy, and they are working together to qualify for the para-triathlon at the next Olympic Games in Paris. Bayley will be travelling overseas with his client to Japan and Spain for competitions and potential qualification for the Olympics. Bayley's ultimate goal is to work with more sports teams and athletes to help them reach the Olympic Games. He hopes to eventually move overseas and continue working in the field of personal training and sports training.
Bayley has found that having dyspraxia has had a positive impact on his life. He has learned to be open-minded when entering new environments, as he has realized that his way of doing things is not always the best. By being open to others' ideas, observing, and listening, Bayley has discovered better ways of doing things. He believes that having dyspraxia forces people to think outside the box, but only if they are willing to be open-minded. Bayley encourages others with dyspraxia to be proud of it and to embrace their unique perspective on the world.
Be proud of having dyspraxia as it forces us to look outside the box, only if you are willing to be open minded though.
Bayley has a message for others with dyspraxia: "Become fully self-aware of who you are as a person and what you are passionate about, how you learn and once you have done this, allow yourself to be confident about it and find ways that you are comfortable with to portray that to others. At the end of the day, while we all have people who love and support us, it is only you who determines your own success, not them and what happens in your life. If you don't know or trust yourself, then you will not get to where you want to be, so in the process of finding self-awareness, you become a bit selfish because, in the long run, once you have that understanding of yourself, it can only help the people around you. Secondly, be ok with the fact that not everyone you come across will want to understand, care about you or like you, and it's not your job to try to make them and nor are they obligated to."
Hear from Bayley Garnham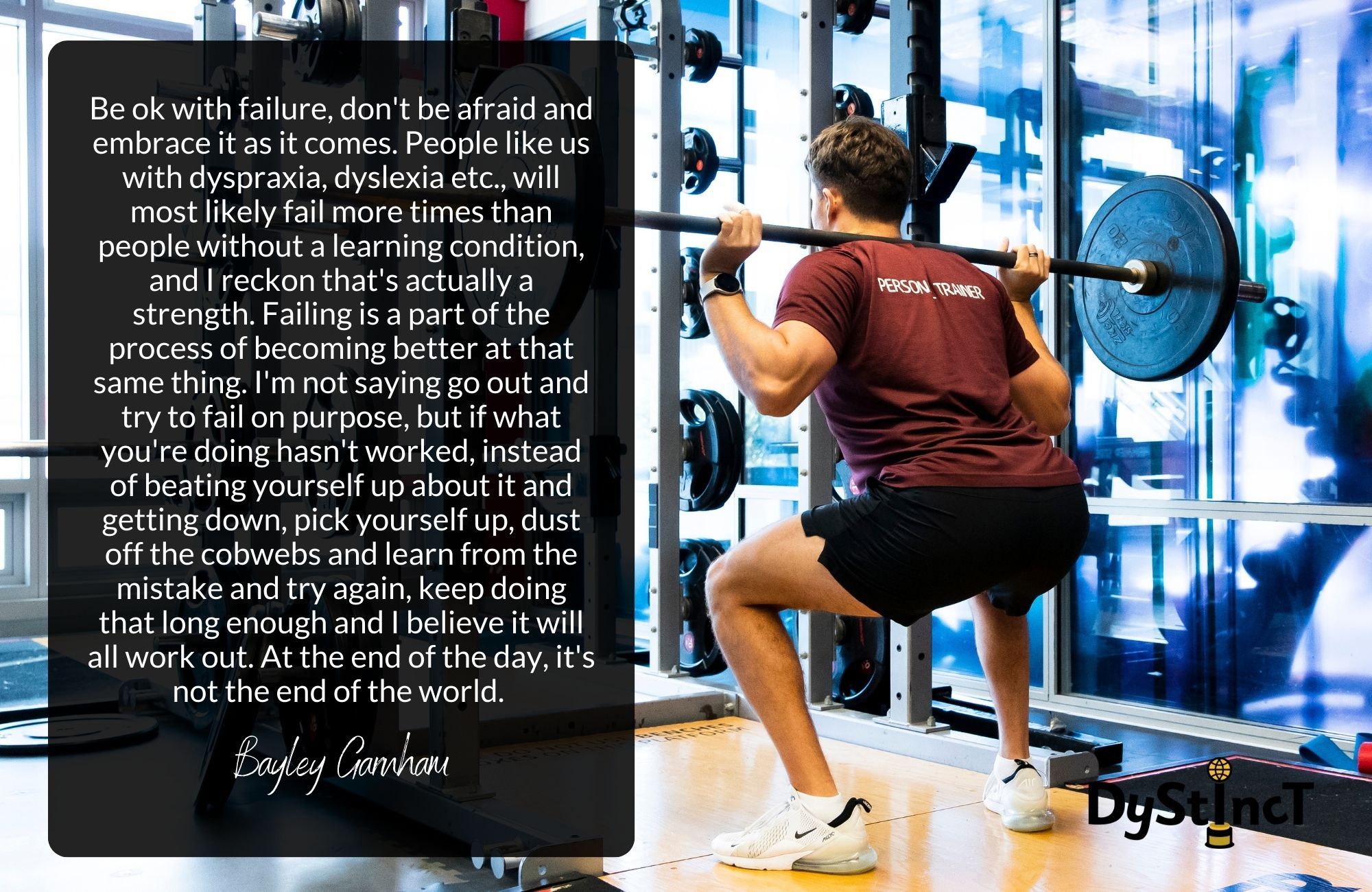 Extracts from Dystinct Magazine
Extracts from Dystinct Magazine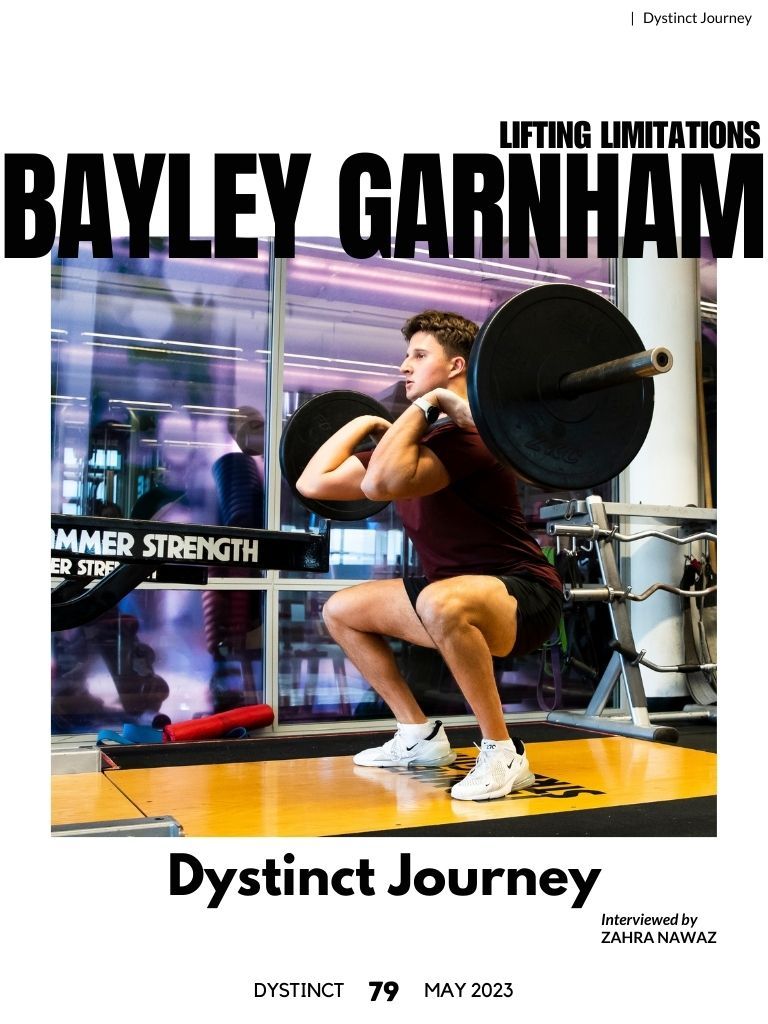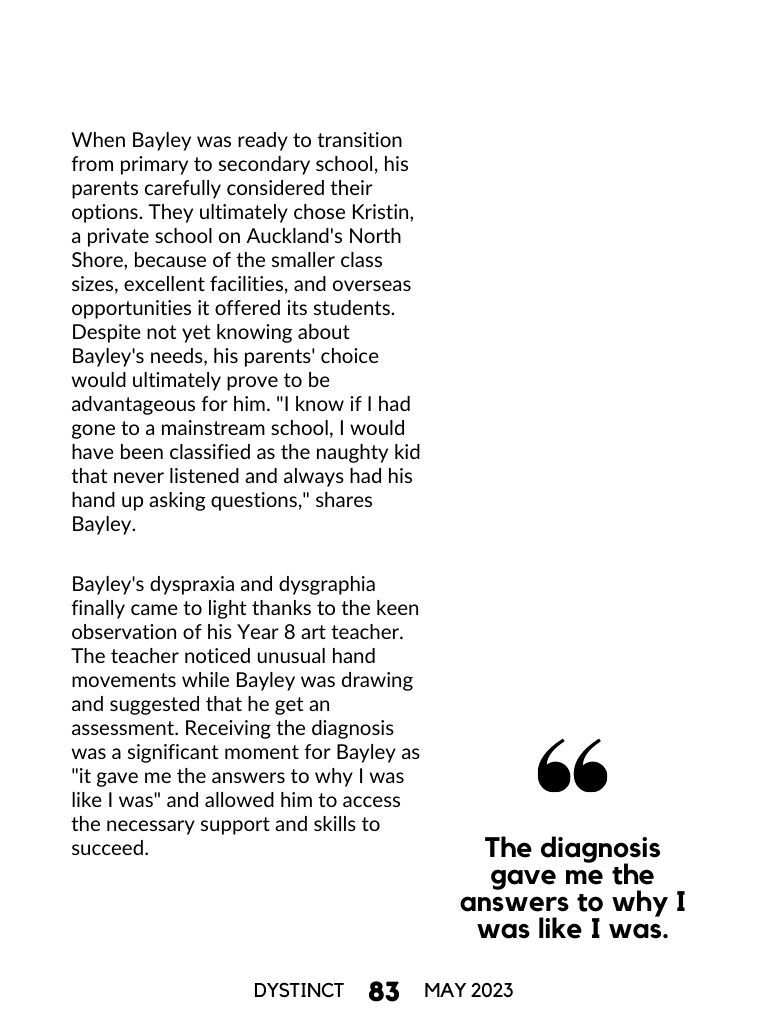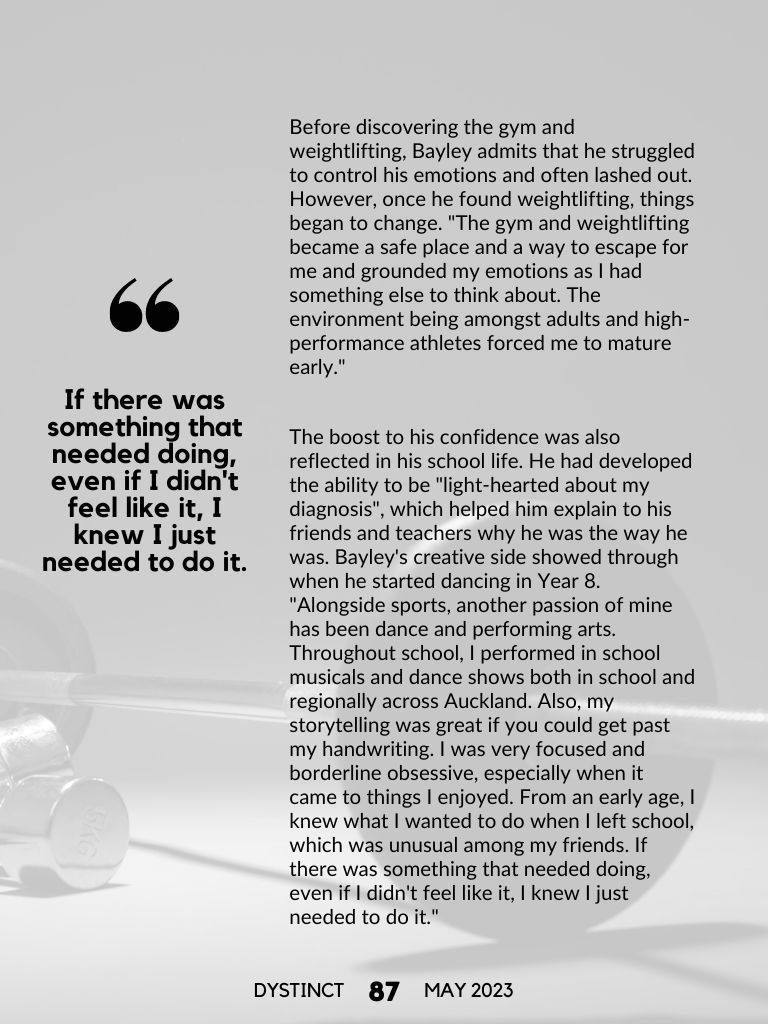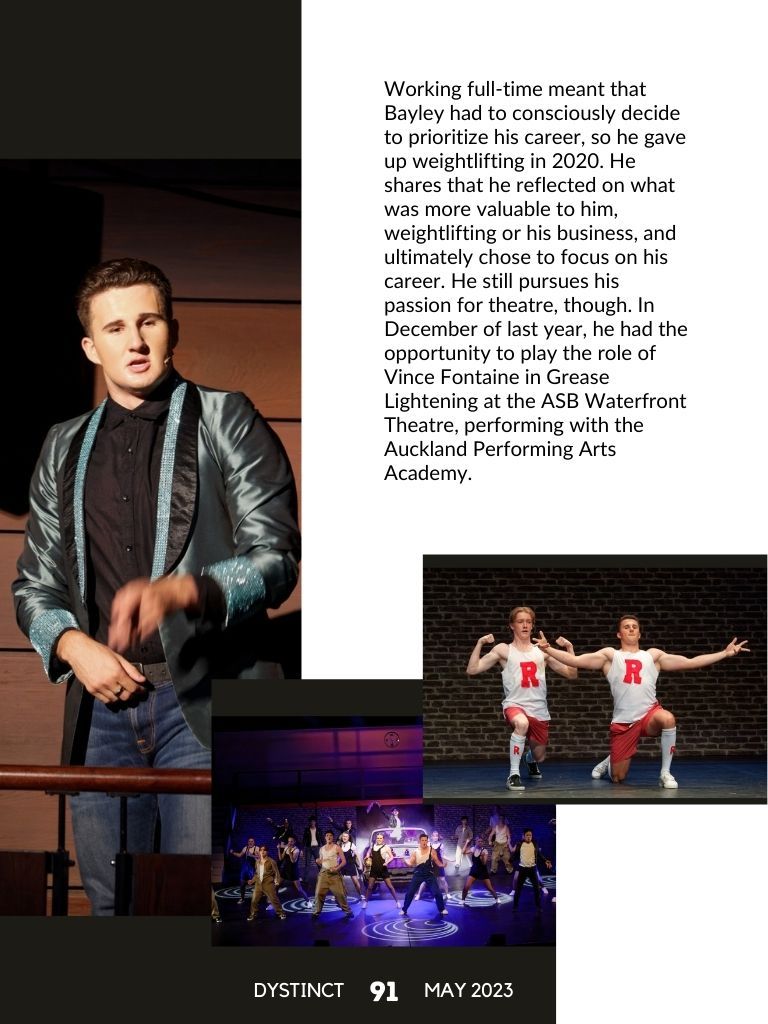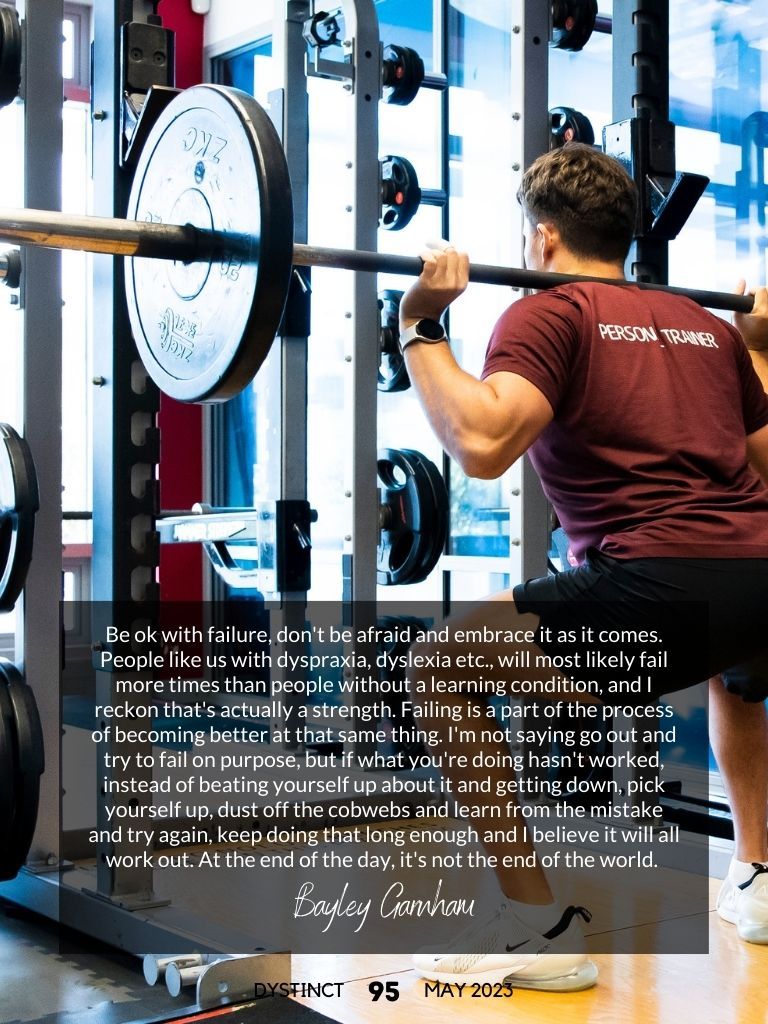 Comments
---